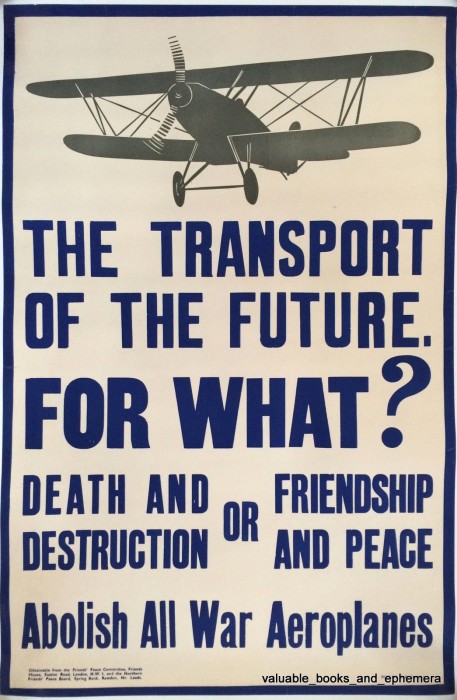 I found this pro-disarmament poster on eBay (at US$1985, I won't be buying it!) The text reads:
THE TRANSPORT OF THE FUTURE.
FOR WHAT?
DEATH AND DESTRUCTION
OR
FRIENDSHIP AND PEACE
Abolish All War Aeroplanes
This is the seller's own description:
An incredibly rare original vintage anti-war poster circa 1938 in fine condition, archivally mounted on acid-free paper and linen-backed. Measures 28 1/2 x 18 3/4 inches (63 x 48 cm). Fine condition or nearly so (A). Lightly toned, a few repaired closed short tears from edges (clearly shown in photos). A few minor instances of printer overpainting in the letters. Possible light stain or mild abrasion to image area. Generally in fine condition. Produced by the Friends' Peace Committee, Friends House, Euston Road, London NW1 and the Northern Friends' Peace Board, Spring Bank, Rawdon, Nr. Leeds, England, and printed by H.W. & V. Ltd., London.
I doubt that it's as late as 1938, as claimed by the seller. A biplane is a bit (though not completely) old-fashioned for 1938, for a start. Katherine Firth suggested that the font is more late 1920s/early 1930s. And the poster's message doesn't make much sense for 1938, when disarmament was no longer realistic. Not that pacifists are always realistic, by any means; but the connection that is drawn between civil and military aviation, between the possibilities of 'death and destruction' through 'war aeroplanes' and 'friendship and peace' through aerial 'transport of the future' is very suggestive of 1932-34, when the World Disarmament Conference debated and tried, unsuccessfully, to resolve precisely this nexus -- usually considered to be the commercial bomber. That said, these two groups (both affiliated with the Society of Friends, i.e. the Quakers) do seem to be separating out civil aviation from military aviation, arguing that a simple ban on military aircraft would save civilisation from destruction and allow it to benefit from air travel. It was more perhaps usual to argue that the internationalisation of civil aviation in some form was required in order to prevent airliners from being turned into bombers, with a further step being the internationalisation of military aviation as well. I can't find any reference to this poster in BNA but a quick search does confirm that the Friends' Peace Committee and the Northern Friends' Peace Board were fairly vocal in 1933-35, for example writing an open letter to the prime minister in 1933 warning against starting aerial rearmament while the Geneva conference was still in the balance, and in 1935 deploring the inevitability of attacks upon civilians implicit in the initiation of air raid precautions.1 The poster is at least evidence that they tried to persuade the public (or some sector of the public) of the aerial danger too.
---
This work is licensed under a Creative Commons Attribution-NonCommercial-NoDerivatives 4.0 International License. Permissions beyond the scope of this license may be available at https://airminded.org/copyright/.