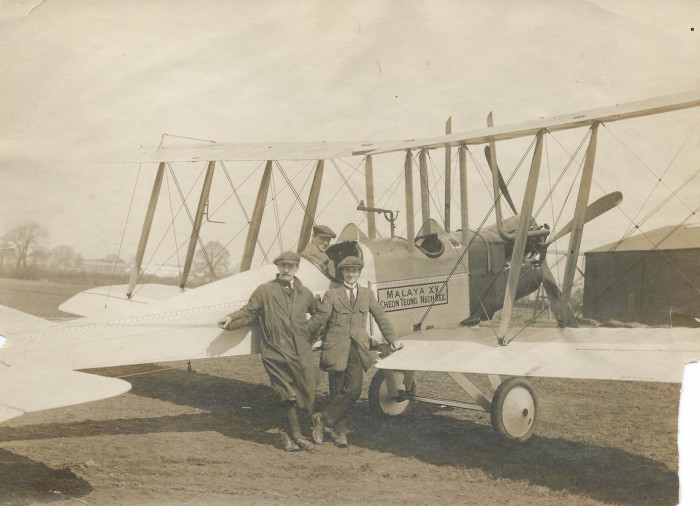 David Payne sent me this great photograph of Malaya XV Cheon Teong, Ngoh Bee, a B.E.2c which was donated to the British war effort as part of the Imperial Aircraft Flotilla I blogged about last year. David's grandfather, Arthur Chapman, is in the cockpit; he was an engineer at Shorts on the Isle of Sheppey, though not necessarily at the time of this photo. David provides the following information:
Arthur Chapman (1877-1937) worked as Shorts "head man" from '09 but I don't know how long for. He taught himself to fly and helped teach the first four naval volunteers to fly. Also he was in the passenger seat when Commander Samson flew the first hydroplane off the Hibernia at the review of the fleet in 1912. At what date he left Shorts I don't know although he joined the RFC in 1917.
Otherwise the details of this photo was taken are unknown, including the identity of the two men standing in front of the B.E.2c. It would likely have been taken in 1916, which is when the Over-Seas Club's book recording the growth of the Imperial Aircraft Flotilla was published; Malaya XV was the 15th of 17 aeroplanes in the Malayan squadron.
I notice that while the names of this aircraft's donors are given as Cheon Teong and Ngoh Bee, in the Over-Seas Club's book the first name is given as Cheow Teng.1 This seems to be an error; at least the name is given as Cheon Teong in a contemporary Singaporean newspaper.2 Either way, I hope he was pleased with his aeroplane.
---
The Imperial Aircraft Flotilla (London: The Over-Seas Club, n.d. [1916]), 28. ↩