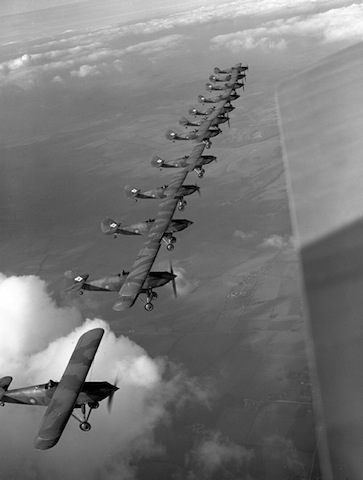 All the cool kids are talking about How to be a Retronaut -- well, they were a month or two ago, I confess it's hard to keep up. How to be a Retronaut is a blog which tries to engage your sense of anachronism to try and shake your assumptions about the past. As the Retronaut puts it:
The power of anachronisms
Its all to do with the power of anachronisms – things which seem to be in the wrong time. They can be objects, words, phrases, technology, ideas, fashions – anything we associate so strongly with one time that it seems wrong in another

Wrong associations
And its that word "associate" – that's the powerful one. Because the strange thing is, real anachronisms do not exist. They can't. A "thing" belongs to whatever era its in. Its not the "thing" thats got it wrong, its us, and our associations. Time to change what we believe.

But in that tiny, tiny moment, just before we grasp the fact that our beliefs are wrong, we get to be a Retronaut.
One of the main ways How to be a Retronaut achieves this is through the use of colour photographs taken in periods we don't normally associate with colour photographs -- 1913, for example.

The photograph above struck me with this anachronistic force. It shows RAF biplane fighters which are quite typical of the interwar period, except that they are camouflaged where I would expect them to have a bare metal finish. That's how they typically are seen, both in contemporary photographs and surviving examples. The camouflage patterns these aircraft are sporting are more appropriate to the Second World War. They look a little bit like Hurricanes with slipwings, actually, but they are in fact Furies of 43 Squadron, one of Hawker's long line of fighters. The photograph was taken in 1939, which would explain the sense of anachronism: the RAF didn't start camouflaging its aircraft until the Sudeten crisis in 1938; and aside from the Gladiator, it had mostly phased out its biplanes from frontline service by the time intense fighting began in 1940.
But this also shows how fragile this sense of anachronism can be. If I was more familiar with RAF aircraft in this period before the outbreak of war, this image wouldn't strike me as strange at all. Nor would it strike me as strange if I knew less; it would just be a bunch of old aeroplanes.
Image source: Flight Image Archive. However, I have my doubts about the caption:
A nice line abreast formation of camouflaged Hawker Fury I of 43 Squadron, Sept 1939. Note that several aircraft do not carry the squadrons 'Fighting Cocks' badge which otherwise negates the camouflage.
I can't get a straight answer as to when 43 Squadron switched from Furies: the RAF says 1939 (to Hurricanes), Air of Authority says January 1939 (to Spitfires), another site says November 1938 (to Hurricanes). Since other images from the archive put the Munich crisis in 1936, there's room to doubt the veracity of the caption!
This work is licensed under a Creative Commons Attribution-NonCommercial-NoDerivatives 4.0 International License. Permissions beyond the scope of this license may be available at https://airminded.org/copyright/.