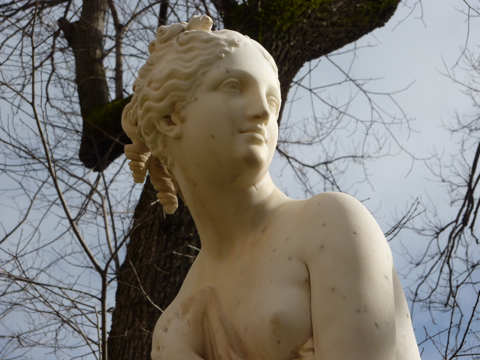 Adelaide (AKA 'Radelaide') has more to offer than transport museums, of course. On my last day there I had a look at the South Australian Museum, as well as some of the nearby sights. This copy of a Venus by Antonio Canova was apparently somewhat controversial when presented to the city in 1892, though she seems fairly demure today. Depending on the angle.


The National War Memorial, a First World War memorial, built between 1928 and 1931.
One side portrays the Spirit of Compassion, an angel bearing a sword and a dead soldier.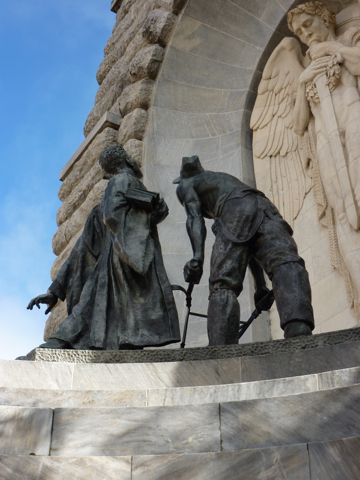 On the other side is the Spirit of Duty, standing before a student (in academic robes and carrying a book), a farmer (driving a plough), and, not visible here, a girl (being girlish, I suppose). So there's Duty, and Compassion, but no Victory.
Underneath there is a small room with lists of the names of South Australia's war dead. Why is it called the National War Memorial when it commemorates South Australians? Wikipedia suggests it was either because it was in fact meant to commemorate all Australians who had died in the war, or else (following Ken Inglis), because of a sense that South Australia, an independent colony before 1901, was itself a nation.
Part of a cross which was originally erected in France by surviving members of 48th Battalion AIF, many of whom were from South Australia, to commemorate those who had been killed at Pozières in 1916. It's one of four similar crosses brought back to Adelaide and added to the Memorial in 1938.
A short walk across the old Torrens Parade Ground from the First World War memorial is this one devoted to Vietnam. Fifty-eight soldiers from South Australia were killed there. Interestingly, one of the soldiers is Australian and the other South Vietnamese.
More than a hundred thousand boat people were settled in Australia after the fall of South Vietnam. We are not so generous these days.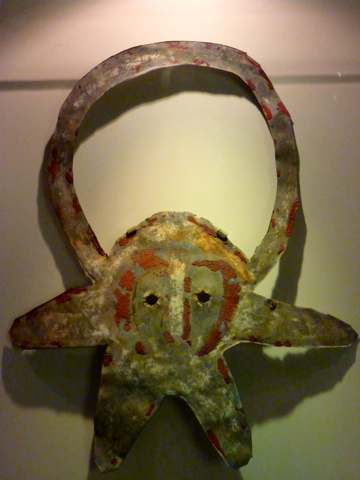 Now, to the Museum. One of the highlights was the new Australian Aboriginal Cultures Gallery -- as well it should be, given that the Museum boasts the biggest collection of Aboriginal artefacts in the world. Many are traditional, others are modern, some are both -- like this iron Tindale mask, worn by a man undergoing a month-long initiation ceremony near Port Hedland in 1947.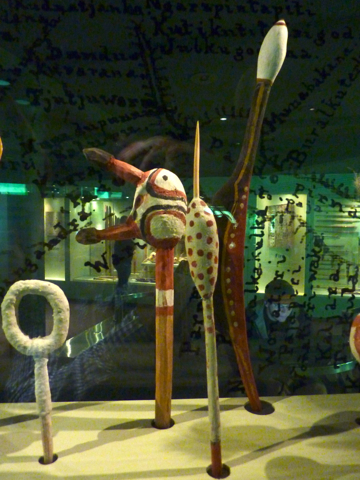 These are toas, small sculptures which represent places visited by the Muramuras, Dreaming Ancestors. They are real places which were known to the sculptor, who worked at the Killalpaninna Mission around 1905.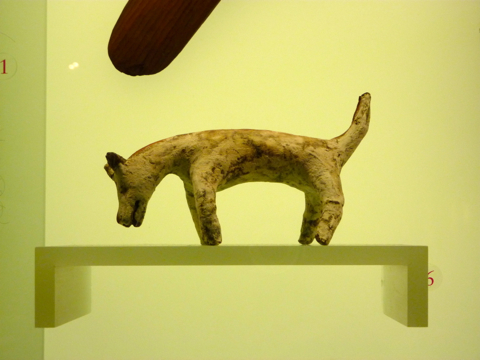 From the same area, a Dreaming Ancestor dog.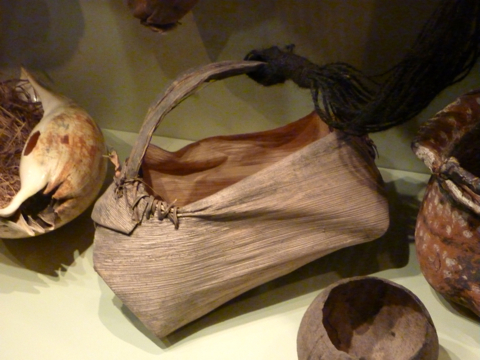 People everywhere need some way to carry water. Here's how the Cape Stewart people of Arnhem Land solved the problem, using palm leaves.
A fish trap. Set it in a river, the fish swim downstream into but can't swim upstream back out. Simple but clever.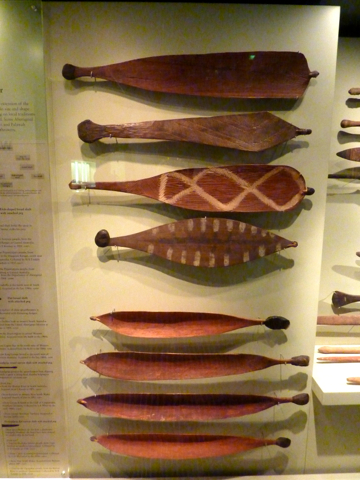 Even further up the cleverness scale are these woomeras. Woomeras are spearthrowers: you attach the spear to one end, grab hold of the other, and use it to launch the spear. An apt name for the Australian launch site for the British missile and space (and later, European space) programmes.
Okay, so this museum is not entirely without transportation...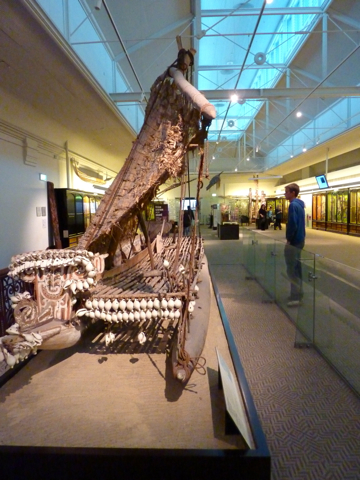 ...which allows me to segue nicely into the Pacific Cultures Gallery. (This is a trading canoe from the Trobriand Islands.) As you can see it's a much more old-fashioned exhibition space than the Australian Aboriginal Cultures Gallery; in fact the cabinets themselves date back to 1895 and are themselves heritage-listed.
But the contents of the cabinets were also of interest. There were a number of masks like this one, from Poroporo on the Lower Sepik in Papua New Guinea. Some of them attached to human skulls, but not in this case, I think.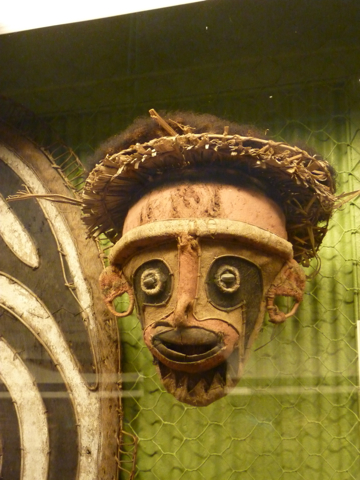 Also from PNG.
This, just part of a magnificent headdress, is from New Caledonia, early nineteenth century.
I think this is from PNG; I forgot to take a photo of the label so I don't know what it is! But it looks like a headdress representing a bird.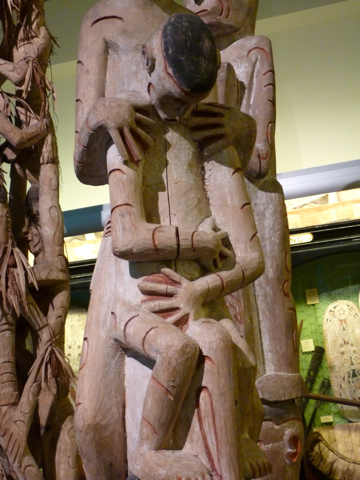 The label might not have helped too much; the gallery was generally lacking in interpretation (though it is in the process of being updated, and the new labels are very helpful). This ancestor memorial house post from Atsj, central Asmat, PNG, for example. It looks there is a story here: the figure in the middle seems to be clutching at a stomach wound. Is that right? I don't know. Sure, on one level it's art so I can interpret it however I like. But on another it is anthropology and so I'd like to know what it meant to its creators.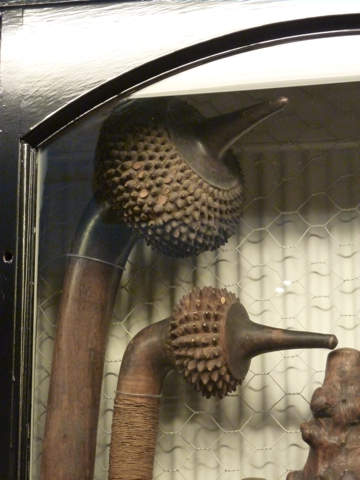 Some rather wicked-looking clubs from Fiji.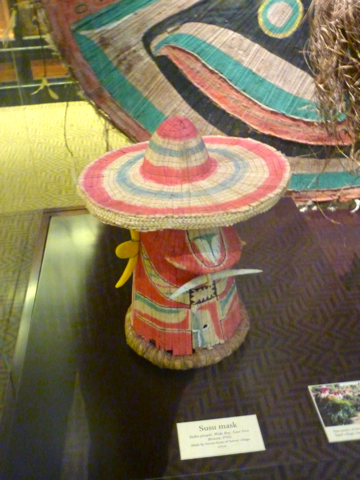 A susu mask from Setwai in New Britain, used in male initiation ceremonies. This is a little one, but some were huge and designed to be worn by two men at once.
Moving on from the Pacific, this plaque, made of wood and nails, was (I think) dropped on Enderby Land in Antarctica on 25 January 1930 by Sir Douglas Mawson from a de Havilland Gypsy Moth. Largely thanks to Mawson, Australia claims the largest amount of Antarctic territory of any nation (though under the Antarctic Treaty all territorial claims in the Antarctic are in abeyance). So it's a bit surprising to see that Mawson actually asserted British sovereignty:
THE BRITISH FLAG WAS HOISTED AND BRITISH SOVEREIGNTY ASSERTED ON THE 25 JANY 1930
I suppose the reason is that the Statute of Westminster wasn't enacted until the following year (and even then wasn't ratified in Australia until 1942, backdated to 3 September 1939). So Australian territory was technically still British territory. Or maybe because the expedition was a joint one with Britain and New Zealand, though then I don't know why Australia ended up claiming it. You'd probably need to be some sort of historian to find out.
The Museum has a permanent exhibition on Mawson, an important figure in the history of Australian science (he was a geologist) as well as a native-born South Australian. As was his younger contemporary, Sir Lawrence Bragg, a physicist and still the youngest ever Nobel Laureate (though he spent his career in Britain, unlike Mawson who was always strongly associated with the University of Adelaide). Must have been something in the water.
Above is a portable Singer sewing machine taken by Mawson to Antarctica; make and mend was the order of the day when so far from civilisation.
Mawson went three times to Antarctica: with Shackleton in 1907-9; as leader of the Australasian Antarctic Expedition in 1911-4; and as leader of the British Australian and New Zealand Antarctic Research Expedition in 1929-31. This sled is the one he dragged back to camp in the winter of 1912-3. In November 1912, he and two other men had set out on a long trek to explore west of the base camp. A month in, about 500km from home, one of the party fell into a crevasse and was never seen again; six huskies and many supplies went with him. The two who remained turned back to base but were forced to eat the dogs to survive. In January, Mawson's companion sickened and died. Mawson continued on alone, making it back to camp in February. As he trudged along, he might have wished he'd accepted Scott's invitation to join the Terra Nova expedition instead; he wouldn't have known that the entire expedition was already dead. So he was lucky, really.
A seriously heavy-duty slide projector used by Mawson when giving talks about his expeditions.
The obligatory Egyptian room and the coffin of Osiris-Nakht, a priest who lived in the 30th dynasty.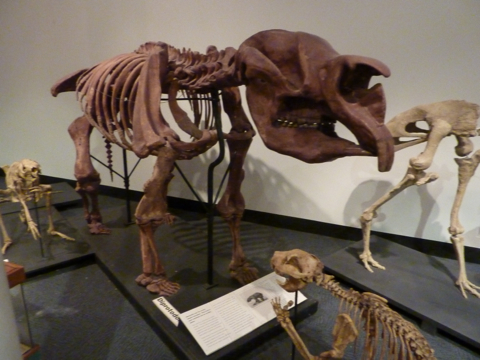 Diprotodon skeleton. Extinct for more than forty thousand years, the largest marsupial ever to have lived, effectively a giant wombat.
An American flag on a Russian spacesuit worn by an Australian astronaut: Andy Thomas, another Adelaidian, who has logged 177 days in space (including 141 days on board Mir). He's also the great-great grandson of the first curator of the South Australian Institute Museum, the ancestor of the South Australian Museum. Which seems a sufficiently meta point to end on.
This work is licensed under a Creative Commons Attribution-NonCommercial-NoDerivatives 4.0 International License. Permissions beyond the scope of this license may be available at https://airminded.org/copyright/.