It's exactly 40 years since the Battle of Long Tan, a notable feat of Australian arms during the Vietnam War. But I have a more personal anniversary in mind -- yesterday was 90 years to the day since my great-grand uncle John Joseph Mulqueeney was killed by an artillery round during the Somme campaign, on 17 August 1916. As I wrote a brief memorial about him last year on Remembrance Day, today I thought I would look at the online sources I used for that post.
The first thing to note is that the Australian War Memorial website is absolutely superb for researching family members who served in wartime. By entering a surname on their search page, choosing a war and specifying whether they were killed in action or not, you can obtain a wealth of information, including Red Cross records, embarkation rolls, lists of decorations awarded, and so on. There are also two important external links: one to the Commonwealth War Graves Commission for the location of graves (though the AWM link is actually broken at the moment), and another to the National Archives of Australia, where service records can be obtained (hopefully online, if not photocopies can be ordered).
In looking through these records, the big surprise was that Private Mulqueeney did not die at Gallipoli, as my family's oral tradition held. Upon reflection, the reason for this is obvious -- over the years, as the family members who could remember John themselves passed away, the succeeding generations assimilated fragments of his story into what little they knew of the war, and that increasingly came to mean Gallipoli. Unlike Gallipoli and in contrast to the situation in Britain, the Somme has little meaning for modern Australians. And in family history terms, having a relative who fought at Gallipoli has a cachet that is probably only second to having First Fleet convict blood running in your veins.
His service records were perhaps the most interesting, and sobering, find. Here's part of the attestation paper filled out when he enlisted. Note the bureaucratic scrawls all over it, and in particular the very final KILLED IN ACTION stamped across the top -- naturally, such a common occurrance merits a labour-saving device like a rubber stamp.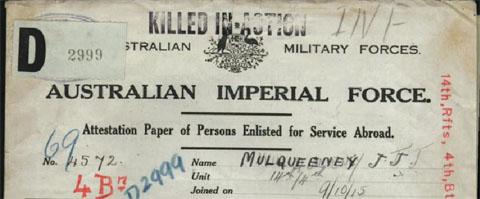 From his casualty form, we can trace his movements in the last months of his life. On 7 March 1916 he disembarked at Alexandria from the troopship Wandilla and on 29 March (presumably after further training) re-embarked, this time on the Transylvania, arriving in Marseilles to join the BEF on 4 April. He then presumably moved to the Australian depot at Etaples, where he remained for over two months: his group of reinforcements joined the 4th Battalion on 13 June. I'm not sure where the unit was then -- I'd need to check a unit history or war diary for that -- but it was another two months before he was killed, near Mouquet Farm. He was a well-behaved soldier, with nothing to mar his conduct sheet (where his character is recorded as "good").
John Mulqueeney's death added more pages to his service record than his life ever did. Six relate to the forwarding of his personal effects to his father, Timothy:
Writing Case, Tie, Key, Letters, Cards, Photo, 2 Pen Holders, Holdall, Housewife, 4 Brushes, 2 Combs, Scarf.
A receipt slip from 1921, to certify that (I think) his mother, Sarah, had received his 'Memorial Scroll and King's Message'. Stamps for his service medals: 1914/15 Star (presumably because he enlisted in 1915), British War Medal, Victory Medal.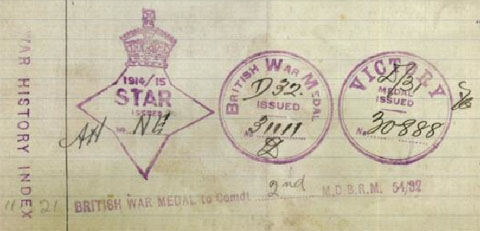 A positive reply to a family request for a photograph of his grave at Courcelette British Cemetary. Perhaps saddest of all, a form letter evidently for the purpose of informing his family which troopship he will be coming home on, never to be filled in, never to be sent.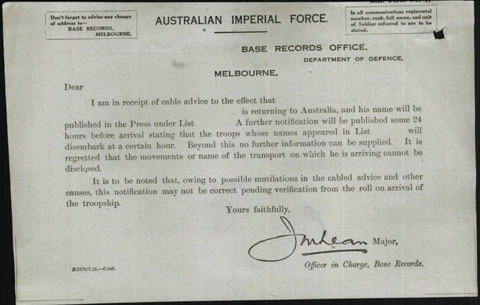 Finally, there are the records of the Australian Red Cross Society Wounded and Missing Enquiry Bureau's enquiries on behalf of his family. They wrote to his comrades, asking for more information than the terse Department of Defence telegram would have provided.
We should be most grateful for any details you could send us concerning 4572 MULQUEENEY 4th Batt. A.I.F. and would also be glad iff [sic] you would add a short personal description, or any points that would sa tisfy [sic] his relatives that no error had been made.
There were six replies, including one from his sergeant. Pte. Hutchinson (himself recovering in the Eastbourne Military Hospital) provided the following information in December 1916:
Informant states that on Aug.17th. 1916, at the Pozieres Sector, a friend, Pte. McBride asked him to go with him into the next bay to see if "old Mul" [?] was alright as he did not think he had moved for a little time. Informant went, they found Mulqueeney dead, shot through the head, death must have been instantaneous. This was during the big bombardment. They buried him just beyond the bay, and informed the Sergt. Informant took some letters which he is sending to the Mother with details and also has pay book which he will forward to the right quarter as soon as he can do so.
That same month, Pte. Dickman wrote from Etaples:
He was killed at Moquet [sic] Farm about the middle of August. We were in the trenches. He was observing. I saw him killed by a shell, which burst near the parapet, and a piece hit him in the head. He belonged to IV Pl. A.Co. I knew him quite well. He was buried in a shell hole near by. A rough cross was put on his grave.
I hope that knowing how John Mulqueeney died, the return of his effects, the photo of his grave and so on, somehow provided some solace to his family. I can only imagine the pain they carried with them for the rest of their lives. My own sadness in examining these remains of his life can only be the palest (and somehow unearned) reflection of their grief. And of course, this was merely one, not particularly remarkable, death from a very bloody war. Scale all of that up by a factor of 10 or 40 million or so, and that's one huge reason why the First World War is still worth studying.
This work is licensed under a Creative Commons Attribution-NonCommercial-NoDerivatives 4.0 International License. Permissions beyond the scope of this license may be available at https://airminded.org/copyright/.