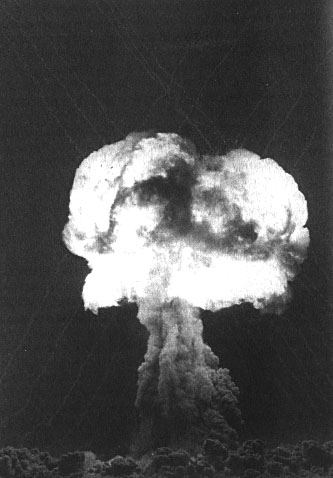 The last time Britain nuked Australia was at Maralinga on 9 October 1957, over half a century ago. The last of the Antler series of tests, code-named Taranaki (above), involved the detonation of a 25 kiloton fission bomb from a captive balloon at a height of 300 metres. The fallout 'moved east and then north-east towards the Queensland coast, missing the rain areas in New South Wales and Victoria as predicted'. Radiation levels in some areas 'slightly exceeded Level A [no health risk] for "people living in primitive conditions"', more than was predicted but not dangerously so, according to the safety criteria then in place.1 A 1985 Royal Commission however criticised the Antler tests on the grounds that '"inadequate attention was paid to Aboriginal safety", and that the patrols designed to ensure that the range was clear were "neither well planned nor well executed"'.2 Service personnel were also placed in greater than expected danger: a Canberra tasked with flying through the cloud half an hour later to collect air samples rapidly received unexpectedly high doses and had to abort the mission.3
Today the Federal Government introduced a bill into Parliament which will provide compensation and better health care for at least some of the latter group (the local Maralinga Tjarutja people received compensation in 1994). According to Warren Snowden, the Minister for Veteran Affairs:
The bill will benefit Australian personnel who participated in the British nuclear test program and their dependents by enabling compensation and health care to be provided with a minimum of delay [...] The personnel were involved in the maintenance, transporting or decontamination of aircraft used in the British nuclear test program outside the current legislated British nuclear test areas or time periods.
And there may be more to come:
The quality of the records from the test period and the secrecy surrounding the operation means that it is impossible to rule out the likelihood that new information may come to light which warrants further extension of coverage to additional groups of participants.
Not before time, either.
Image source: Nuclear Weapon Archive.
---
Lorna Arnold and Mark Smith, Britain, Australia and the Bomb: The Nuclear Tests and Their Aftermath (Basingstoke and New York: Palgrave Macmillan, 2006), 202. ↩

Ibid., 204. ↩

Ibid., 202-3. ↩
This work is licensed under a Creative Commons Attribution-NonCommercial-NoDerivatives 4.0 International License. Permissions beyond the scope of this license may be available at https://airminded.org/copyright/.