The latest Fortean Times (June 2007) has a great article by Kim Newman on Hammer Films, the much-loved British horror film production company. While discussing the early 1970s, when Hammer's fortunes were declining, he refers in passing to 'the tragically unmade Zeppelin vs Pterodactyls'. That's all he said, but it was enough ... could it have been a cross-over between two of my favourite genres -- lost world movies and airship movies? Indeed it could. Here's a poster Hammer mocked up to pique the interest of potential investors: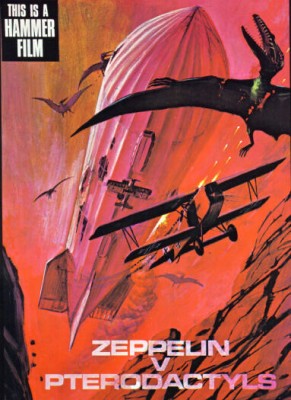 And I managed to find a very brief plot summary:
The story was along the lines of THE LAND THAT TIME FORGOT, with a German Zeppelin being blown off-course during a bombing raid on London and winding up at a "lost continent"-type place.
Oh man ... tragically unmade is right! What more you could want from a film, I ask you.
Still, it does remind me of two Amicus productions (which can easily pass for Hammer movies in a darkened cinema ...), The Land that Time Forgot (1975) and its sequel The People that Time Forgot (1977). In Land (which I'm not sure I've seen), it's a German U-boat which finds the lost world, during the First World War. In People (which I have), a steamship sets out to look for the survivors of the first film, and in the process its amphibian seaplane gets into a dogfight with a pterodactyl. So at least between the two they have some of the elements of the abortive ZvP. But nothing so gloriously cheesy as a Zeppelin (and anachronistic trapeze fighters) versus pterodactyls.
This work is licensed under a Creative Commons Attribution-NonCommercial-NoDerivatives 4.0 International License. Permissions beyond the scope of this license may be available at https://airminded.org/copyright/.