59-61 Farringdon Road in London is also known as the Zeppelin Building. I don't know when it received this name; possibly only recently. But it owes it to the fact that its predecessor on the site was destroyed during an air raid on the night of 8 September 1915. The most famous of the Zeppelin commanders, Captain Heinrich Mathy, flew L.13 across central London, dropping bombs from Russell Square to Liverpool Street Station. He and his crew killed 22 people, injured 87 and did over half a million pounds worth of damage, the single most destructive Zeppelin raid of the war. Below is the plaque at the site which commemorates both the destruction of the original premises and its rebuilding in 1917, an act of some optimism and defiance since 'the world war' was still going on with no clear winner in sight.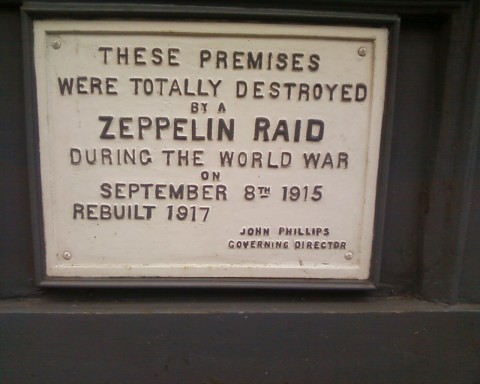 Thanks to Chris 'Chris A. Williams' Williams for the photos!
This work is licensed under a Creative Commons Attribution-NonCommercial-NoDerivatives 4.0 International License. Permissions beyond the scope of this license may be available at https://airminded.org/copyright/.