The B-17 is one of the most famous aircraft used in the Second World War. It was known as the Flying Fortress. Or perhaps I should say the Flying FortressTM, for it was actually registered as a trademark by Boeing (well, Wikipedia says so, anyway). The phrase was supposedly coined by a journalist in an article which appeared in the 16 July 1935 issue of the Seattle Times, after he witnessed the rollout of the prototype Model 299. It's an apt enough name, given the number of defensive machine-guns (13 or more on the mid-war B-17G).
But I've noticed that the phrase "flying fortress" actually predates the debut of the Model 299 by several years, at least in British aviation literature. I can't say whether or not the American journalist was aware of it, but to me it looks like "flying fortress" was used widely enough to be considered a generic term for a certain type of aircraft: the self-defending bomber.

These were large aircraft, with two or four engines, and guns covering as many directions as possible. Dozens of these flying in formation could defend themselves and each other against enemy fighters. (This is, of course, exactly how the B-17 was supposed to be, and was, used, at least until long-range escorts became available.) As L. E. O. Charlton speculated, with reference to the Gotha raids on London in 1917,
Perhaps the spectacle was prophetic of the war of the future, when invading aircraft, equipped as these were with bombs, will fly so tightly packed and so well drilled in aerial tactics that they will be to all intents and purposes flying fortresses, strong against assault.1
This was published in the spring of 1935, so before the Flying Fortress was so dubbed. And as late as 1938, an aviation expert could comfortably use the phrase without worrying about confusion with the American aeroplane (the context here is air combat in the Spanish Civil War):
The conclusion of the French observers, it is stated, was that "the flying fortress" -- the heavy bomber which can take care of itself and beat off all attack -- does not exist; speed alone gives some security to the bomber.2
The earliest use I know of was by the press baron Lord Rothermere, in February 1934:
Once an air invasion has started, there is no defence against it. The modern bomber is a flying fortress. The latest type of French air-raider actually carries ten machine-guns, in addition to four tons of bombs.3
It was entirely appropriate for Rothermere to mention a French bomber in this connection, for in the early-to-mid 1930s the French had some of the most heavily-armed bombers in the world. (Though I don't know which particular type he was referring to.) This diagram of the Amiot 143M accompanied an article on foreign developments in aircraft armaments,4 and shows off the arcs of fire of the four gun positions.
The Amiot 143M was actually an extension of the self-defending bomber/flying fortress concept, the multiplace de combat or bombardement, combat et reconnaissance (BCR), which could operate as a bomber, a fighter or a reconnaissance aircraft. Unfortunately, by the time it entered service in 1935 it was too slow to be much good at any of these roles -- not surprisingly, as the design dates to the late 1920s.
However, it was at least heavily armed for its day: most contemporary bombers had only two or three gun positions. But they were still considered capable of self-defence. One reason for this is because until the late 1930s, most fighters had only two machine-guns themselves. Another reason was that bombers flying steadily along were thought to be stable gun platforms, and so have an advantage over intercepting fighters (except those attacking from ahead or astern).5 Finally, the introduction of power turrets (eg in the Overstrand -- a good pic here) meant that more guns could be handled more easily, even at airspeeds which might otherwise have prevented accurate fire.
Another French flying fortress was the Société Aérienne Bordelaise A.B.21. Actually, I don't know how well-armed it was (aside from a rumour that one had been fitted with a 75!), but it certainly looks the part, which I think is the point of the first sentence of this photo's caption, from Flight:

WHERE IS THE MOAT? Here we see the latest development of the type A.B.21 bomber manufactured by the Société Aérienne Bordelaise. The machine, which has a span of over 120 ft., is fitted with four Lorraine "Petrel" engines.6
And it does have something of the castle about it. It's an ugly brute. But then, so were many French multi-engined aircraft in the 1920s and 1930s:
Amiot 143 (as seen above, first flight 1931).
Farman F.222 (first flight 1932).
Lioré et Olivier LeO 208.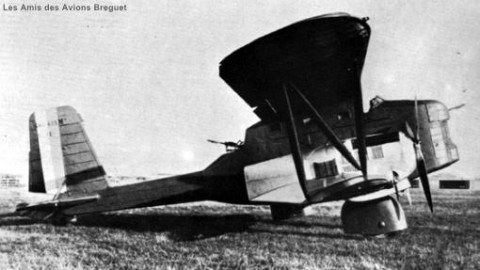 Breguet Bre 413 (first flight 1933).
Potez 540 (first flight 1933).
What a collection of eyesores! The aircraft of other nations were by no means uniformly pretty, but neither were they this bad -- I almost called this post "Fugly aircraft of the Third Republic"! However, it must be said that by the Second World War rolled around, French aircraft designers had gotten their act together, coming up with splendidly clean designs like the Amiot 350 [edit: actually the Amiot 351, according to somebody who knows more than I do on the subject] (first flight 1939, I think):
Not a flying fortress: it looks more like the result of the re-thinking Spaight mentions.
Image sources (other than as noted): Amiot 143; Amiot 350; Farman F.222; the rest.
---
This work is licensed under a Creative Commons Attribution-NonCommercial-NoDerivatives 4.0 International License. Permissions beyond the scope of this license may be available at https://airminded.org/copyright/.