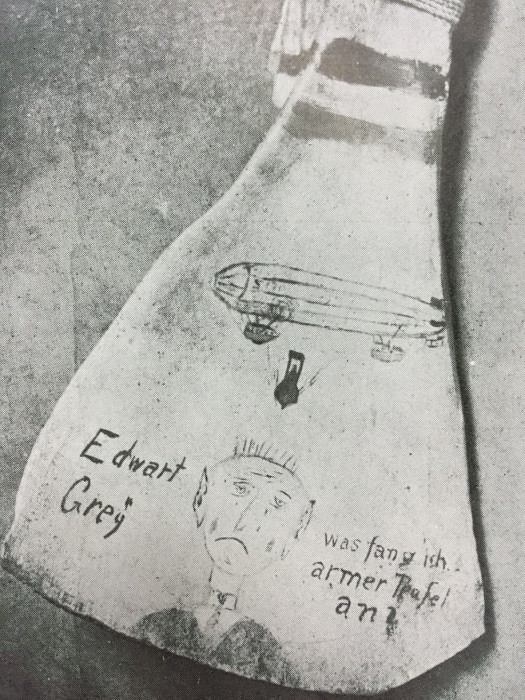 An early contribution to the list of strange things dropped from the air in wartime was made by the crew of L13, a German naval Zeppelin under the command of Kapitänleutnant Heinrich Mathy. During a raid on London on the night of 8 September 1915, they dropped bombs from Bloomsbury to the City which killed 20 people and caused more than £200,000 worth of damage. But they also dropped the above object by parachute on Wrotham Park in Barnet. It's a ham-bone.
Clearly, though, it's no ordinary ham-bone. It's carved with a drawing of a Zeppelin dropping a bomb (perhaps L13's 300kg one, the largest one ever used so far in war) on the head of a sad man, along with an inscription reading 'Edwart [sic] Grey' on one side and 'was fang ich armer Teufel an?', the title and first line of an old German soldier's song: 'what's a poor devil to do?' Sir Edward Grey, at this point still Foreign Secretary as he had been when Britain declared war on Germany, would no doubt have been very sad indeed had a bomb (or even a ham-bone) hit him on the head; but the real reason for the tears running down his cheeks is given on the other side (not shown here), where it is written 'Zum Andenken an das ausgehungerte Deutschland', 'A souvenir from starving Germany'. The point was presumably to show that the naval blockade of Germany was not having the desired effect; but perhaps also to justify Zeppelin raids as reprisals for the attempt to starve the German people.
In any case, the ham-bone would appear to be an unofficial piece of propaganda devised by the Zeppelin's crew. Any effect it might have had would have been limited as it does not appear to have been mentioned in the wartime press, and whether Sir Edward himself got to hear of it is probably also doubtful. I don't know where it ended up, but thankfully the Intelligence Section, General Headquarters, Home Forces included the above photograph in a 1918 summary of the Zeppelin raids of August and September 1915 (The National Archives, AIR 1/2319/223/30/2). And here it is at last for the whole world to see!
This work is licensed under a Creative Commons Attribution-NonCommercial-NoDerivatives 4.0 International License. Permissions beyond the scope of this license may be available at https://airminded.org/copyright/.