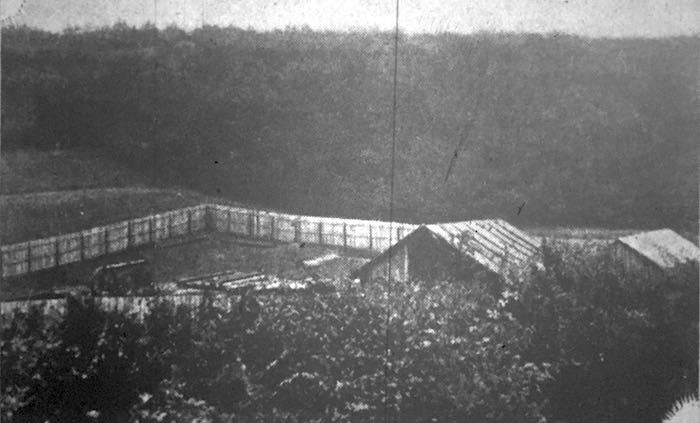 Yesterday was the last research day proper of my big trip. Actually, I was supposed to be having a holiday, but instead I spent it in Aylesbury at the Centre for Buckinghamshire Studies, trying to see if I could get to the bottom of the Great Missenden affair of 18 October 1914, when villagers decided that before the war Germans had hidden either a siege gun emplacement or a Zeppelin base in their midst. I didn't find anything in the nature of a revelation, but I did find some very useful bits and pieces. For example the above photograph from the Middlesex and Buckinghamshire Advertiser shows 'the mysterious enclosure at Great Missenden' itself -- though why with all those hills and trees it was thought to be a safe landing place for an airship is anyone's guess.1 Otherwise most of the local press reports simply repeated the London Star's report, apart from the Bucks Herald which instead gave a sceptical summary, which did add some commentary, and the Bucks Advertiser which rather sniffily declared that 'little importance is attached to the rumours' and so 'it is inadvisable to pursue the matter further'.2 It probably didn't help that they all went to press nearly a week after the scare had begun and then been debunked, so it's treated as a curiosity rather than a live issue. But none of these papers, nor the South Bucks Free Press, denied that the hunt happened, though, so presumably it actually did.

There are a few other clues, which could have had some part to play in explaining the rumour:
So, to speculate, the military activities on land and in the air earlier in the month, followed by the official interest in the possibility of visits by enemy aircraft, the progressive blacking out of nearby cities and towns, and the announcement of DORA regulations concerning petrol storage could have contributed to the idea that Buckinghamshire was perhaps a strategic location in the impending aerial war. I can't prove it, but it's suggestive.

Some other suggestive things which may or may not be related:
An 'Aylesbury lady', Miss P. Mundy, had been in Germany at the start of the war and was repatriated in late September. When asked by a journalist if the Germans 'expect to land in England', she replied 'One of the last things I heard was that Graf Zeppelin was speaking to some people on Frankfurt Station, and he said before long Zeppelins would be over London. I read that, too, in the "Frankfurter Zeitung."'10 However, it's not clear from the article when she returned to Aylesbury or even if she had actually returned, and as it was published after the Great Missenden hunt it might not have been a factor, though she likely told the stories to other people too.
An article on how the war was changing British reading habits lists among the 'score or so most widely read books at present', H. B. Hanna's Can Germany Invade England?, Louis Gastine's War in Space, and William Le Queux's Spies of the Kaiser. While Hanna actually concludes that Britain is safe from invasion (because of the Royal Navy), Gastine was writing about an aerial war between Germany and France, and Le Queux is, well, Le Queux, this is suggestive of what people were suddenly interested in.11
I had speculated that lurid tales of air raids brought by Belgian refugees to Great Missenden might have been an inspiration, but from the Bucks Advertiser it would seem likely that they arrived after the hunt, though if taken literally the phrase 'in the last week' could mean they arrived the day before.12
Unfortunately I wasn't able to find anything in TNA about the Great Missenden Zeppelin base, even though the Chief Constable supposedly made a report to the War Office. But there and in the National Records of Scotland I did find some good sources on the other supposed secret Zeppelin bases, the one in the Lake District and the one in Scotland. These don't actually seem to have been the subject of much public speculation, as far as I can tell; instead they were inferences by the military from the persistent sightings of mystery aircraft (more aeroplanes than airships) in these areas. By contrast in Great Missenden the idea was purely civilian and very public, and seems to have begun (and ended) with the Zeppelin base itself, rather than being required to explain things that people actually had seen.
The other disappointing thing was that I turned up very little in the archives about Maubeuge platforms, the concrete beds for siege guns that German spies had supposedly built before the war in the guise of factory floors and tennis courts, even though in at least two cases military and/or police had raided suspect premises. Maybe yet another week in the archives was needed... but I've got enough to be going on with!
---
This work is licensed under a Creative Commons Attribution-NonCommercial-NoDerivatives 4.0 International License. Permissions beyond the scope of this license may be available at https://airminded.org/copyright/.