N. A. J. Taylor recently asked me on Twitter if I thought the above photograph, purportedly of one of the daylight Gotha raids on London in 1917, was genuine.
I said no, due to 'Experience, intuition, lack of provenance, contemporary photographic technology. The photo has been retouched at very least.' But I'm coming around to the idea that it is real. A bit.


One problem is the ratio of the wingspans to the fuselage lengths. The Gotha G.IV had a very large wingspan for its length, almost twice as long as its fuselage: 77 feet to 40. The plan above (originally from Flight, 27 December 1917, 1380, though I got it from here). Looking at the little aeroplanes in the photograph in question, the ratio in general seems more like one to one than two to one. But the images are small, retouching might have altered the proportions, and the attitude of the aircraft could decrease the ratio (i.e. if they were banking). So that's not definitely definitive.
Another problem I had was provenance. There are a number of fake photographs of aerial combat and air raids from the First World War, as I have discussed before. Newspapers wanted to publish photos of such things, but photographic technology wasn't yet up to the task; after the war, too, there was a desire for images of the air war to illustrate books and magazines but where these weren't available they could be created.
So where did this photograph come from? The web page where it was found gives the source as a book called German Fighter Aces of World War One by Treadwell and Wood. I'm not familiar with it, but I do wonder why a book about German fighter aces would show a photo of German bombers. However I had seen it before somewhere, and it turns out I'd seen it in multiple places. It appears in Ian Castle, London 1917-18: The Bomber Blitz (Oxford and Long Island City: Osprey Publishing, 2010), 32, where the date is given as 7 July 1917 (so it's the second of the daylight Gotha raids on London) and the location is over Essex, on the return flight to Belgium. But no source is given. Those details also match Christopher Cole and E. F. Cheesman, The Air Defence of Britain 1914-1918 (London: Putnam, 1984), 263, where the source is given as the Public Record Office (as was). (They also reprint (262) diagrams of the Gotha formations from an Air Ministry 'publication' of October 1918, but it's not clear if that's their source for the photograph as well.) Cole and Cheesman do in fact consider the possibility that it isn't genuine, but conclude that this is improbable:
Newspapers generally printed crude montage pictures with aircraft scraping the rooftops, but this untidy formation is unlikely to have been faked.
Indeed, I've featured one such crude montage on this blog before:
You can see what Cole and Cheesman mean: this is far less convincing than the photograph in question here.
Getting back to the provenance, I've also found the photograph in books published much closer to the event in question. It's in Hamilton Fyfe, 'Winged killers in British skies', in John Hammerton, ed., War in the Air: Aerial Wonders of our Time (London: Amalgamated Press, n.d. [1936]), 190. Here at last there is an attribution, although not a proper citation: the photograph is credited to H. M. Stationery Office and is said to be 'an actual photograph in an official War Office report'. That's also pretty much what is said in the earliest source I've been able find: Joseph Morris, The German Air Raids on Britain 1914-1918 (Dallington: Naval and Military Press, 1993 [1925]), opposite 228. And Morris certainly did have the co-operation of the War Office and the Air Ministry in writing his book.
I haven't been able to locate a citation for this War Office report, but if that's where the photograph did come from then it seems unlikely to have been faked. Not because the War Office wouldn't lie, but because it's hard to see what the point would have been. If it was a confidential report, then presumably the goal was to disseminate accurate information about the raids; perhaps a montage for illustrative purposes would have been included but surely it would have been clearly labelled as such. If it was a public report, then why would they go to the trouble of faking a cloud of German bombers in the sky? Again, presumably they would want to dampen down fear, not enhance it.
So, the photograph itself still seems suspicious, but the provenance is firmer than I had thought. What do you think?
For the sake of completeness, here's another alleged photograph of the Gotha raid of 7 July 1917:
This one most definitely was taken (or made) at the time, as it appeared in the Illustrated London News, 14 July 1917, 38. It is credited to the 'Illustrations Bureau' (presumably the newspaper's own), and the caption is:
AS THOUSANDS SAW THE ENEMY: GERMAN "GOTHA" AEROPLANES OVER THE METROPOLITAN AREA
This could be a fake too, but its unspectacular nature perhaps stands against that.
Finally, here's another photograph of the second daylight Gotha raid: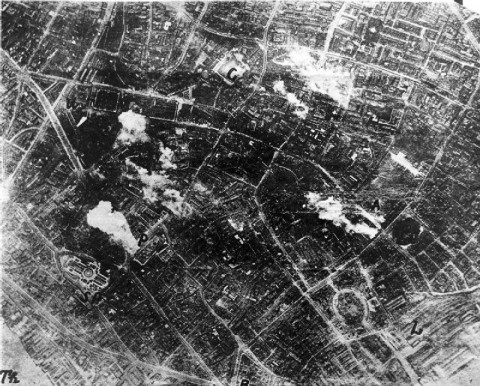 The vantage point is slightly different than the other ones here, because it was actually taken from one of the Gothas. It's held by Imperial War Museum (Q 108954) but the original source was obviously a German airman. A couple of similar photographs (one actually showing a German bomber, though that doesn't prove anything) appear in Raymond H. Fredette, The Sky on Fire: The First Battle of Britain 1917-1918 and the Birth of the Royal Air Force (Washington, D.C.: Smithsonian Institution Press, 1991 [1966]. That's St Paul's in the lower left, and Finsbury Circus in the lower right.
This work is licensed under a Creative Commons Attribution-NonCommercial-NoDerivatives 4.0 International License. Permissions beyond the scope of this license may be available at https://airminded.org/copyright/.