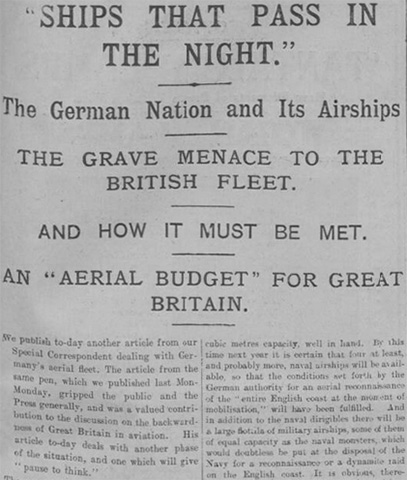 It's a new week, and (mercifully) the volume of phantom airship stories has dropped sharply. But not to zero. Mr H. Wooliley of 10a Rose Lane, Mossley Hill, Liverpool, has written in to the Liverpool Echo to report that (p. 7)
Last night (Sunday) [2 March 1913] at 7.45, looking over Eastham way, a very strong light, which was certainly not a star, could be seen in the sky. I pointed it out to two or three friends, and we all came to the conclusion that it was the aircraft seen in different places lately. It was visible for fully five minutes, the light varying in size from time to time. We could not make out any shape, but it was going at a great pace, and we lost sight of it over New Brighton way.
The Dundee Courier is likewise able to report a local airship sighting (p. 5):
Two men who are in the Corporation employ, were standing talking in Bell Street about nine o'clock [on 2 March 1913], when their attention was attracted by a bright light in the western sky. They both observed it at practically the same time.

At first it appeared dimly, gradually increasing in strength until it flashed into great brilliance, resembling a powerful acetylene-lamp. The light gradually receded into the darkness, but it burst forth again in all its brightness a minute later. The second time it as quickly disappeared.
When 'Asked if they could see any form of an airship, the men replied that the light was too bright, and was straight in their eyes'.
'Do you think it was near to the city?'
'Oh no; it was a good distance off,' remarked one of the men, 'but the light was one of the most powerful that I have ever seen.'
But there is no interest in these mystery airships outside of their place of origin.
More
This post is part of an experiment in post-blogging the scareship wave of January-April 1913. See here for an introduction to the series.