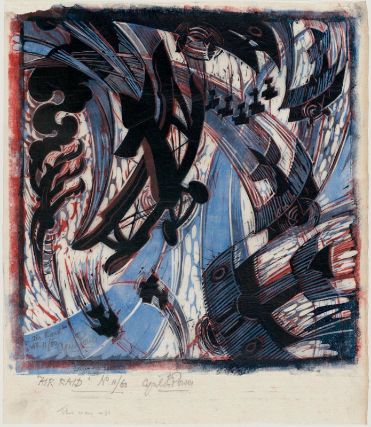 Cyril Power, Air Raid (1935): British biplanes tangling with an unidentified enemy against a smoke-filled sky.
It is tempting, given the date, to see this as an air raid of the next war, especially given Power's marked interest in machines and speed and influence by Futurism and Vorticism. But it could just as well be an air raid of the last war. Power, then an architect and a lecturer, joined the RFC in 1916 and was put in charge of the repair workshops at Lympne, a transit point for aircraft going to and from the Western Front. Judging from his AIR 76, he arrived after the daylight Gotha raid on the airfield on 25 May 1917 (as well as the riot at nearby Hythe), but he would have been familiar with British bombers passing through. Power's partner, Sybil Andrews, also had some aeronautical experience as she had been a welder in a factory making parts for Bristol (possibly for the all-metal M.R.1, but that's a guess as details are sketchy).
It's probably both. Or neither. It's still a striking evocation of speed, violence and, well, power.
Image source: Museum of Fine Arts.
This work is licensed under a Creative Commons Attribution-NonCommercial-NoDerivatives 4.0 International License. Permissions beyond the scope of this license may be available at https://airminded.org/copyright/.