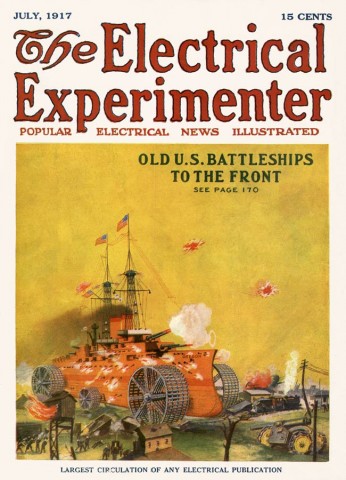 The Electrical Experimenter was an American science magazine, founded and edited by Hugo Gernsback. These covers were published during the First World War, and illustrate ways in which science could be used to create new weapons and new defences. Many of them are just a little far-fetched, such as the land ironclad shown above.


Or this electro-gyro-cruiser.
Not to be confused with the gyro-electric destroyer, of course.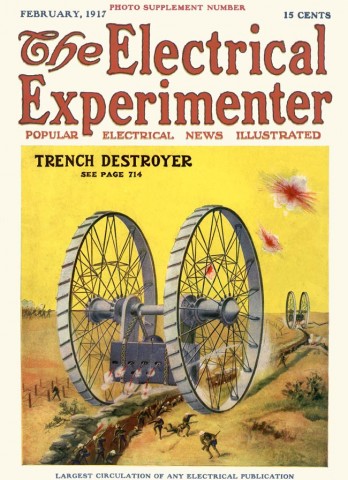 The trench destroyer is not quite in the same category of improbability, since the Russians did test something similar in 1915.
Radium destroyers aren't quite so imposing, even walking ones, but would seem to rely on more advanced science than the mechanical monstrosities above.
And we still haven't come up with anti-gravitation rays.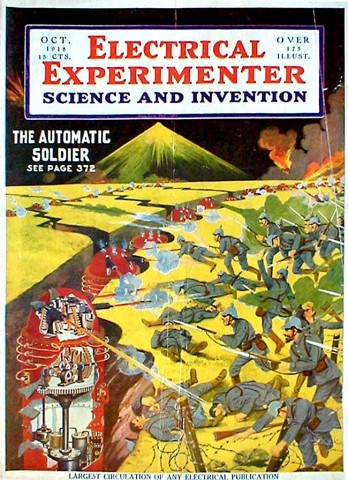 Or automatic soldiers, though we're getting closer.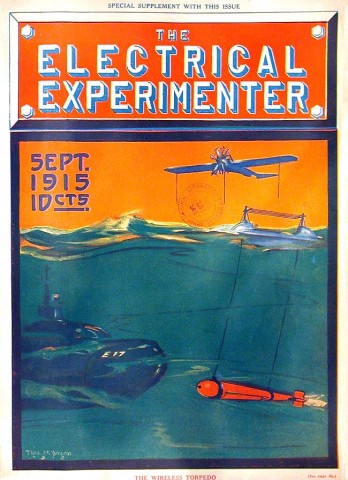 The problem of the submarine seems to have stimulated less fanciful (if still unworkable) ideas. Here is an anti-submarine torpedo controlled by radio.
This looks like some sort of boom which causes torpedoes to explode before reaching the ship.
Here, intense searchlights blind a U-boat's periscope.
A homing torpedo to seek and destroy submarines.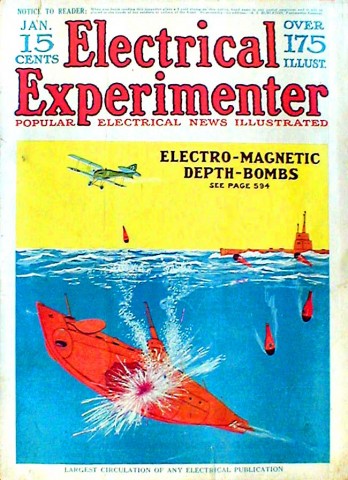 Magnetic depth charges, triggered by a submarine's magnetic field.
Even the simple use of lighting the side of US merchant vessels could ensure that German submarine commanders would see the large American flag painted on the side, and so avoid firing at a noncombatant. Hence 'Electricity guards neutrality', a great title for a paper if ever I heard one.
Admittedly, this post is partly just an excuse to display some of these wonderful magazine covers. But more seriously, they do display a remarkably vivid imagination when it comes to deploying science and technology in war, an imagination which generally seems to be lacking in contemporary British periodicals. As far as I can see, English Mechanic, Practical Wireless, Practical Mechanics and Wireless World were much more staid than Electrical Experimenter in terms of their visual style. It could be argued that Gernsback was unique, but in America his style inspired, in different directions, the pulp SF magazines of the 1930s and visually arresting science magazines such as Modern Mechanix or Popular Science. Where were the British Gernsbacks?
Image source: MagazineArt.org.
This work is licensed under a Creative Commons Attribution-NonCommercial-NoDerivatives 4.0 International License. Permissions beyond the scope of this license may be available at https://airminded.org/copyright/.