One of the fun things about reading old books that nobody else has opened for decades is what you sometimes find inside them: annotations, bookmarks, letters, racist leaflets (OK, that one was not so fun). Above is a library call slip (i.e. the bit of paper you fill in to request that a book be retrieved for you) from the SLV. I found it inside Property or Peace? by H. N. Brailsford, a socialist journalist. The book was published in 1934 but I reckon the call slip is from the 1950s, at the earliest, as there's a stamp in the front saying it was transferred from the CAE library in 1951 or 1952 or so.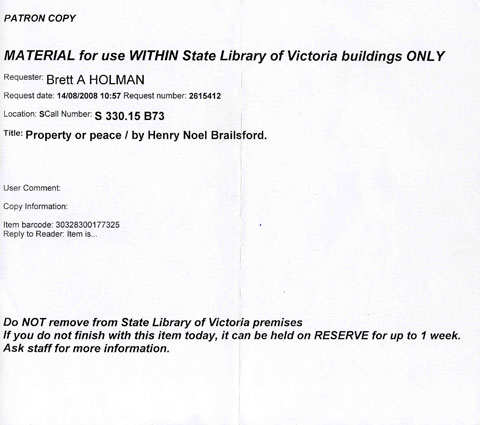 This is the modern equivalent for the same book. Today books are requested electronically, through t he library catalogue; but it still gets turned into a printed call slip which you get with the book when it arrives. So the technology may have changed greatly, but the principle is just the same.
For some reason I was surprised to see that the call number of the book, S 330.15 B73, hasn't changed in the last half-century. Maybe there is a Law of the Conservation of Call Numbers?
This work is licensed under a Creative Commons Attribution-NonCommercial-NoDerivatives 4.0 International License. Permissions beyond the scope of this license may be available at https://airminded.org/copyright/.