Here are a couple of photos I used in my AHA talk last week: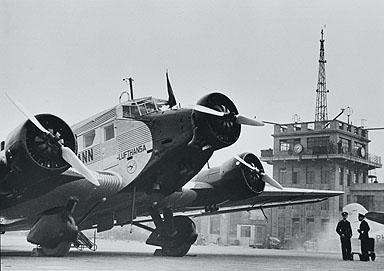 This is a Lufthansa Ju 52/3m, one of the great airliners of the 1930s, at Croydon aerodrome, ca. 1936. Other operators included Swissair, Aeroflot, and British Airways (an ancestor of the current airline of the same name).


And this is a Ju 52/3m bomber variant over Spain, ca. 1936. Note the defensive machine guns, in the dorsal position and in the 'dustbin' below. The Luftwaffe used Auntie Jus as interim combat aircraft up til the invasion of Poland, and used them to destroy Guernica in 1937, though the ones above were actually in Nationalist service.
So the point of showing these was to illustrate the convertibility of airliners into bombers (though it's cheating slightly as the Ju 52s in the second photo were in regular military service, not adapted quickly and covertly for military purposes, which was what was so worrying about convertibility).
I think the talk went ok, though I wish I'd written it out from scratch rather than trim down an existing paper: it was too formal and stilted. Actually, I'd already learned that lesson, but was pressed for time and this seemed like an easier way to go. One positive thing I noticed was that I had virtually no nerves beforehand, which means I'm getting better compared with a couple of years ago!
It was a really good conference, covering everything from the Aboriginal geography of early Sydney (by Grace Karskens) to the possible Australian inspiration for the Munich conference (by Christopher Waters). I got to meet Mike Cosgrave's student from Cork, Jonathan Murphy, whose talk exposed the shabby British treatment of the Polish government-in-exile at the end of the Second World War. For the first and probably last time, I was able to work Frankie Goes to Hollywood into a post-talk question, when I asked Erin Idhe about how Hawkwind compared with other British pop-cultural evocations of nuclear apocalypse. I unfortunately didn't manage to meet Melissa Bellanta. Neither did I meet polymath and Australian Living Treasure Barry Jones, but did at least get to hear him speak at a book launch with his characteristic erudition. But most of all, I was very happy that I got the chance to have a chat with Paul Nicholls, my former supervisor, and favouritist history lecturer ever (sadly retired!), after my talk.
Image sources: vliegmachines.net; Aviones de la Guerra Civil Española (a brilliant site if you want photos of Spanish Civil War aircraft).
This work is licensed under a Creative Commons Attribution-NonCommercial-NoDerivatives 4.0 International License. Permissions beyond the scope of this license may be available at https://airminded.org/copyright/.