Jack McGowan of Smashing the Window has some very interesting reflections on his experiences in seeing his first paper through to being accepted for publication (congrats!). A timely read for me, as I start to think about doing this myself.
While I'm on the matter of writing advice, here's a chance to use the WordPress Democracy plugin I installed the other day. Near the start of chapter 3, I have a sentence which begins 'In this chapter, I will briefly examine ...' 'I'. 'I'! While I use the personal pronoun all the time on this blog, and have already done so once this sentence, I find that it really cuts against the grain to do so for academic writing. I don't think it is such a sin in writing in the humanities, but I first learned academic writing in the physical sciences, where the personal pronoun, singular or plural, is rare (though not unknown). Instead, one would use phrases like 'the present author' where in less formal writing one would say 'I'. I guess this is to avoid the academic equivalent of breaking the fourth wall. On the other hand, taking ownership of a sentence with a personal pronoun is a good way to avoid the dreaded passive voice.
So, am I worrying too much about this? Does anyone care about this any more? Should I just embrace 'I'? Here's the poll:
Edit: I have removed the poll plugin for security reasons. But here's a screenshot of the poll results as of 22 November 2011: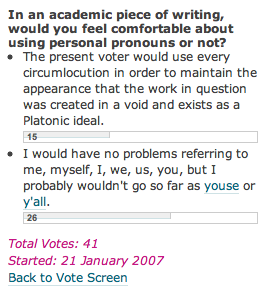 This work is licensed under a Creative Commons Attribution-NonCommercial-NoDerivatives 4.0 International License. Permissions beyond the scope of this license may be available at https://airminded.org/copyright/.