From the just-because-I-can department.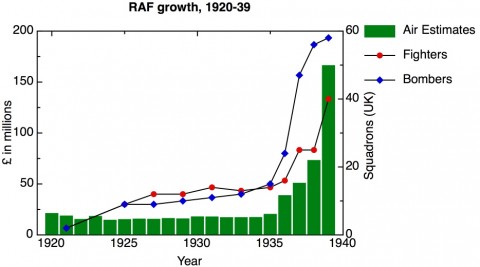 As an ex-physicist, I like to see numerical data plotted in a graph, as well as in tabular form - it's much easier to visualise what's going on. I don't have any particular need for this right now, but I've been playing around with a few plotting packages anyway. The figure above was made with pro Fit (OS X only), which has a free trial version, limited in the number of graphs, data points, etc, that can be in use at one time. It's easy to use and the end result is pleasing enough to the eye. The main problem I found is that the legend isn't a separate object to the graph, so I can't shift it to make room for a longer axis label. But I like it otherwise, so I think I will stick with it for the moment.
The data itself is taken from the tables in the back of John James, The Paladins: A Social History of the RAF up to the Outbreak of World War II (London and Sydney: Macdonald, 1990) - tables 5 (for the Air Estimates, ie the Air Ministry's, and effectively the RAF's, budget), 9 (UK squadrons only) and 15 (from which I derived the number of squadrons in 1939). A few remarks: the number of squadrons tracks the budget fairly closely. I would have expected there to be a year or two lag, because as James points out, men have to be trained, aircraft orders placed and land for airfields purchased well in advance of a squadron coming into being. I guess the squadrons may not have been effective initially, though. Secondly, despite the deterrence policy of Trenchard's RAF, and the authorisation of 35 bomber to 17 fighter squadrons for the Home Defence Air Force in 1923, there were actually slightly more fighter squadrons than bombers right up to 1935. Finally, the graph shows how weak the RAF was in fighters at the time of Munich in 1938 (and just plotting raw numbers actually understates this, as Fighter Command mostly had obscolescent types at the time).
Addendum: I forgot to mention that James doesn't say if the Air Estimate figures are in adjusted pounds or not - so I assume they are not.
This work is licensed under a Creative Commons Attribution-NonCommercial-NoDerivatives 4.0 International License. Permissions beyond the scope of this license may be available at https://airminded.org/copyright/.