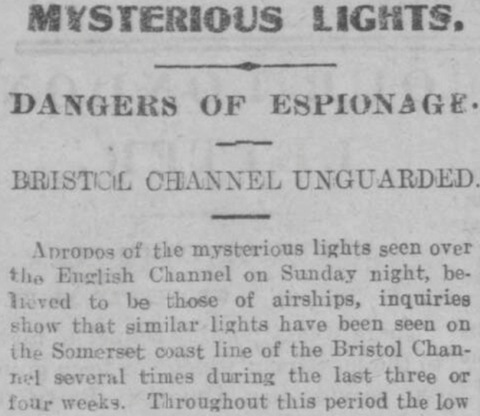 Alluding to the airship supposedly seen at Dover (assuming Saturday is meant, rather than Sunday as written), the Devon and Exeter Gazette notes (p. 4; above) that 'similar lights have been seen on the Somerset coast line of the Bristol Channel during the last three or four weeks' (so going back to mid-December 1912, at least). This activity is viewed with suspicion:
Throughout this period the low dull clouds which have prevailed would be the best screen or cover for aerial prospectors or scouts. It is to be hoped that the proper Government department has been duly apprised, but somehow the authorities seem to be the last to get knowledge which for a considerable time has been common property.
There is a (ground-based) precedent for this. Citing the Bristol Times and Mirror (possibly the source for the whole story, which provides no names or other verifiable details), the Gazette says that 'Three years ago a series of coast observations were made along the banks of the Severn, and quite openly'.
Getting into conversation with one of these men at Pilning Railway Station, a Bristolian was astonished to hear the German accent. This aroused his curiosity, and on attempting to ask the local military person in question what mission he was engaged on, the latter turned the conversation and terminated it.
The Gazette hopes that the 'authorities are alive to the danger of espionage', but sourly asks what can be expected 'from a Government which disbanded five Regiments of Infantry and Batteries of Field Artillery, and at the same times [sic] poses as encouraging to the full the Territorials'?
This work is licensed under a Creative Commons Attribution-NonCommercial-NoDerivatives 4.0 International License. Permissions beyond the scope of this license may be available at https://airminded.org/copyright/.