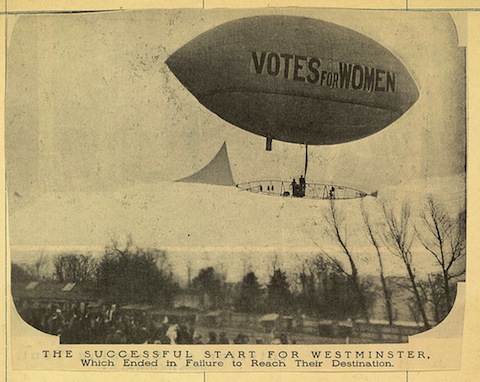 A common complaint1 about this blog is that it doesn't feature nearly enough pictures of airships. So here's one, a 27-metre long non-rigid which belonged to Henry Spencer, scion of a remarkably airminded family (sixteen aeronauts across four generations). Indeed, he built it with his brothers. The photograph was taken on 16 February 1909 and apparently shows the first ever powered flight from Hendon aerodrome, though neither Spencer nor his airship are mentioned in David Oliver's Hendon Aerodrome: A History (Shrewsbury: Airlife Publishing, 1994).
But much more interesting than the airship itself, it must be said, is what it was used for. The clue is the slogan emblazoned on the side of the envelope: 'VOTES FOR WOMEN'. Spencer had hired his airship out as a propaganda platform to Muriel Matters, an Australian-born suffragette who was very active in the Women's Freedom League (a non-violent breakaway from the better-known WPSU). Matters had won some publicity the previous year by chaining herself to the grille of the Ladies' Gallery of the House of Commons. Her airship flight was also designed to make Parliament take notice of the suffragist cause: the new session was opening that very day and it was her intention to fly over Westminster and drop Votes For Women leaflets on it. In the end Spencer and Matters didn't make it there, having been blown off course into a tree in Coulsden, well to the south. Three decades later, Matters herself gave a wonderful account of her flight to the BBC, which can be heard online here. (Ignore the photo there, which is of the Army airship Baby.)
The photograph above is from a scrapbook belonging to an American women's suffrage organisation, so the message did travel quite some distance, albeit to a receptive audience; I couldn't find any mention of Matters' flight in a quick search of the British press. It took nearly a decade for the WFL's demand to be partially fulfilled. And it's nice to see that the part Matters played in using airpower for progressive causes is still remembered in her native South Australia.
---
From me. ↩
This work is licensed under a Creative Commons Attribution-NonCommercial-NoDerivatives 4.0 International License. Permissions beyond the scope of this license may be available at https://airminded.org/copyright/.