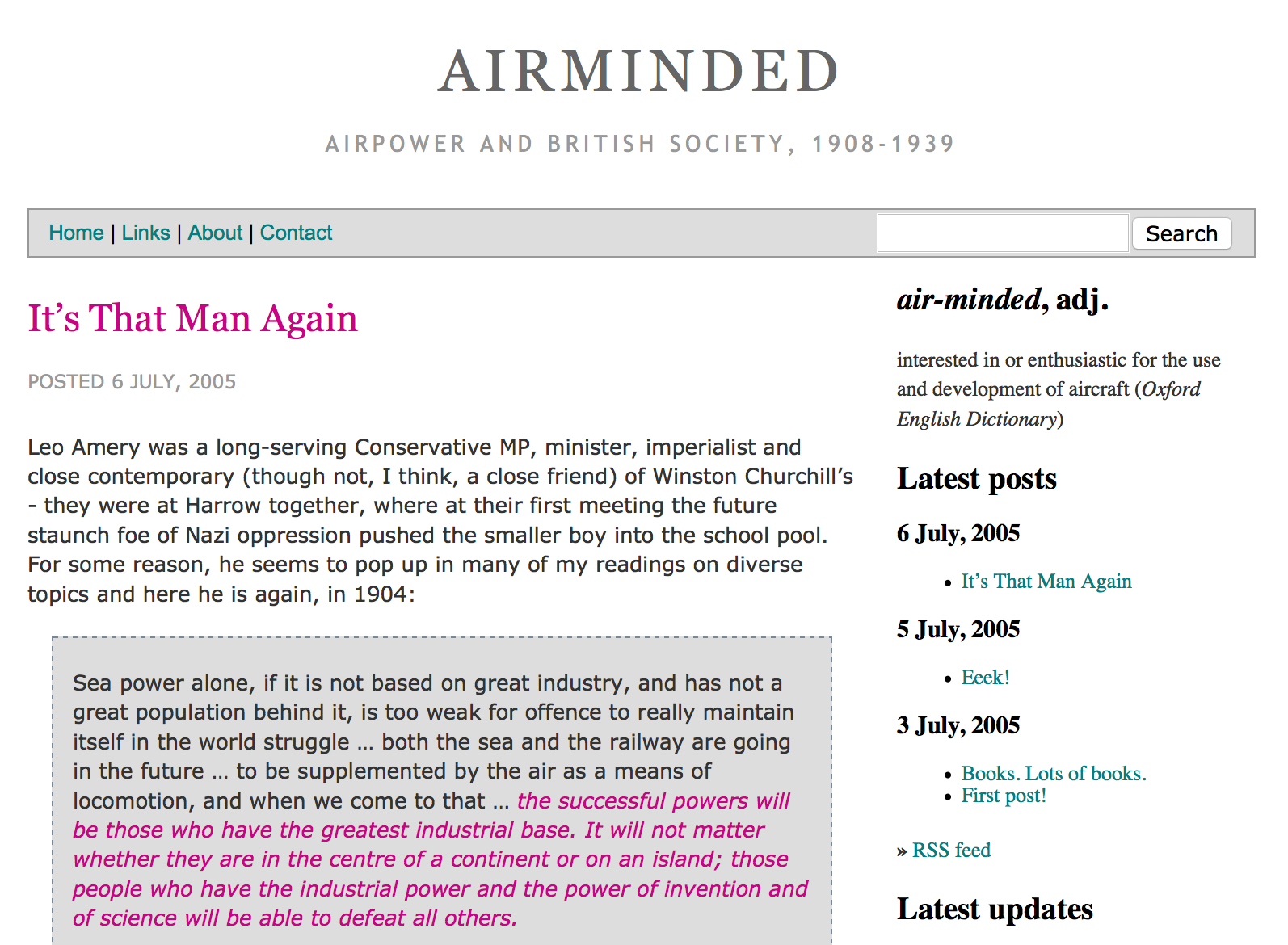 It's 10 years to the day since I put up Airminded's first post, imaginatively entitled 'First post!' That is a long time ago, a very long time in internet years. Still, Airminded wasn't one of the first history blogs. In fact, Ralph Luker (of Cliopatria fame, alas long since retired from blogging) made a start on writing the history of history blogging two entire months before Airminded even began. Ralph identified Kevin Murphy as the first bona fide historian blogger: Kevin's Ghost in the Machine began in 1999 (in the last millennium!) and is still going strong, though it's not so much about history these days. King of the geek/historians Rob McDougall started on 1 January 2001. Rebecca Goetz started in July 2002 (as she recounts in her own recollections, conveniently published just last month); Tim Burke started in November. Mark Grimsley started the precursor to War Historian (for a long time the military history blog) sometime in 2003. Cliopatria itself, which in many ways became the centre of the history blogging community, or at least its central clearinghouse, started in December 2003. All these history blogs and bloggers were well-established by the time I came along, or indeed before I was really aware of blogging at all. So by starting a history blog in 2005, I was merely joining a swelling crowd.
The only sense in which Airminded might have stood out from that crowd in any sense (apart from being non-American) was in being resolutely, well, airminded. Most of the history blogs I was aware of when I was thinking of starting my own were much more personal or political than I wanted to get -- they were written by historians trying to make sense of academia, or trying to make sense of the world outside academia. I wanted my blog to be much more about trying to make sense of history, the history I was researching. In other words, Airminded was to be a history research blog. (About airpower and British society. Mostly.) But again, I wasn't the first to think along these lines -- Miriam Burstein's Victorian literature blog, The Little Professor, was definitely an inspiration for me; Esther MacCallum-Stewart's (much-missed!) Break of Day in the Trenches was at least three years old; Alun Salt was already around, somewhere (and still is, I'm very glad to say); Sharon Howard's Early Modern Notes was also well-established; a few months after Airminded, Kevin Levin's research blog, Civil War Memory, independently came out of a strong American Civil War blogging community, but soon set the standards for everyone to emulate (or try to).
I didn't always keep to my original vision -- I quickly pulled back from putting everything I was doing or thinking out there (and blogged about that, of course; I never did do anything with the idea I was so concerned to protect, something about interwar robotic warfare, I think) and I did comment on academia, memory, and sometimes even politics. In any case, history blogging as a whole has changed: as Becky notes, much of its conversation and spontaneity (and procrastination) has moved elsewhere, especially Twitter, for good or ill. And, naturally, Airminded has evolved along with my career; teaching is not conducive to serious blogging, at least not if you're me. But I think my blogging has created a profile for myself which I would not otherwise have had as a junior scholar in a remote part of the academic world. I've even worked out how to turn research blogging into research publications (at least sometimes). On the whole, Airminded has remained largely about my research, one way or another, and I'm pretty pleased with the way it has turned out.
Airminded has always been a big part of my scholarly identity. I started it a month before I started my PhD; ten years, 1426 posts, 873000 words (not to mention 6850 comments -- thank you! Most of you, anyway...) -- and one thesis, five peer-reviewed articles, and one scholarly monograph -- later, I'm coming towards the end of my first academic position, and Airminded will still be with me, whatever happens after that. (Take that as a promise or a threat, as you like!)
To celebrate Airminded's tenth birthday -- not having done much for its first or its fifth -- I'm going to take a leaf out of Sharon's blog and repost some of my favourite Airminded posts over the next little while. And for anyone who makes it through all of that, there might even be a surprise.
Image source: via Wayback Machine.
This work is licensed under a Creative Commons Attribution-NonCommercial-NoDerivatives 4.0 International License. Permissions beyond the scope of this license may be available at https://airminded.org/copyright/.