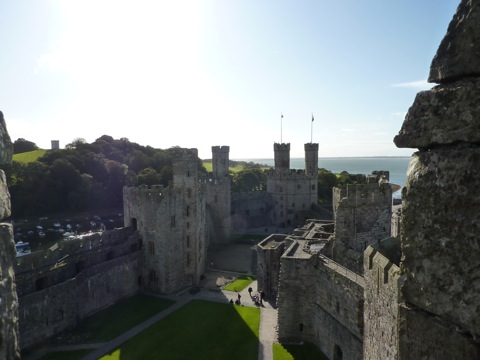 Another day, another castle. But first ...


... I spent the morning in Conwy again, looking at two historic houses. The first was Plas Mawr. It doesn't look like much, perhaps, but it is 'Possibly the best preserved Elizabethan town house in Great Britain' (if you believe Cadw).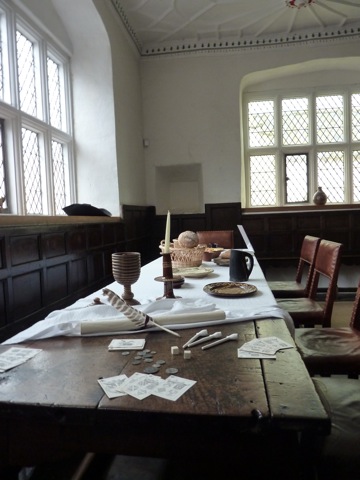 It was built for a merchant named Robert Wynn between 1576 and 1585. Plas Mawr is Welsh for 'great hall', and here is one corner of the original hall itself. It was later superseded by a bigger hall, so this became a place to greet visitors.
Still, it was decorated with some elaborate plasterwork, as you can see here. The colours are of course a modern reconstruction, but the plaster is original. Things to note: the date (1580), Wynn's initials, his coat of arms, the Tudor roses, and the somewhat naked ladies -- according to the (very enjoyable) audio guide, modelled on the plasterer's wife!
A view of the kitchen. Some of the items are original (to the period, not, I think, to the house). I do like recreated kitchens like this -- they are so wonderfully aromatic. Even the smell of the straw on the floor adds greatly to the experience.
The big wooden cage hanging from the ceiling is to keep bread clear of mice.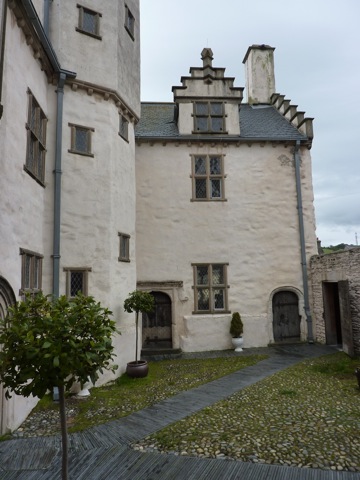 The backyard. Clearly the Elizabethan Welsh had no need of lawnmowers.
Wynn's garden. This is a recreation of the original, which was laid out in the late 16th century. Our information as to the plants it would have contained comes mainly from an inventory made in 1665. (This is true of the house furnishings, as well.) Obviously intended to be beautiful rather than useful; a lower terrace had herbs and suchlike.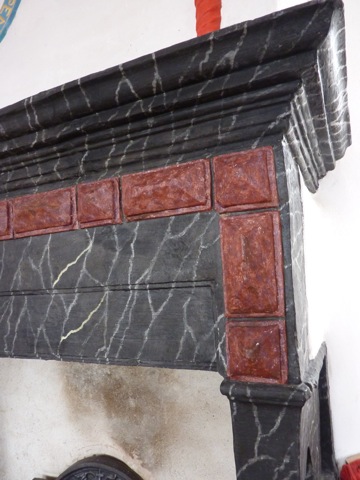 A very classy bit of paintwork -- it looks just like marble! But much cheaper.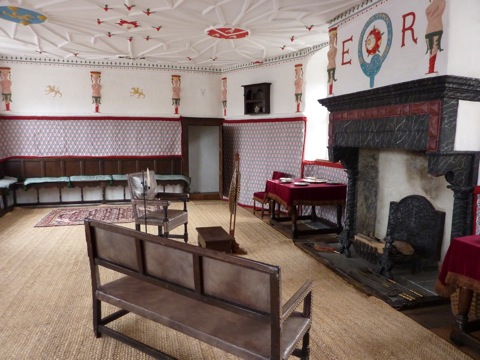 The great chamber, where Wynn and his wife would have done most of their entertaining. More of the lovely ladies, and the plaster ceiling can also be seen.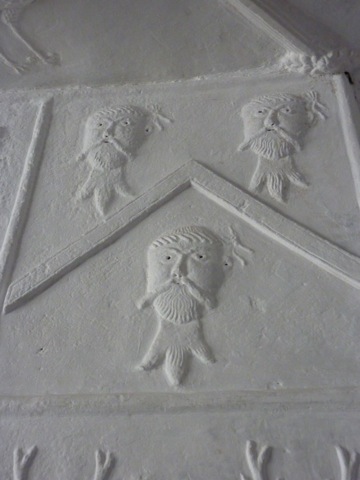 A close-up of some of the plasterwork. Now, I had thought that this was from the family arms of Wynn's first wife, Dorothy Griffith, but judging from the guidebook it's from Wynn's side of the family. Apparently it represents the severed heads of Englishmen defeated in battle. Nice!
Wynn had Plas Mawr built as a home for his new wife -- here's her bedroom -- but she died a year after it was finished. He married another Dorothy, Dorothy Dymock, with whom he had seven children. He first became a father when he was nearly 80!
Plas Mawr hasn't been frozen in time since the 16th century. If people hadn't found the building useful it probably wouldn't have survived. After passing out of the hands of the Wynn family, it was eventually divided up and rented out. In the mid-nineteenth century, the great chamber was part of an infant school, for example. And the above room, in the attic, was occupied ca. 1870 by a woman of modest means and her two sons. By the turn of the century, the Royal Cambrian Academy of Art had moved into Plas Mawr, partly for the very purpose of preserving it.
The view from Wynn's tower. Wynn had a varied career. He took part in the siege of Boulogne in 1544, where he was wounded (the bullet wasn't removed until fifty years later). His family had some land, he served in the household of a well-connected soldier and diplomat, Philip Hoby, and he probably got to travel Europe a bit. He managed to parlay his inheritance and connections into a decent fortune, including a part-share in a merchant vessel. Marrying well also helped (his first wife was from a better family than he). Late in life Wynn was MP for and then sherriff of Caernarvonshire. He died in 1598.
I liked Wynn's great hall. But I didn't really warm to the other historic (and even older) merchant's house in Conwy, Aberconwy House. I think this was partly because I was now in a bit of a hurry to get on to my next destination, but it was also because the tour lacked the strong thread provided in Plas Mawr by the story of Wynn's life and the daily life of his house. Each of the rooms was restored to a different period, so it felt a bit more museum-y than house-y, I suppose. It was done well, but it's probably fortunate for this post that no photography was allowed!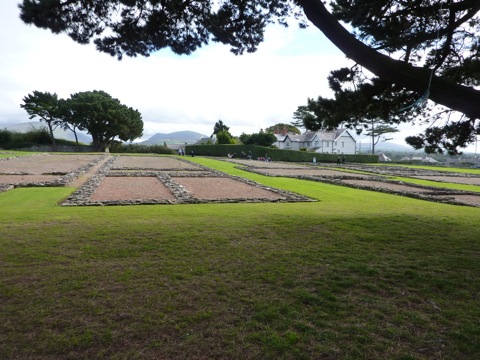 So, in the afternoon I took a bus down to Caernarfon, but ignored the castle for the moment and took another bus to Segontium, a Roman fortress for auxiliary troops (the 'caer' in Caernarfon). It was originally built in wood in 77 or 78 AD, and rebuilt in stone around a century later. It's quite a strategic spot -- although it's now incongruously surrounded by houses, it's high up and there's still a good view across the Menai Strait to Anglesey and approaches. It would have been a good place to watch for Irish raiders or revolting druids.
I have to say, though, that I think I'm reaching my limit for Roman fortresses. Since they're all built to more or less the same plan, if you've seen a few you've probably seen them all (unless you're an expert and know what to look out for). So, after Hadrian's Wall (the previous trip) and Caerleon, Segontium was perhaps a fort too far. But it's great to have a local bit of Romanitas to show to the schoolkids, and so it would be a shame if the small museum at Segontium closes due to lack of money.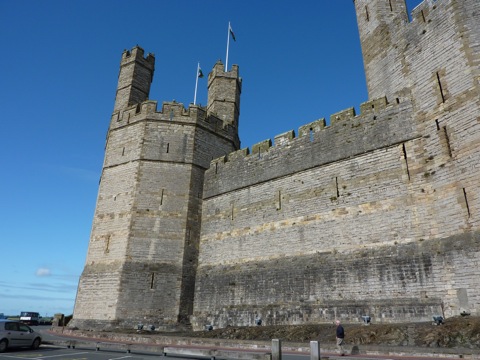 And so at last I came to Caernarfon Castle, the most magnificent of all the castles I visited.
It's another of the ring of castles Edward I built to contain the northern Welsh (the others being Conwy, Harlech and, later, Beaumaris), but as he intended Caernarfon to be the centre of administration here, it was always intended to be grander than the others. The walls were said to be modelled after those of Constantinople.
So it's easy to see why Madog ap Llywelyn's forces struck here, during the revolt of 1294-5. And the castle and the town walls were only half-finished; there would be no better chance to take it. Which they did in 1294, burning much of the town as well.
The English army recaptured it the following summer, and construction work continued for another generation. In fact, it was never completely finished -- though it looks pretty good to me!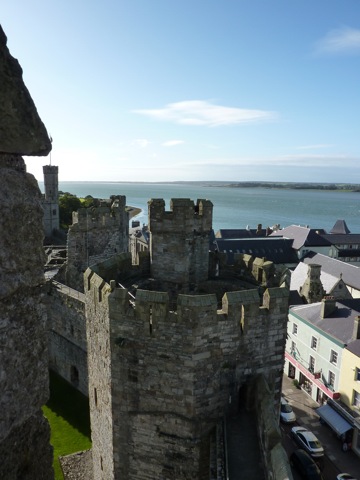 Caernarfon withstood two sieges by Owain Glyndwr's men in 1403 and 1404, but afterwards was allowed to decay. In the Civil War, it was held for the King until 1646.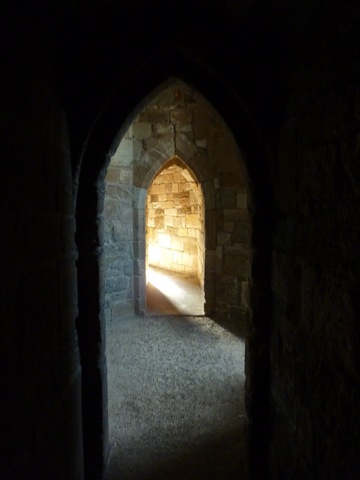 One of the great things about Caernarfon, more than any of the other castles I've visited, is that it is full of twisting passages and winding staircases. It's great fun to explore -- even if it's a while since you've been twelve.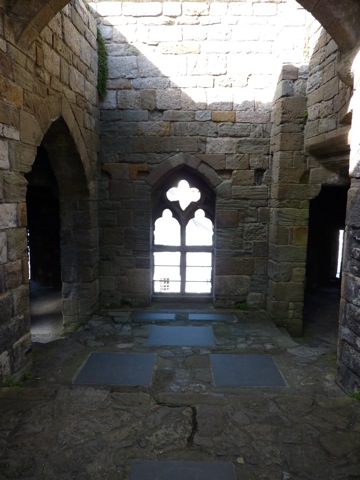 One of a number of small chapels built into the walls.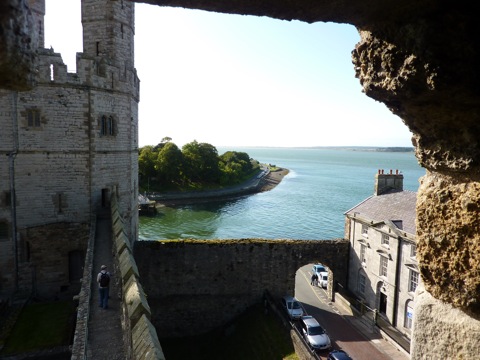 The castle is built right on the seafront. That's Anglesey on the horizon to the right, and between the castle and the house is part of the town walls.
It's also right next to the river. A view across the Seiont.
And a view across -- or rather down to -- the road! It's quite some way up, and this was only from one of the towers, not the even higher turrets.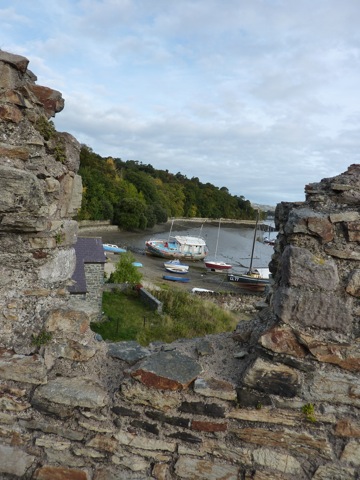 Caernarfon was my last Welsh excursion; the following day I took the train back to England. But as I had a couple of hours to kill, I did another circuit of Conwy's walls.
They were built at the same time as Conwy Castle (and Caernarfon Castle, for that matter), and are very well-preserved. With twenty-one towers and two gates, the walls are an impressive structure in their own right.
Very steep in some places, and quite hazardous when it's raining -- as it was on the first time I went up on the walls (it may not have helped that I had an umbrella in one hand, and a camera in the other).
One interesting contrast with the first town walls I visited at York was that there the town burghers practically had to be held back from tearing them down to make way for railways and progress. Conwy was apparently much fonder of its walls. Rather than pulling down a section of wall, an archway was cut for the trains, and the other rail exit is through a tunnel. So, as with the bridges near the castle, a fine balance was struck between heritage and industry.
So that's it for Wales. And if you're sick of crumbling old masonry, you may be pleased to know that my last few travel posts will be considerably more aerospacey!
This work is licensed under a Creative Commons Attribution-NonCommercial-NoDerivatives 4.0 International License. Permissions beyond the scope of this license may be available at https://airminded.org/copyright/.