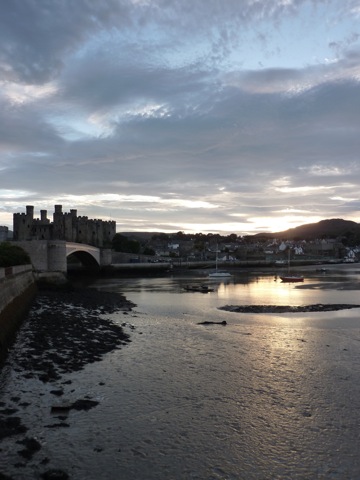 After Cardiff, my next base of operations was to be Conwy (above), a small town on the north coast of Wales. But getting from south Wales to north Wales by rail is surprisingly difficult: there's no mainline route which doesn't spend most of its time in England, and I wanted to see some of the Welsh countryside rolling past my window! Luckily, Chris suggested a workable alternative: take a main line train to Porthmadog, take a tourist steam train from there to Blaenau Ffestiniog, and from there another mainline train to Conwy (or rather Llandudno Junction, which is walking distance from Conwy). This would take all day, but since I probably would have done one of the tourist trains anyway, I didn't lose much in the way of holidaying time. And the rail trip was worth it!


That said, there was nothing really worth photographing for the first leg of the trip, from Cardiff to Shrewsbury (which is just across the border). Nor for most of the second leg, from Shrewsbury to Porthmadog, until I reached the coast at Harlech, with its famous 13th century castle. We may credit Edward I with remarkable foresight for placing it where it could best dominate the railway station when it was eventually built, nearly six hundred years later.
My train had the misfortune of connecting at Harlech with a number of school buses, which meant we had to wait for about half an hour before they all arrived. This did at least mean I could go outside and get some decent photos. It was also my first proper encounter with the Welsh language. In the south it's mainly only used on signs, as far as I could tell, but unless I'm more out of touch with the youth of today than I thought, every other conversation held between the schoolkids seemed to be in Welsh. Which turned out to set the pattern for the rest of my stay in Wales. It was nice to see that it is actually a living language, as opposed to something just learned in school.
On to Porthmadog Station. Actually, Porthmadog Harbour Station, because Porthmadog needs three railway stations -- the main line station I arrived at, the Welsh Highland Railway terminus next to it, and the Ffestiniog Railway terminus on the other side of town, to which I had to drag my luggage. Luckily there was plenty of room on the train for it all.
My loco for the day was Taliesin, which was rebuilt and brought back into service in 1999 (that's the decade before last, now).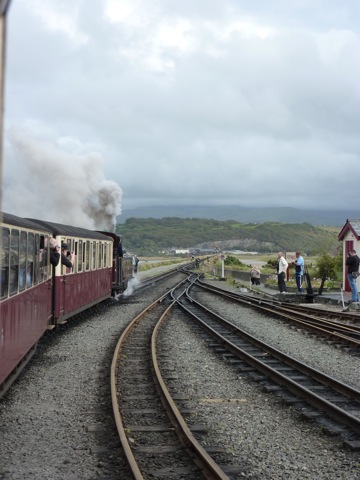 And we're off.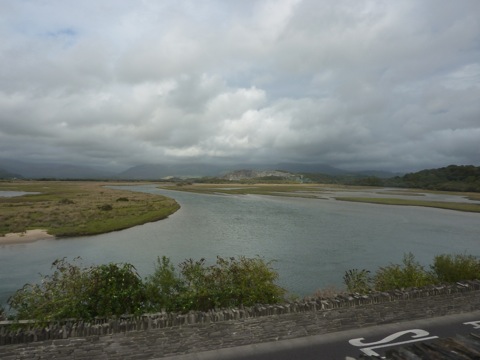 Porthmadog is close enough to the sea to be a viable port, and up until 1914 it was used to export slate (116,000 tons in 1873). Which is why the Ffestiniog Railway was built, back in 1836. It's the oldest railway company in the world.
At Minfford, we passed another train coming down. Leaning out the window to take a picture of it probably wasn't the brightest idea, but on this occasion I got away with it.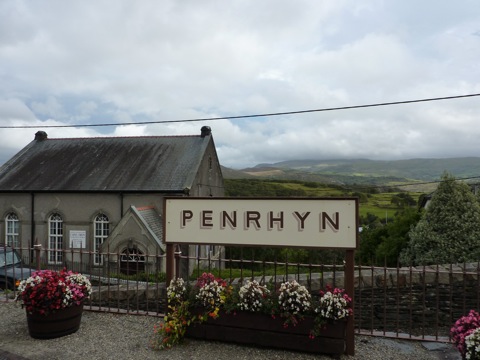 Penrhyn station (which is in Penrhyndeudraeth, but they evidently didn't make the signs long enough for that).
That's Snowdonia in the distance, or part of it ...
... which we were climbing into.
It's nice and wild-looking, though how wild any part of the British Isles can be said to be is open to question. (Actually, scratch that: I've seen York on a Saturday night.)
Taking on water at Tanybwlch. Climbing is thirsty work.
That sheep took no notice of the passing train at all.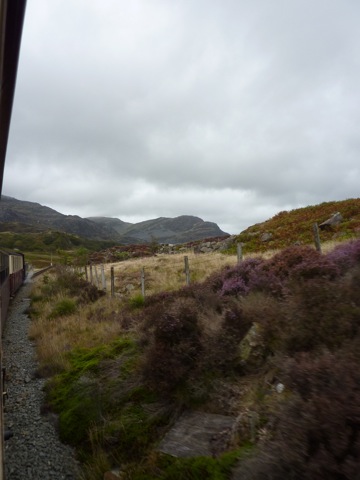 The higher we went the gloomier it got.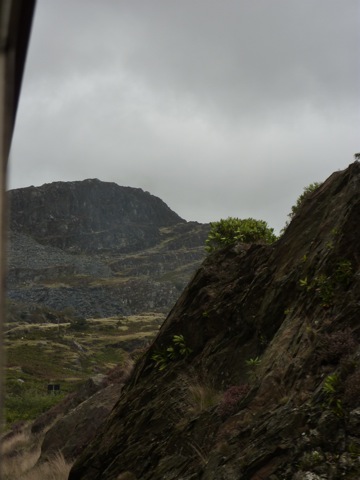 Gloomy and forbidding.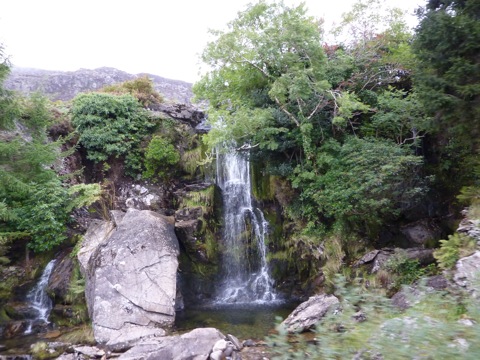 Gloomy, forbidding, and sometimes pleasantly green.
Come on, surely that's not a word, not even in Welsh!
I'm no geologist, but this is starting to look like slate country.
Coming into our final destination.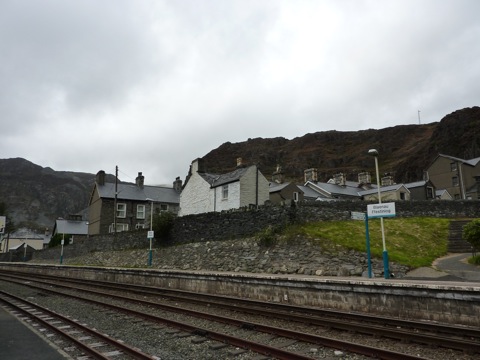 Blaenau Ffestiniog and Blaenau Ffestiniog station, in the middle of Snowdonia National Park. There are, or were, slate mines all around, hence the railway down to Porthmadog. The First World War ended the exports to Germany; the railway struggled on until 1946. Rail enthusiasts worked hard to get permission and funds to reopen the line for tourists, the first parts from the mid-1950s, the last link to Blaenau Ffestiniog in 1982. Thank you, train anoraks!
If Edward I had been on this trip, he'd be eyeing off that crag as the site for his next castle.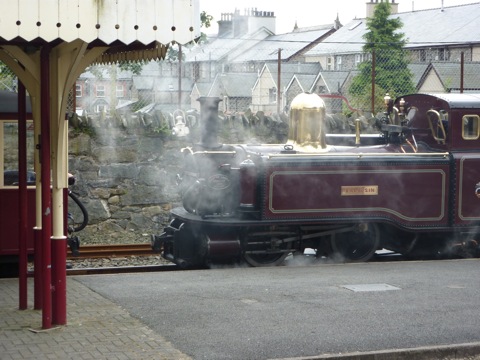 A last look at Taliesin as it gets ready for its last trip down for the day.
Blaenau Ffestiniog doubles as a mainline station, and it wasn't far now to Llandudno Junction.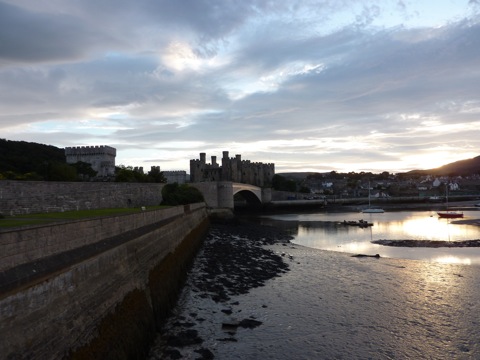 The timing was exquisite: by the time I got to the bridge across the Conwy, it was dusk.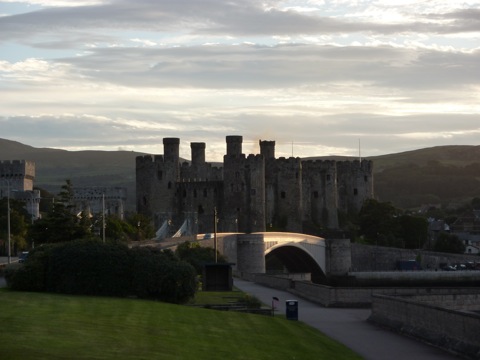 The castle certainly caught my eye.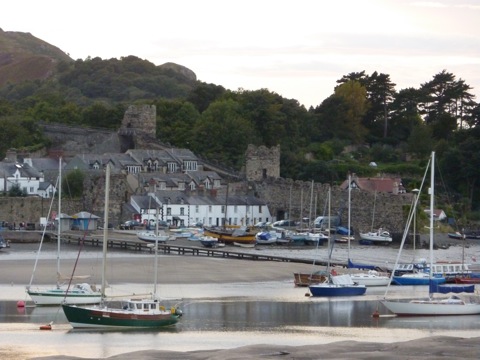 As did the marina and -- look! town walls!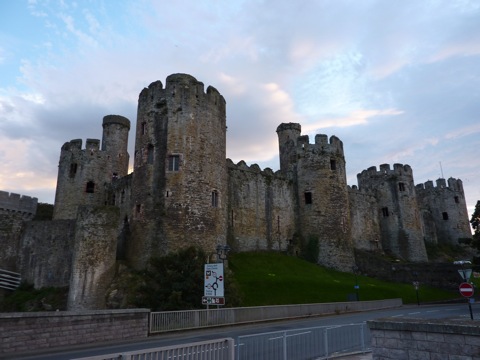 The route to my hotel took me under the walls of the castle. Of which, more next time.
This work is licensed under a Creative Commons Attribution-NonCommercial-NoDerivatives 4.0 International License. Permissions beyond the scope of this license may be available at https://airminded.org/copyright/.