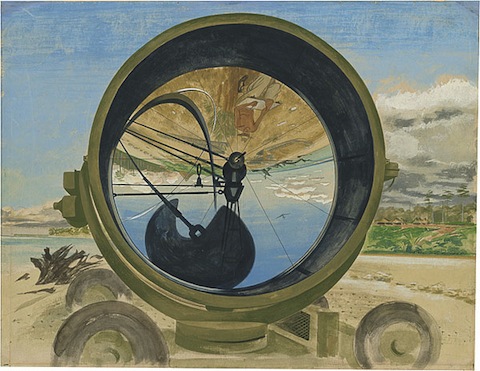 The war artist is Eric Thake (1904-1982), and the family is mine, although only in the extended sense: Thake's grandparents, John and Sarah (née Prentice) Thake, were my great-great-grandparents. It was only a couple of weeks ago that my mother found this out. My paternal grandmother (who was born a Thake) did maintain that he was related, but how exactly was unclear, and his middle-class life in suburban Melbourne seemed a long way from her family on the Murray. But she was right!
Thake is a moderately important Australian artist: as one indicator of this, the Art Gallery of New South Wales holds 131 of his works in its collection. He worked in a number of different media: watercolours, photography, sketches, linocuts. In later years he even designed stamps, including a series to mark the anniversary of the first flight from Britain to Australia. He started out as a commercial artist in the 1920s, but also began to make a name for himself in less practical forms of art, including surrealism: in 1940, the director of the National Gallery of Victoria denounced Thake for being 'too modern'! Perhaps his modernity was why the Royal Australian Air Force selected him in 1944 to be an official war artist. He had already shown some interest in the technology of flight, for example in this surrealist work entitled Archaeopteryx (1941):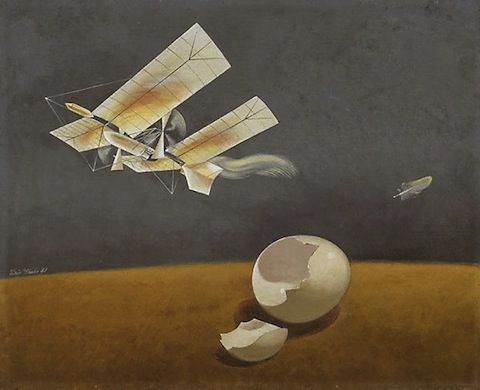 Thake's paintings for the RAAF certainly betray an interest in the hardware of war. My favourite is the one at the top of the post, Kamiri Searchlight (1945), which he painted at Noemfoor Island off Western New Guinea. The searchlight belonged to an American anti-aircraft battery, sited on a former Japanese airfield.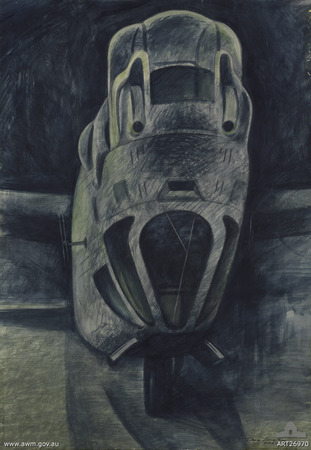 This one is called Liberator's Face (1945).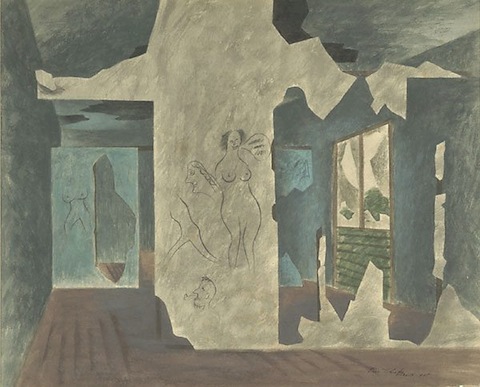 It's not clear to me if Wrecked House, Darwin (1945) shows a ruin left after one of Darwin's air raids; it might simply be a derelict house. But it was understood at the time as depicting bomb damage. I don't think the Japanese were responsible for the rude drawings, though.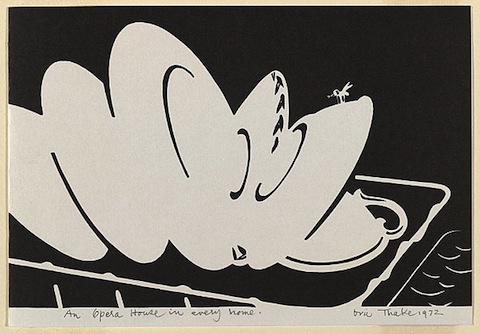 Thake is perhaps best remembered today for the wry series of linocuts he produced for his Christmas cards every year from 1941, and this is probably the best-known, An Opera House in every home (1972). A few years ago, I was lucky to see a retrospective exhibition of his Christmas card images (it was literally held across the road from my workplace) and more than his war work I fancy they gave me a keen insight into his personality, or at least the humorous side of it.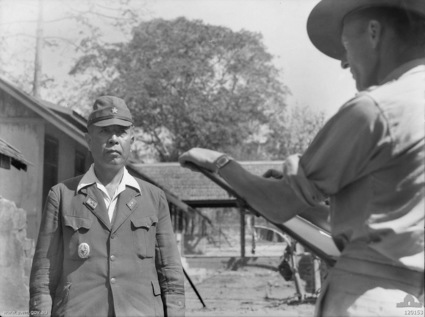 Here's the man himself, working on a portrait of Lieutenant-General Yamada, the captured commander of 48th Division on Timor.

This work is licensed under a Creative Commons Attribution-NonCommercial-NoDerivatives 4.0 International License. Permissions beyond the scope of this license may be available at https://airminded.org/copyright/.