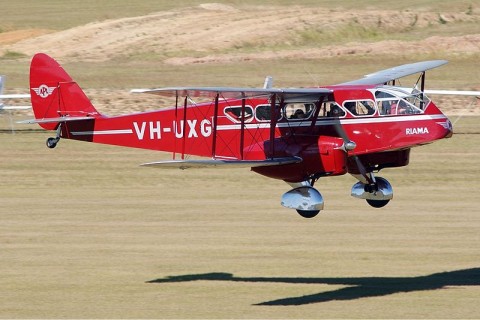 Very sad news today. On Monday, VH-UXG, a De Havilland DH.84 Dragon owned and flown by Des Porter, went missing on a flight from Monto to Caboolture in Queensland. A distress call and an emergency beacon were heard briefly, but then nothing more was known until today, when VH-UXG's wreckage was found in rugged terrain north of Borumba Dam. Unfortunately, all six on board were killed: Des and Kathleen Porter, Carol and John Dawson, Janice and Les D'evlin. My sympathies go out to their family and friends for their tragic loss.
The aeroplane itself is also a loss, if nowhere near as tragic a one. The Dragon, along with its successor the Dragon Rapide, is perhaps the classic 1930s small commuter airliner, designed for flying feeder routes between regional airports and metropolitan centres. Before Monday, there were apparently only eight Dragon survivors worldwide -- not four, as reported in the media -- of which six, remarkably, were still flying; now there are only seven and five respectively. (One of the seven is here in Melbourne at the RAAF Museum, tucked away in the back of one of the hangars.)
As can be seen from the photo above (taken from here, with the kind permission of Phil Vabre), VH-UXG was a beautiful aeroplane and had been lovingly restored. It was built in 1934 and flew in Britain for a couple of years as G-ACRF for Portsmouth, Southsea and Isle of Wight Aviation Ltd before being sold in 1936 to Aircrafts Pty Ltd, a Queensland airline and charter service, and then in 1948 to Queensland Flying Services. It had been sold again, this time into individual ownership, by the time it crashed and was written off at Archerfield in April 1954, and it was this wreckage which Porter eventually restored. Incredibly, his father was the owner and pilot of VH-UXG in that crash, and just a few months later was killed in another Dragon crash along with Des's older brother; Des himself survived. Parts of that aeroplane were apparently incorporated into VH-UXG's tail. (This is what I've pieced together from several online sources; again the media reports differ somewhat, saying that VH-UXG was the actual aeroplane Des's father and brother were killed in. I welcome any corrections.)
This raises the question of whether we should be flying such near-unique and near-irreplaceable vintage aeroplanes at all. I think we should. These machines were not designed to sit in museums, but to soar in the sky. That's their proper context, or at least part of it, and we can better understand them, and the people who built, flew and watched them, by trying to use them as authentic a manner as possible. That entails risk, but risk was and is inherently a part of flying. Statistically, this means we will eventually lose all flightworthy vintage aircraft to accidents (though we are still adding new ones to the list and there is a surprising amount that can be done with wreckage), but we'll at least still have the museum-bound survivors. One day even those will crumble into dust and rust. But that is the fate of all things. We can't pretend otherwise, so we should make use of what we've got while we've got it.
Some more lovely photos of VH-UXG, including when it was new, can be found here, here and here.
This work is licensed under a Creative Commons Attribution-NonCommercial-NoDerivatives 4.0 International License. Permissions beyond the scope of this license may be available at https://airminded.org/copyright/.