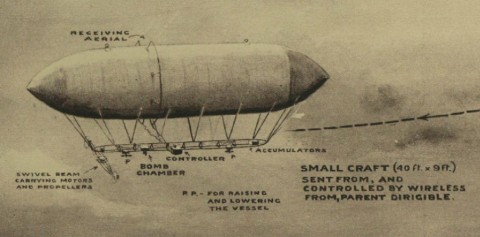 A recent post at Ptak Science Books alerted me to the existence of page 363 of the Illustrated London News for 6 September 1913. Not that I was surprised by this in general terms, but I was unaware of what was on it: an artist's impression of a both a flying aircraft carrier -- which idea I've discussed before -- and an airship drone -- which I haven't.
As the images above and below show, the idea was that the 'parent dirigible' (which looks very much like a Zeppelin) would carry several of these 40-foot long 'crewless, miniature air-ships' slung underneath it, and then launch them when in range of a target (here a fortification). The smaller airship would then be controlled by radio to fly drop its bombs 'on any desired spot'.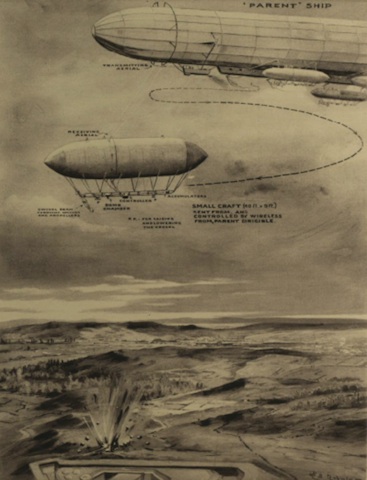 The artist is W. B. Robinson, but it was drawn from 'material supplied by Mr. Raymond Phillips'. In 1910 Phillips, a consulting engineer from Liverpool, gave a demonstration of a 20-foot version of his 'aerial torpedo' at the London Hippodrome. Here, according to a report in the New York Times, he impressed an audience which included Claude Grahame-White, who only weeks earlier had become famous for undertaking the world's first night flight. Here, too, the purpose of Phillips's airship drone was war:
"Now," said he [Phillips], "just imagine that row of seats is a row of houses, and that instead of a model, with paper toys in its hold, in its hold, I am controlling a full-sized airship carrying a cargo of dynamite bombs. Watch!"

He pressed another key. There was a faint click from the framework of the airship, and the bottom of the box that hung amidships fell like a trapdoor, releasing, not bombs, but a flight of paper birds, that fluttered gracefully down on the seats beneath. "There!" said the inventor, with a note of finality, and he turned away to answer a shower of questions.1
Phillips claimed that 'for £300 I can make, equip, and dispatch to any distance three wirelessly controlled airships carrying huge quantities of explosives' -- and unlike a naval torpedo, his aerial torpedos were reusable, making them very cost effective.
"I offer my invention to the British Government, whose official representatives will inspect it in a day or two, because I want England to have command of the air just as she has command of the sea."
Although he gave further public demonstrations of his aerial torpedo in 1913 (and despite getting a free plug in the Illustrated News) the government seems to have declined to reward Phillips for his patriotism.2 This is reminiscent of Harry Grindell-Matthews' attempts a decade later to sell his death ray to the Air Ministry. In fact, even more so than death rays, pilotless or robot aircraft (though usually aeroplanes rather than airships!) represent a thread in the early discourse of flight which has barely been recognised by historians.3
Want some examples? Okay, here are just a few of the ones I've found, all of them from before the first V-1 pilotless bombs fell on London. The year before Phillips appeared at the Hippodrome with his aerial torpedo, T. Donovan Bailey's short story 'When the sea failed her' had already depicted a long-range remote-controlled aeroplane destroying the cities of Europe and their inhabitants.
After the war, the aircraft designer Anthony Fokker revealed that
In 1916 the [German] Army authorities asked me if I could make a very cheap aeroplane with a very cheap engine, capable of flying about four hours, which could be steered through the air by wireless waves. They intended to load each one of these aeroplanes which a huge bomb and send them into the air under the control of one flying man, who would herd them through the sky by wireless like a flock of sheep. He would be able to steer them as he pleased, and send them down to earth in just exactly the spot he selected.4
Just what spots would have been selected, Fokker didn't say. He claimed that he was about to start churning out these flying bombs when the Armistice was declared. And indeed, one of the conditions imposed on Germany under the Versailles treaty was a ban on the manufacture of 'air machines which can fly without a pilot'.5
In 1930, the Labour MP J. M. Kenworthy (a former RN lieutenant-commander, and later Lord Strabolgi), wrote a book called New Wars: New Weapons. In it he claimed that:
Aeroplanes can now be flown without a pilot at all, directed by wireless -- taking off, cruising, manoeuvring in the air, returning and landing -- and all the time perfectly under control a hundred and more miles away from the station [...] Robot aeroplanes, controlled by wireless and each carrying half a ton of explosives, could be flown into the heart of London, there to deposit their high-explosive T.N.T., mustard gas or disease germs.6
Later in the decade, this was portrayed in fictional form by Joseph O'Neill in Day of Wrath (1936). Here, London is annihilated by Germany using unmanned aircraft. 'Every single bomber a robot', says a British airman. 'They haven't lost a man yet and won't need to, as long as they're only going for the fixed targets, towns, main roads, railways'.7
Even a novelist so fundamentally uninterested in technological details as Rex Warner in The Aerodrome (1941) uses robotic aeroplanes. The protagonist Roy, who believes himself to be one of a new caste of superior men, a technological elite, is shocked when he discovers that his hero, the Air Vice-Marshal, is planning to replace all of his airmen with aircraft that don't need them. He is shown a display of formation aerobatic flying which is so daring and flawless that only machines and machines alone could carry it out.8
And that right there was the reason for the dream of unmanned flight. Taking people out of the loop as far as possible promised to reduce error from human weakness, whether it be due to physical incapacity or moral capacity. Depending on your point of view, this could be a good thing or a bad thing; but in popular discourse it usually seems to have been thought of as the latter. Normal moral judgements are overturned in wartime, of course, but robots threatened to do away with them entirely, with no sense of pity, instincts for self-preservation, or even feelings of remorse. This is an idea which we are familiar with today (think The Terminator). But it's not a new one by any means. We have combat drones now; and we have histories of combat drones; and now here we have a prehistory of combat drones.
---
This work is licensed under a Creative Commons Attribution-NonCommercial-NoDerivatives 4.0 International License. Permissions beyond the scope of this license may be available at https://airminded.org/copyright/.