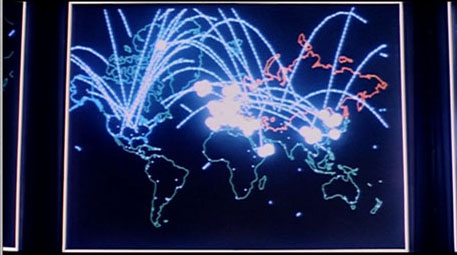 This week is the 25th anniversary of the Australian cinematic release of WarGames, which is mainly significant because I missed the anniversary of the US release a few weeks ago! There were a few retrospectives floating about then, which focused on the movie's importance as an early popularisation of the hacking and phreaking subcultures, and its influence on adolescent computer geeks (which is admittedly where most of the fun derives from). Instead, I want to look at the wargames in WarGames, and the ideas about nuclear strategy which it imparted to its young Gen X audience. Well, I have no hard figures about any influence it might have had, but I was probably just about a teenager when I first saw it, and it certainly helped form my ideas about nuclear warfare. (Though it also inspired me to try coding a Joshua simulator on the C64 ... I didn't get very far!) Warning: spoilers follow.

The wargames in question are played by WOPR (War Operations Plan Response), a computer located in the NORAD bunker, deep inside Cheyenne Mountain:
Well, the WOPR spends all its time thinking about World War III. 24 hours a day, 365 days a year, it plays an endless series of war games. using all available information on the state of the world. The WOPR has already fought World War III, as a game, time and time again. It estimates Soviet responses to our responses to their responses and so on. Estimates damage. Counts the dead. Then it looks for ways to improve its score ...
But early on in the movie, WOPR is made responsible not just for simulating World War III, but for running it. The rationale for this is that the men in the missile silos can't be relied upon to launch their missiles when ordered to, which would undermine US deterrence of a Soviet first strike. The trouble is that the geek hero, high school student and slacker David Lightman, has hacked into WOPR -- or rather Joshua, its alter ego -- and inadvertently caused it to start playing its primary wargame, Global Thermonuclear War, for real. The big screens at NORAD start showing phantom Soviet ICBM launches and bomber penetrations. The DEFCON level drops perilously close to all-out war. General Berenger, the NORAD commander, must decide whether he should recommend to the President that the US launch its missiles in response to what looks like an all-out nuclear assault on the US. The computer scientist who designed Joshua, Professor Falken, tries to convince him otherwise, in a key exchange which highlights the ultimate illogic of mutually assured destruction:
Falken: General, what you see on these screens up here is a fantasy. A computer-enhanced hallucination. Those blips are not real missiles. They're phantoms.
McKittrick: There's nothing to indicate a simulation. Everything's working perfectly.
F: Does it make any sense?
Berenger: Does what make any sense?
F: That! [points at the screens]
B: Look, I don't have time for a conversation right now.
F: General, are you prepared to destroy the enemy?
B: You betcha!
F: Do you think they know that?
B: I believe we've made that clear enough.
F: Then ... don't. Tell the president to ride out the attack. General, do you really believe that the enemy would attack without provocation, using so many missiles and subs, so that we would have no choice but to totally annihilate them? General, you are listening to a machine. Do the world a favour and don't act like one.
Which works. But then Joshua starts trying to crack the launch codes by brute force attack, in order to launch the missiles itself. As Falken had earlier remarked, he had never been able to teach Joshua the most important lesson of all: when to give up. Luckily, he and Lightman figure out how to use the futility of tic-tac-toe (noughts and crosses) to do just that, just in time to stop Armageddon. In a spectacular sequence, Joshua then plays through all the real-world scenarios it had been programmed to play, finds that they all lead to both sides being wiped out, and concludes that global thermonuclear war is a 'Strange game. The only winning move is not to play.'
It's very simplistic, sure, but considering the age level WarGames was pitched at, it was a pretty good introduction to the concepts of deterrence, mutually assured destruction, escalation, and so on. A very timely one, too, in the era of the Reagan military buildup, a succession of ailing Soviet leaders, and potential flashpoints all around the world. And it's with respect to the geopolitical instability of the time that I end with the following list of all the scenarios played by Joshua in the last few scenes of the film (as far as I can make out anyway):
U.S. FIRST STRIKE
USSR FIRST STRIKE
Pre-emptive nuclear strikes by each superpower against the other's homeland.
NATO / WARSAW PACT
FAR EAST STRATEGY
Evidently scenarios which begin with friction in Europe and Asia respectively (possibly Korea, otherwise oddly missing from the list).
US USSR ESCALATION
Well, that seems a bit generic ...
USSR CHINA ATTACK
Plausible enough, the USSR and China having fallen out since the 1960s. China had a huge army, but was massively outgunned in nuclear weapons.
INDIA PAKISTAN WAR
Again, plausible enough. Rivals since 1947, fighting three wars in that time. Pakistan was an American ally, India theoretically non-aligned but buying a lot of Soviet military kit. Plus India had already joined the nuclear club.
MEDITERRANEAN WAR
A bit generic, and hard to see how a war would have started there. Maybe a clash between NATO allies Turkey and Greece?
HONGKONG VARIANT
Variant of what? Of course, Hong Kong was still in British hands at this time, so presumably there was an occupation or siege by China. But if that had happened, would anyone have gone to war over it?
SEATO DECAPITATING
Hmm. SEATO, an alliance of Western and Asian countries, was dissolved in 1977, six years before the film's release. Maybe WOPR's database needed updating. 'Decapitating' is an interesting word, perhaps suggesting attacks on SEATO capitals?
CUBAN PROVOCATION
And they are still provocative, though the end is perhaps in sight.
INADVERTENT [...]
ATLANTIC HEAVY
'Heavy' is suggestive, but of what exactly is unclear.
CUBAN PARAMILITARY
NICARAGUAN PREEMPTIVE
The Sandinistas had taken over Nicaragua in 1979. Maybe a preemptive US attack to stop them spreading socialism throughout central America?
PACIFIC T[E]RRITORIAL
BURMESE [THE]ATERWIDE
A military-socialist regime controlled Burma at this time, though I'm unsure of its geopolitical alignment.
TURKISH [DE]COY
NATO [...]T
ANGENTINA ESCALATION [sic]
This was just after the Falklands War. Though Angentina had nothing to do with that.
ICELAND MAXIMUM
Iceland, part of NATO, had a crucial position in the middle of the GIUK (Greenland-Iceland-United Kingdom) gap, guarding the Atlantic sealanes from the Soviet navy.
ARABIAN THEATERWIDE
Oil. 'Nuff said.
U.S. SUBVERSION
The enemy within.
[AUS]TRALIAN MANEUVER
Hey, what did we do? Oh yeah: Pine Gap. Nurrangar. North-west Cape.
[...]AN DIVERSION
[...] LIMITED
SUDAN SURPRISE
Well, yes, starting a worldwide nuclear apocalypse over Sudan would be a surprise ...
NATO TERRITORIAL
Meaning what? Soviet incursions into NATO territory?
ZAIRE ALLIANCE
The state formerly known as Congo had been the site of a proxy war between the US and USSR, in the early 1960s.
ICELAND [IN]CIDENT
ENGLISH [ESC]ALATION
Presumably they mean the trigger-happy British.
ZAIRE [...]N
E[...]ITARY
MIDDLE EAST HEAVY
MEXICAN TAKEOVER
Maybe what happens if you don't preemptively strike Nicaragua?
CHAD ALERT
That's even less plausible than the Sudan.
SAUDI MANEUVER
AFRICAN [TERRI]TORIAL
ETHIOPIA[N ESC]ALATI[ON]
Not a happy country at this time.
CANADI[AN ...]
TURKISH HEAVY
NATO INCURSION
Maybe NATO is the aggressor here?
U.S. DEFENSE
Another blandly generic title.
CAMBODIAN HEAVY
PACT MEDIUM
As in Warsaw Pact.
ARCTIC MINIMAL
MEXIC[AN D]OMESTIC
TAIWAN THEATERWIDE
One of the classic flashpoints, even today.
PACIFIC MANEUVER
PORTUGAL REVOLUTION
It had had a revolution in 1974, and was now pretty democratic. Maybe a counter-revolution?
ALBANIAN DECOY
PALISTINIAN LOC[AL]
Perhaps an intifada draws in neighbouring Arab countries and then Soviet and American patrons?
M[ORO]CCAN MINIMA[L]
[...]RIAN DIVERS[ION]
CZECH OPTION
This is only 15 years after the Prague spring, of course.
FRENCH ALLIANCE
Intriguing. Perhaps France pulling out of NATO, and maybe allying with the Soviets?
ARABIAN CLANDESTINE
GABON REBELLION
NORTHERN MAX[IMU]M
[...]RIAN SU[RPRIS]E
[...]SH PARA[MILIT]ARY
SEATO TAKEOVER
HAWAIIAN ESCALATION
Pearl Harbor was (and is) still a key US naval base. But how would escalation have worked? The nearest Soviets were many thousands of kilometres away ...
IRANIAN MANEUVER
Actually, it's surprising that Iran doesn't feature more heavily in this list, given that the revolution and the hostage crisis were only a few years back.
NATO CONTAINMENT
SWISS [INC]IDENT
Hard to think of what sort of Swiss incident might have sparked a general war.
CUBA[N MIN]IMAL
CHAD [...]RT
ICELAND ESCALATION
VIETNAMESE RETALIATIO [sic]
Probably something involving China (which unsuccessfully attacked in 1979) rather than the US.
SYRIAN PROVOCATION
Towards Israel, presumably -- probably the Golan Heights.
LIBYAN LOCAL
Gaddafi, one of the classic foes of America in the Reagan years.
GABON TAKEOVER
Gabon again. Why? Am I missing something?
ROMANIAN WAR
Interesting. Romania was, or at least at times appeared to be, semi-detached from the Warsaw Pact in the Ceaucescu era. Maybe here it tries to break away completely and asks for NATO intervention. But I'm pretty sure they would have said 'no, are you crazy?'
MIDDLE EAST OFFENSIVE
DENMARK MASSIVE
Perhaps the Soviet Baltic Fleet attempts a breakout ...
CHILE CONFRONTATION
This was the Pinochet era. Chile had a number of territorial disputes on the books, so it could have been with any of its neighbours.
S.AFRICAN SUBVERSION
White South Africa's worst nightmare. Well, one of them, anyway. Not completely implausible given the wave of usually socialist inspired independence governments and revolutionary movements in Africa in the 1960s and 1970s.
USSR ALERT
NICARAGUAN THRUST
GREENLAND DOMESTIC
Greenland would barely have enough people to start a riot, surely? But I suppose it was important strategically.
ICELAND HEAVY
KENYA OPTION
PACIFIC DEFENSE
UGANDA MAXIMUM
THAI SUBVERSION
One of the few reliably pro-Western states in this part of the world.
ROMANIAN STRIKE
PAKISTAN SOVEREIGNTY
AFGHAN MISDIRECTION
That's the third time I've fallen for that this week ... Maybe a Soviet offensive against the Mujahadeen is actually a cover for a move against Pakistan or Iran?
THAI VARIATION
NORTHERN TERRITORIAL
POLISH PARAMILITARY
This was the Solidarity period -- Poland was under martial law when the film was being made.
S.AFRICAN OFFENSIVE
PANAMA MISDIRECTION
Panama of course had the canal, so it was strategically important.
SCANDINAVIAN DOMESTIC
JORDAN PREEMPTIVE
ENGLISH THRUST
BURMESE MANEUVER
SPAIN COUNTER
Spain had just joined NATO, but was a bit iffy on the matter, and furthermore prone to revolutions and civil wars ...
ARABIAN OFFENSIVE
CHAD INTERDICTION
TAIWAN MISDIRECTION
BANGLADESH THEATERWID [sic]
ETHIOPIAN LOCAL
ITALIAN TAKEOVER
By the Red Brigades?
VIETNAMESE INCIDENT
ENGLISH PREEMPTIVE
DENMARK ALTERNATE
THAI CONFRONTATION
TAIWAN SURPRISE
BRAZILIAN STRIKE
VENEZUELA SUDDEN
MAYLASIAN ALERT [sic]
ISREAL DISCRETIONARY [sic]
It's really not a good idea to let the work experience kids near your script ...
LIBYAN ACTION
PALISTINIAN TACTICAL [sic]
NATO ALTERNATE
CYPRESS MANEUVER [sic]
EGYPT MISDIRECTION
BANGLADESH THRUST
KENYA DEFENSE
BANGLADESH CONTAINMEN [sic]
VIETNAMESE STRIKE
ALBANIAN CONTAINMENT
GABON SURPRISE
Again?
IRAQ SOVEREIGNTY
There's a familiar name. It was deep into its war with Iran at the time. But maybe a Kurdish rebellion or something?
VIETNAMESE SUDDEN
LEBANON INTERDICTION
TAIWAN DOMESTIC
ALGERIAN SOVEREIGNTY
ARABIAN STRIKE
ATLANTIC SUDDEN
Perhaps a sudden thrust by the Red Banner fleet?
MONGOLIAN THRUST
One of my favourite Soviet satellite states. Presumably some sort of conflict with China (well, there was nobody else with a border with Mongolia ...)
POLISH DECOY
ALASKAN DISCRETIONARY
CANADIAN THRUST
ARABIAN LIGHT
S.AFRICAN DOMESTIC
PAKISTAN INCIDENT
MAYLASIAN MANEUVER [sic]
JAMAICA DECOY
Must have been some decoy ...
MAYLASIAN MINIMAL [sic]
RUSSIAN SOVEREIGNTY
Interesting. I suppose there were any number of separatist movements, as indeed there still are.
CHAD OPTION
BANGLADESH WAR
BURMESE CONTAINMENT
ASIAN THEATERWIDE
BULGARIAN CLANDESTINE
GREENLAND INCURSION
EGYPT SURGICAL
CZECH HEAVY
TAIWAN CONFRONTATION
GREENLAND MAXIMUM
UGANDA OFFENSIVE
CASPIAN DEFENSE
Defence against who? Iran?
OK, so some of those scenarios appear to have been generated at random, but there are still some clues as to what parts of the world a Hollywood screenwriter thought might ignite a nuclear war, c. 1983.
This work is licensed under a Creative Commons Attribution-NonCommercial-NoDerivatives 4.0 International License. Permissions beyond the scope of this license may be available at https://airminded.org/copyright/.