Did you know that 87% of the UK's population, and 99% of its land area, lies outside Greater London? Well you'd barely know it from reading this blog. After finishing my research in that fair city (and after dispensing with the foolish notion of detouring to Cambridge or Aberystwyth to do yet more research), it was time to see a little of the rest of the country, aside from the brief glimpses I'd had already on my trip to Newark and Cranwell. In fact, I was a bit disappointed to discover that I was taking the exact same train line as I had done then, so wasn't seeing anything new for the first hour plus (though it was nice to see Peterborough Cathedral again, over which PC Kettle saw a phantom airship pass on one fateful night in March 1909 …) After that, it was pretty much power stations all the way to York, my first destination. I arrived mid-morning, found my way to my hotel, dumped my luggage and then set out to explore.


One of the great things about York is that its city walls are still largely intact, the longest in England. This is the Micklegate Bar, the southern entrance into the old city (there are three others). It was built in the 14th century. The heads of traitors were displayed here, most recently in 1745 (well, I suppose you need to keep them somewhere). Today, it's a traffic obstruction and a small museum (which I have to say was a bit ordinary, but as it was practically the only place I thought that about, I can't complain!)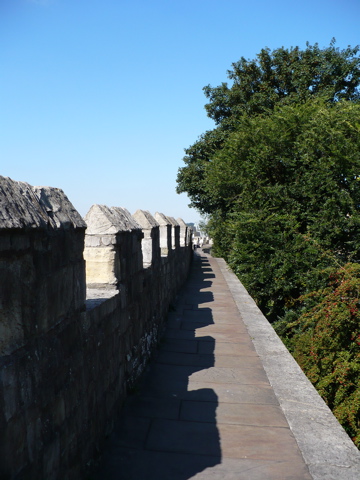 Though it varies a bit from place to place, most of the walls date to the 12th-14th centuries. The view from the top is great, but after all that's part of the point: though they are mostly picturesque today (their other function being a fun way to walk into town), they once defended the city. The last time they did this was in 1644, when the Parliamentarians laid siege to York. They tried to storm the walls, but failed. But not long afterwards, York was voluntarily surrendered after the Royalists were defeated at Marston Moor, which took place a few miles to the west.
As I walked clockwise from Micklegate Bar along the walls, this magnificent building came into view. But it was not my immediate destination …
… that was the National Railway Museum. My father worked for the railways for many years, and until I was into my teens, wherever we lived there was always a railway shunting yard over the back fence, and sometimes the standard gauge line to Sydney. (It's amazing how soothing the sound of shunting diesel locomotives can be when you're going to sleep!) So I grew up around trains — not like this one though! It's a South Eastern and Chatham Railway 4-4-0 locomotive built in 1901.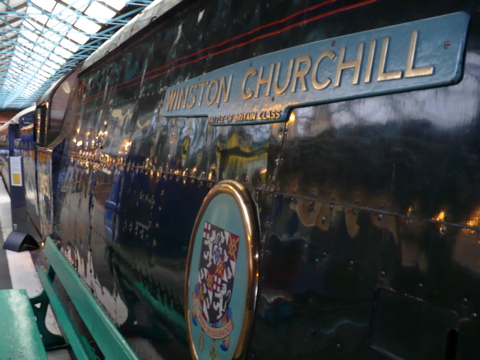 I was supposed to be on holiday, yet Britain's air wars kept popping up all over the place. There's another example below; and here's the Battle of Britain class 4-6-2 "Winston Churchill", built in 1945 and, appropriately, retired in 1965.
The NRM is very proud of this: Mallard, the fastest steam locomotive on the planet. And doesn't it look it! It was designed for 160 km/h plus speeds, tested in a wind-tunnel, and reached 202.7 km/h on 3 July 1938, south of Grantham. It's a beautiful machine, characteristically 1930s in its streamlining. It seems a shame that it hasn't been run since the 1980s.
A British Rail Deltic — I think I had one of these in my train set! (A bit smaller though, as I recall.)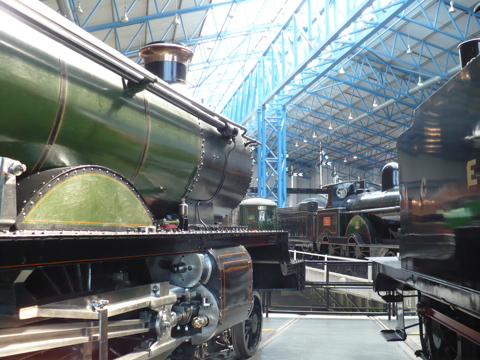 In the gap between the two steam locomotives, you can see a third, sitting on a turntable. The turntable is operational, and they give it a spin for the visitors, who oddly find this very entertaining. (Well, I did too …)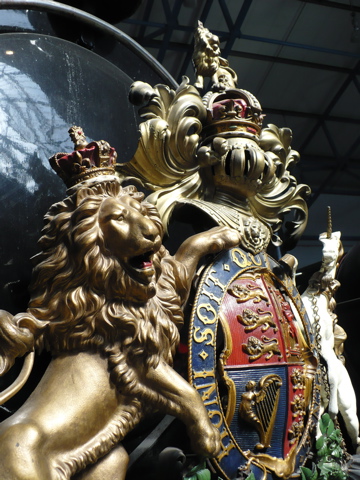 The front of London, Brighton and South Coast Railway 0-4-2 "Gladstone", with the royal coat of arms. Presumably this means it was used to haul the royal family about. It's also got E.R. on the side, which, as it was in service between 1882 and 1927 must refer to Edward VII (i.e. Edwardus Rex). Not that anyone cares, but I tried googling to find out why the coat of arms is on there, and drew a blank, so that's the best I can come up with …
I found carriages like this one interesting — with three classes squeezed into the one tiny coach. First class can hardly be much roomier than second or third, and though it's probably more nicely upholstered there's just no room for any other amenities. This is very different to to-day's travel experience, where everyone else envies those in first! It made me think that the main purpose of the separate seating classes was so you could be with your own social class. Oddly enough, I saw something similar a few days later on a little intercity train in Scotland, where most of the carriage was economy and then there was a little section partitioned off as first class. Again, it didn't look any different to where I was sitting.
The Cornishman Richard Trevithick who (may have) invented the first steam-powered road locomotive, and was (possibly) assisted in this venture by Holman Bros. of Camborne, Cornwall, who I'm (probably not) related to …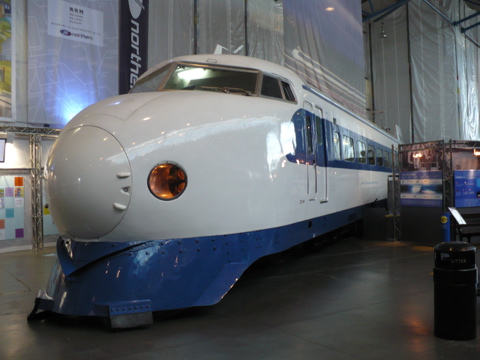 An example of the original (1964) Japanese bullet train, or Shinkansen. It looks like a jet airliner with the wings shorn off.
That was enough looking at old trains, which after all are not inherently Yorkish. Back outside again and across the river Ouse …
… and straight on towards York Minster.
What a glorious building. Simply stunning. I think it was my favourite out of all the cathedrals and churches I saw (and given the competition, that is saying a lot).
The building dates to the 14th and 15th centuries, though it has been extensively damaged by fire over the centuries and rebuilt in places (not that it shows!)
The quire screen and the huge organ.
A close-up of the quire screen (quire = choir), showing Kings Richard I (left) and John. Mid-15th century.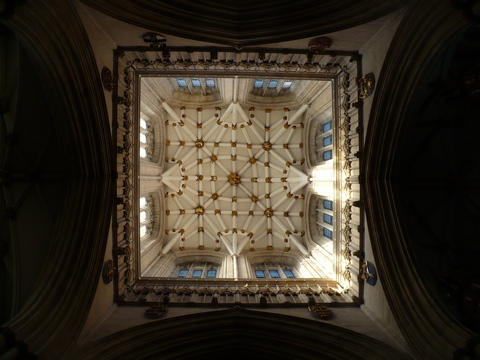 Underneath the crossing tower (the big square tower in the 4th photo from the top).
Another astronomical clock and another memorial to an air war — this time dedicated to the Bomber Command airmen who died flying missions from bases in Yorkshire, Durham and Northumberland.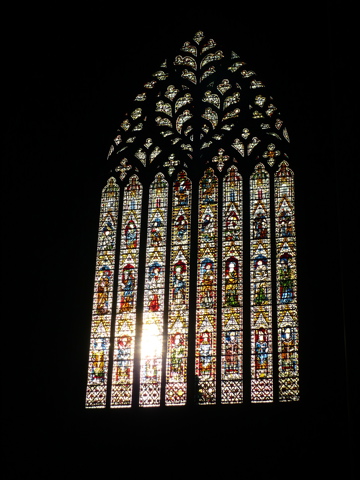 One of the chief glories of York Minster is its stained glass windows. The Great West Window (the one visible in the exterior shots), which dates to 1338; known as the Heart of Yorkshire for obvious reasons.
More glories.
I believe this to be a panel (I think either temporarily taken down, or else a reproduction) from the Great East Window (dimly visible behind the organ in one of the previous photos), which contains the largest area of medieval glass in the world. Much of the window depicts scenes from the book of Revelation:
And the number of the army of the horsemen were two hundred thousand thousand: and I heard the number of them. And thus I saw the horses in the vision, and them that sat on them, having breastplates of fire, and of jacinth, and brimstone: and the heads of the horses were as the heads of lions; and out of their mouths issued fire and smoke and brimstone. By these three was the third part of men killed, by the fire, and by the smoke, and by the brimstone, which issued out of their mouths. For their power is in their mouth, and in their tails: for their tails were like unto serpents, and had heads, and with them they do hurt.
Revelation 9:16-19.
One of the grotesques from the wonderful chapter house, which dates to the late 14th century. There are all sorts of figures carved into the walls — fantastic, frightening, amusing — laughing monkeys, embracing lovers, and this demonic bird pecking the eyes out of some poor sinner's face.
I think this is the tomb of Matthew Hutton (died 1606), Archbishop of York. (It looks like I'd forgotten the necessity of taking photos of explanatory plaques and suchlike by this stage in my trip.) Those are his children below, praying. I like the way he is lying on his side, propping his head up on his hand — like he's on the couch watching the cricket or something …
Beneath the Minster is an undercroft and crypt, which contains much of interest — remnants of the Roman basilica, precious treasures from the middle ages. The air is cool and damp down there, but I was happy to linger. It's one of those annoying no-photography-allowed areas, unfortunately, so you'll have to go see for yourself.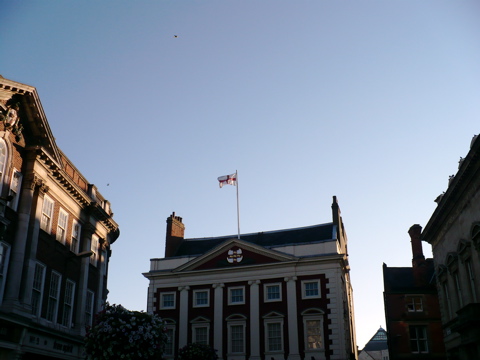 After leaving York Minster I did a quick recce around the town centre — here's the cross of St George flying above the 18th-century Mansion House — and went then back to my tiny hotel room, where the chief attraction was being able to watch British television for the first time since I'd arrived!
This post relates to my trip to Europe in July-September 2007.

This work, unless otherwise expressly stated, is licensed under a Creative Commons Attribution-Noncommercial-Share Alike 3.0 License. Terms and conditions beyond the scope of this license may be available at airminded.org.