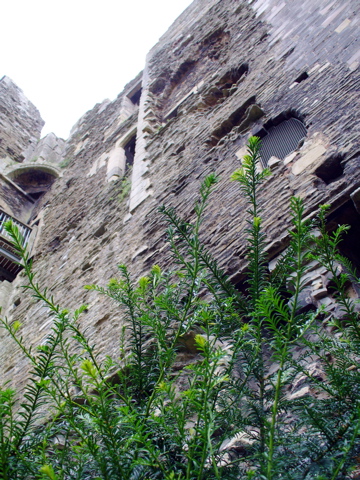 After six weeks in the UK, I finally got to see somewhere other than London when I attended a conference at RAF Cranwell in Lincolnshire. To get to Cranwell, I took a GNER train from King's Cross to Newark in Nottinghamshire, where a RAF courtesy bus took me the rest of the 20km or so to the air force base. Between when the train arrived and when the bus left, I had about 90 minutes to kill, and so I used that time for a quick whirl around the town to see what there was to see. Mainly that was two things: the magnificent ruins of a castle, and quite a large church.


This is Newark Castle, as seen from the opposite bank of the Trent. It doesn't look very ruined from this angle ...
... it's clearer from the other side. About all that remains is just one section of curtain wall (dating to the 14th century) plus the gatehouse. Despite it only being about 20% of a castle, I was pretty excited to wander around it, as it's the first castle I've ever seen. (Unless you count Kryal Castle, seat of King Keith I. And you really shouldn't.)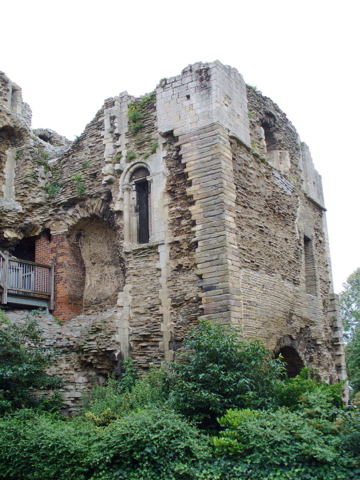 Why is it ruined? In the Civil War, it was a Royalist stronghold. It was besieged three times, in 1643, 1644 and 1645-6. The last siege was carried out jointly by the Parliamentarians and the Covenanters; and it was into the custody of the Scottish army that Charles I placed himself in April 1646.
After the war, the Parliamentarians ordered that the castle be destroyed, which I suppose is a testimony to the strength of its resistance during the sieges. But much of it was left standing, with the stone plundered over the centuries for use elsewhere, and we're lucky to have the picturesque ruins that remain.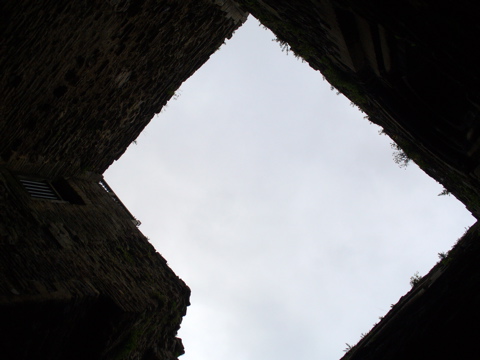 The castle was built originally by Alexander the Magnificent, Bishop of Lincoln, around 1130, on the site of a Norman castle made of wood and earth (and before that, it was probably a Saxon manor). Medieval ecclesiastical politics must have been a bit more rough-and-tumble than it is now! It remained in the possession of the Bishops of Lincoln until the Reformation. Indifferent King John died at Newark Castle in 1216.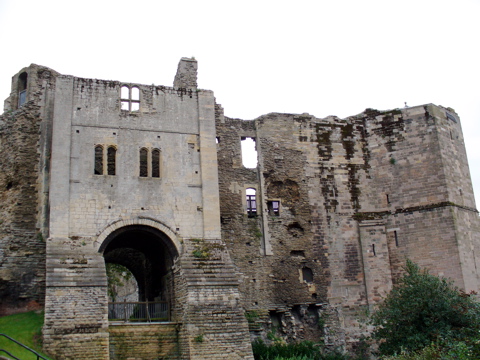 The gatehouse (on the left; and the previous two photos were taken from inside, looking up) is a mixture of 12th, 13th and 16th century stonework, and is allegedly the 'the most complete example of a Romanesque gatehouse to survive in England'. (The river is to the right, out of shot.)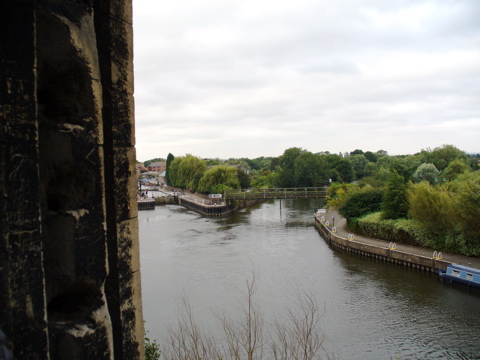 A view across the Trent from one of the big windows.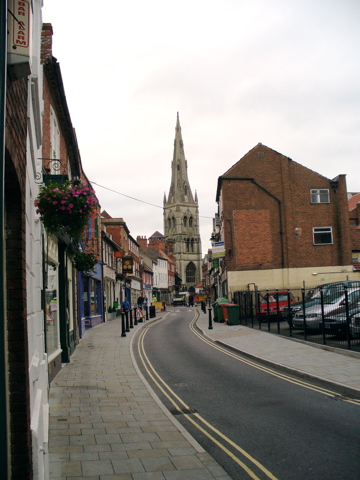 Walking back to the station to catch the bus, I snapped this view of the Church of St Mary Magdalene ...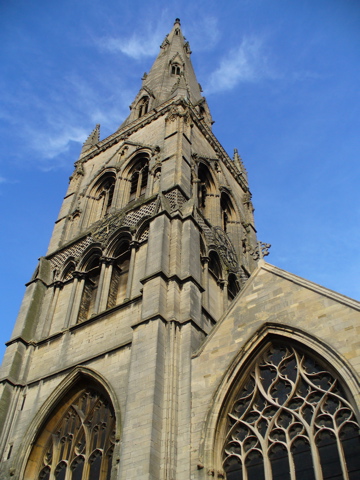 ... but didn't get a closer look until a couple of days later, on my way back to London, when I again had to wait a few hours for a connection, and so went for another walkabout. Surprisingly for such an imposing edifice (the spire reaches 223 feet), it's just a simple parish church, built and rebuilt in several stages between the 12th and 16th centuries.
Unfortunately, I was not yet an experienced enough tourist to feel comfortable about brazenly barging into random churches (Rome is a good place to get over that), so I didn't go inside. A shame, because it seems there was quite a lot to see (for example, an early 16th century Dance of Death). But there was plenty to hold my interest outside: I particularly liked this little guy, who presumably was holding up a now-lost statue for several centuries but now is on his own.
I'm not sure what the figure on the left represents here -- he or she seems to be holding (or riding?) a stylised serpent or something like that, along with a staff. Looks like the one on the right might have been a bird (or something with feathers, anyway). I'm way out of my depth here!
Next up in this increasingly drawn-out series of travel posts, I'll report on the Cranwell conference.
This work is licensed under a Creative Commons Attribution-NonCommercial-NoDerivatives 4.0 International License. Permissions beyond the scope of this license may be available at https://airminded.org/copyright/.