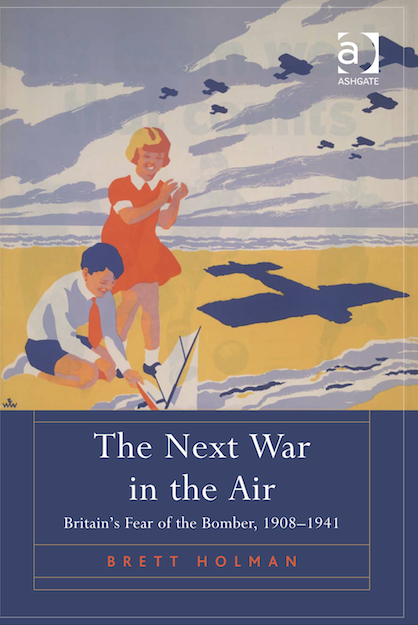 My book, The Next War in the Air: Britain's Fear of the Bomber, 1908-1941, is getting closer to being real. In June, in just three months, it will be in the bookstores. Soon the indexing will be undertaken. Yesterday I made the final corrections to the text, and shortly I'll receive the page proofs from Ashgate, for last-minute error checking. And it has a draft cover design! Which I must say I am rather pleased with.


This is the basis for the design (coincidentally, from Getty Images). I've discussed it here before, which is why I thought of it. It's a National Government poster from the 1935 general election, and in many ways it's the perfect image for my book. It shows civilians threatened by aerial warfare, with a literal shadow of the bomber falling across them. It is from peacetime, not from wartime; from 1935, when the fear of bombing was almost at its height. And it's a propagandistic use of that fear for political ends. Keep that shadow from them. Vote National.
Of course, if a book cover needs to be explained, then it has already failed. I did worry that despite illustrating so many themes from the book that this poster might not speak for itself. Would people get that these are children playing on a beach, who are unknowingly being threatened by bombers flying overhead? Would it make sense as a bare image, or would it need the poster text as well, to get the context across? I wasn't sure. But what I didn't realise is that the presence of the book title itself is enough to tell the viewer that these aeroplanes are military and menacing. At least I think so!
The only thing I don't like about this cover is the image that can be seen bleeding through from behind, which is another, non-aerial poster from the 1935 general election. As you can see, the bleed-through is the result of the way these posters have been preserved by the Conservative Party Archive, bound together in a big volume. Unfortunately, this was the only version of the poster I could find (though I now see that the Hoover Institution has a copy too, and a cleaner one at that). There's probably not much that can be done about the bleed-through, short of savaging the image with Photoshop. Anyway, the cover gets the message across -- which is buy my book!
This work is licensed under a Creative Commons Attribution-NonCommercial-NoDerivatives 4.0 International License. Permissions beyond the scope of this license may be available at https://airminded.org/copyright/.