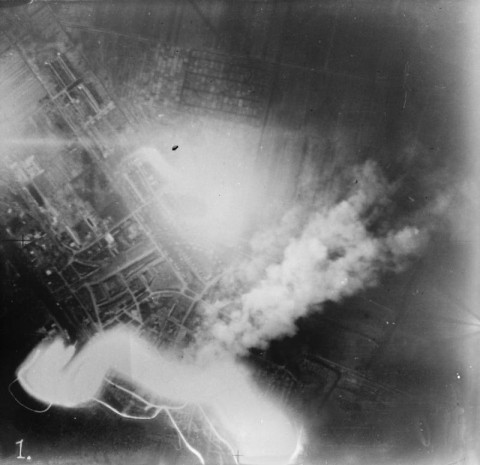 One factlet I've enjoyed dropping on the heads of students is the origin of the word 'blockbuster'. Now it is widely understood to mean a hugely successful movie (as well as a once-highly successful video rental chain -- remember those?). It has even been claimed that this is the original sense of the word: supposedly, in the 1920s a blockbuster was 'a movie whose long line of customers could not be contained on a single city block'. But with Google Books and online newspaper archives it's easy to disprove this etymology: blockbuster does not appear before 1942 and then it referred to a bomb which was so big it could destroy a whole city block.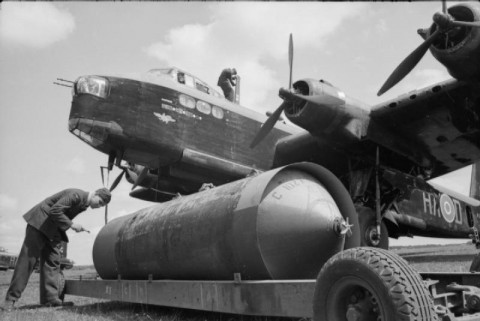 The earliest press references I can find are all American. The earliest I've found is from an unsigned United Press report published on 29 July 1942:
The aerial second front against the Germans already is striking telling blows, including another 600-plane RAF raid with block-buster bombs on the Nazi submarine base and port at Hamburg last night in addition to attacks that dumped 1,200 tons of explosive on Hamburg and Duisburg over the weekend.1
Some further specifics follow later in the same article:
The RAF's latest attack on Hamburg, in which Britain's 4,000-pound 'block buster' bombs and thousands of incendiaries rekindled the still smouldering ruins of targets wrecked in Sunday night's 600-plane raid, cost the British 32 planes.2
This is a reference to the 4000lb HC (High Capacity, meaning it was about 75% Amatol rather than 50%) blast bomb, known in RAF parlance as a 'cookie' (how this term originated is another question!), which debuted on the night of 31 March 1941 in a raid on Emden. (The bomb and the raid are shown in the above photos.) Despite the press dubbing it a blockbuster, its main purpose was to knock off roofs and shatter windows, creating draughts and hence optimal conditions for the accompanying incendiaries. At some point in 1942 (I've found three different dates) the 8000lb HC bomb (sometimes called the 'super cookie') was introduced, though the 4000lb was found to be more effective for the purpose of burning out cities.
Curiously, 'blockbuster' doesn't appear in the British press until January 1943 (and even then the next one isn't until March). That was in the Manchester Guardian, quoting Edward R. Stettinius, the head of the American Lend-Lease programme:
Quantities of some additional military supplies that have been or are being furnished by the British to our troops as reciprocal aid by Britain include 15,000 bombs, from 250lb. incendiaries to one-ton 'blockbusters' [...]3
(One ton is only 2000lb, so he's presumably actually talking about the cookie's little sibling, but no matter.) The reason I find this six month lag to be curious is that the Australian press picked up 'blockbuster' much more quickly: September 1942, only 2 months after the first American example quoted above. The first Australian use I've found is from September 1942 actually 'block-busting', and again the source is American, Colonel Knerr, formerly Chief of Staff of the USAAF (though the Australian Associated Press journalist is paraphrasing at this point and it may be their choice of word):
The Britons like block-busting; Americans prefer to attack specific targets with precision instruments. 'What could be better? Our planes come over in daylight, and knock down what the British missed at night.'4
Admittedly blockbusters or blockbusting didn't spread like wildfire after that point, as the next mention I can find is in December; but that's the same pattern as in Britain and Australia had a four-month head start. Shortly it became quite common in all three countries (and presumably elsewhere in the English-speaking world).
One reason why 'blockbuster' might not have appealed to British readers (or writers, rather), at least initially, is that (as David Underdown and JDK both pointed out to me) the idea of a city block doesn't make much sense in Britain, because most urban areas evolved over centuries and millennia, rather than being designed as was generally the case in the United States, at least archetypically -- compare maps of London and New York and you'll see what I mean. The term 'block' in this sense originated in the United States, and while it does seem to have been known in Britain by this time it probably wouldn't have meant much to most people. Conversely, the term was used in Australia, though in slightly differently: here it means what Americans would call a 'lot', an individual parcel of land, so smaller than an American block. But the other sense seems to have been understood too, perhaps because our towns and cities also tend towards the rectilinear ideal (see the Hoddle Grid, for example).
But it occurs to me that Britons might have understood 'blockbuster' to mean, not a city block, but a block of flats (apartments in American), increasingly popular urban developments in interwar Britain. In fact, as JDK also pointed out destroying a block of flats was probably a more realistic ambition for a cookie than a whole city block. Which brings me to something resembling an interesting point: perhaps the trouble with 'blockbuster' was not that it was too difficult to understand in Britain, but rather that it was too easy? Unlike 'cookie', for example, it's not at all a euphemistic term: it comes right out and says that we are destroying cities block by block or -- even worse -- home by home? As we know, dehousing was indeed the policy of Bomber Command from 1942; but we also know that nobody was allowed to say so in public. So, and this is purely speculation on my part, I wonder if the delay in adopting such an eminently useful and descriptive colloquialism was due to censorship, or at least official discouragement? If so, the question would then be why the term was eventually allowed.
One final point. Some reports claimed that 'blockbuster' was a German term (presumably transliterated): 'BLOCK BUSTERS, NAZIS CALL THEM -- AND THEY KNOW WHY!', for example.5 More common is the idea that Germans called blockbusters '"block bombs," because the explosion demolishes an entire block of buildings'.6 In fact, 'block bomb' predates 'blockbuster' by some months. I can't find any evidence that Germans used either term, even transliterated; the equivalent German terms seems to be 'große Bombe' (big bomb). But maybe 'block bomb' was an intermediate stage on the way to 'blockbuster'.
Image sources: Imperial War Museum C 1888, CH 17887.
---
This work is licensed under a Creative Commons Attribution-NonCommercial-NoDerivatives 4.0 International License. Permissions beyond the scope of this license may be available at https://airminded.org/copyright/.