This image and the one below are selections from the The National Archives' collaboration with Wikimedia Commons, so far comprising 350 examples of war art from the Second World War. These particular ones are propaganda posters (or draft versions of same) but there are also more informational ones as well as portraits and caricatures of Allied leaders.


Both depict specific raids: the 1,000 bomber raid on Cologne on the night of 30 May 1942 in the previous example (admittedly, it could be one of the later 1,000 bomber raids, but the use of the singular and the presence of the Whitley suggests it was the first one) and, in this case, the 17 October 1942 low-level daylight raid against the Schneider armaments factory at Le Creusot in France. While the ostensible purpose is not to laud the achievements of Bomber Command but to promote some other message (be frugal! we will win!) clearly the image is one the Air Ministry would be happy with. Both portray the raids as precise -- as usual -- but even the Le Creusot raid hit workers' houses.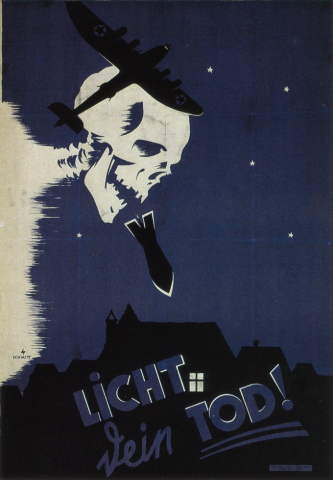 By way of contrast, here are two propaganda posters from the Axis point of view. Both come from a vast poster collection at the Nanyang Technical University at Singapore, Utopian Constructions, which spans the world and a couple of centuries. (Thanks to JDK for pointing this out.) This one is from Germany and aims to persuade people to obey the black regulations as 'Light means your death!' Oddly, the four-engined bomber silhouetted against the night sky has stars in its roundels. So it's either American -- who very rarely did strategic bombing at night -- or Soviet -- who very rarely did strategic bombing. Why either of those would be chosen over the British, who were routinely called 'night pirates' and the like by Nazi propagandists, is hard to explain.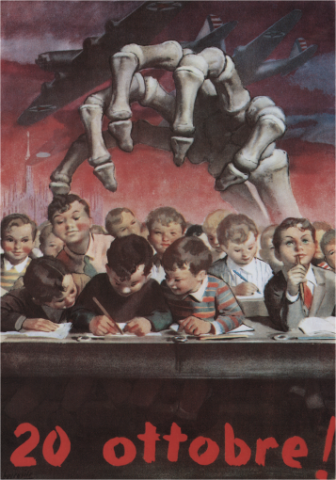 This one, from Italy, also shows an American bomber (let's be generous and call it a B-17) but this time it's during the day so that's okay. It refers to a specific USAAF air raid on Milan (note the cathedral in the background) on 20 October 1944 which killed 184 schoolchildren. It's certainly something to be horrified about, but Mussolini and the Salò Republic didn't have much credit by that point.
This work is licensed under a Creative Commons Attribution-NonCommercial-NoDerivatives 4.0 International License. Permissions beyond the scope of this license may be available at https://airminded.org/copyright/.