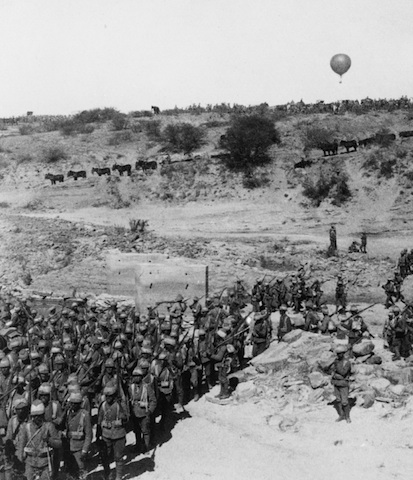 The Boer War of 1899-1902 doesn't often appear in airpower history. This may have something to do with the fact that it took place before the invention of the aeroplane, which I suppose is reasonable. But there are still interesting and even important connections and influences to be traced. Here are a baker's half-dozen.

Here's an example of the sort of response that was received, in this case from Vryheid:

Airship with powerful light plainly visible from here in far off distance towards Dundee. Telegraphist at Paulpietersburg also spied one, and at Amsterdam three in the direction of Zambaansland to the south east.

Shots were fired at these supposed balloons or airships, and Transvaal apparently bought powerful searchlights from Germany to sweep the skies for them (although if that's true, it must have been done before the outbreak of war, because the British imposed an effective blockade on the Boer republics). The British balloons were nowhere near the Transvaal, so the Boers were seeing what they didn't want to see, so to speak. But lest it be thought that Tommy Atkins was too sober and rational to be afflicted with such visions, General Buller's men thought they were being followed by a light which appeared at dusk, which they called the 'Boer signal'. It was probably Venus. (Source: Nigel Watson, The Scareship Mystery: A Survey of Worldwide Phantom Airship Scares (1909-1918) (Corby: Domra Publications, 2000), 109-10.)
For an excellent overview of the Boer War which isn't unbalanced by an obsession with airpower, I recommend Denis Judd and Keith Surridge, The Boer War (London: John Murray, 2003).
Image source: Library of Congress.
This work is licensed under a Creative Commons Attribution-NonCommercial-NoDerivatives 4.0 International License. Permissions beyond the scope of this license may be available at https://airminded.org/copyright/.