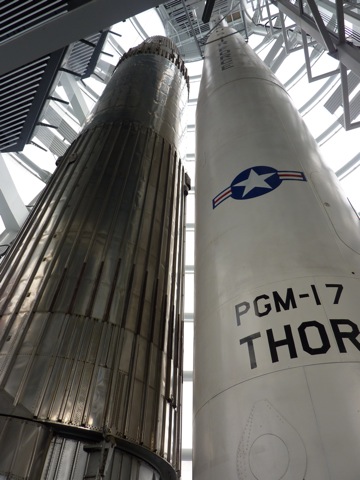 Some Britons I've spoken to claim to be unaware that their country has a National Space Centre. Well, it does and it's in Leicester. I know this because Chris Williams took me there.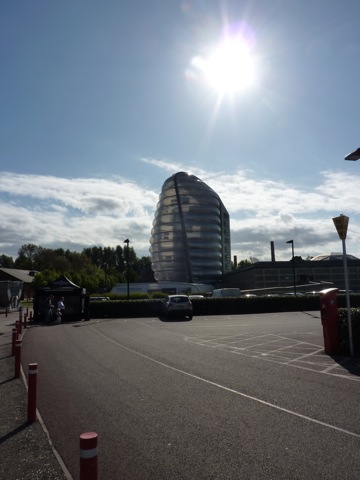 Admittedly, the NSC might have been better known had not Beagle 2 failed to reach Mars back in 2003 (or if it did get there, failed to report back): it was to be the control centre for the mission. It also hosts the UK's Near Earth Object Information Centre, the designated assembly point for angry British subjects to gather with flaming torches when the big one comes and they find out there's nothing we can do about it.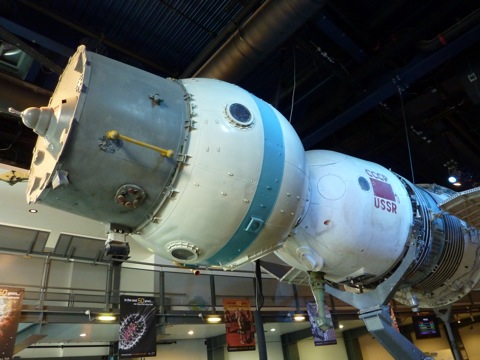 But the NSC is also a pretty decent space museum (and planetarium). Lots of spacesuits and simulators and model Mars rovers. This is a first-generation Soyuz, a Soyuz 7K-OK. It's a real spacecraft, though it obviously didn't actually go into space, since it's still in one piece (only the middle section would return to Earth). I guess it was a spare or training unit.
It would have been built between 1967 and 1971, so this is space race-era stuff.
And it's got this on the side, for the full-on Cold War nostalgia trip.
Speaking of nostalgia, who else watched Giotto fly-by of Halley's Comet live on TV? This one's a model, though, because the real Giotto is still out there, orbiting the Sun.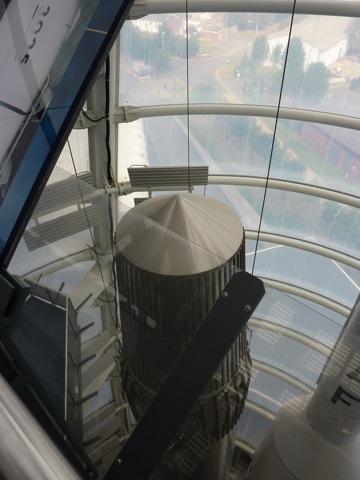 The NSC's pride and joy: a Blue Streak.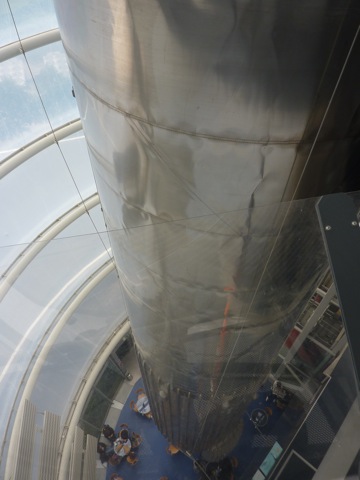 It's a medium-range ballistic missile, and a first-stage satellite launcher!
To be more precise, Blue Streak started out in 1955 as a carrier for Britain's independent nuclear deterrent. But as warning times decreased, the fact that it couldn't be launched in less than 15 minutes became a problem, and so it was cancelled. Cue Skybolt, Polaris, Trident ... no end of fun.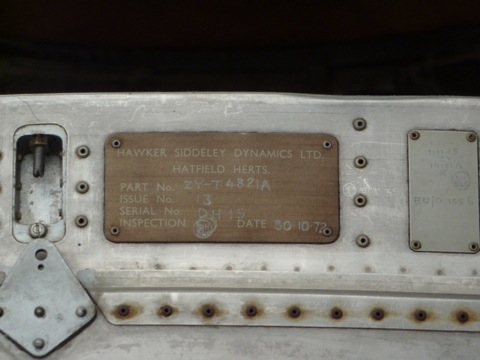 So Blue Streak was re-purposed as the first stage of a European satellite launcher, Europa. But it was the only part which worked reliably, and in 1972 that was cancelled too. And that was the end of Blue Streak.
This particular one was the last to be completed -- but again, not used. As most of the launches took place from Woomera, there are bits of Blue Streak a lot closer to me than Leicester, but to see a complete one was worth the trip.
But let's not forget the Thor, the United States' first ballistic missile (which can be better seen in the first photo in this post). You'd have to count Thor as more successful than Blue Streak, in that it did actually see operational deployment, and that it also led to a highly successful series of launch vehicles, the Deltas.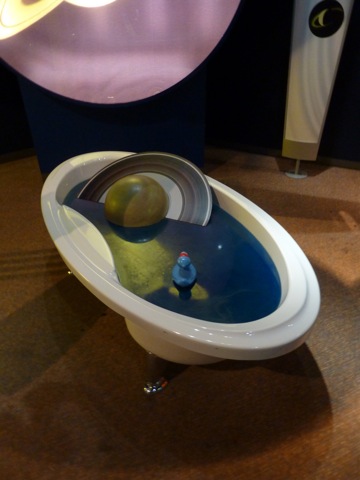 Finally, a whimsical exhibit which alludes to the fact that Saturn is less dense than water, and so if you could find a big enough bathtub it would float. Or alternatively, if you can find a small enough Saturn, that would float too.
(P.S. Leicester also has at least one decent pub, where Chris and I met Alun for a few. Chris also put me up for the night. Cheers!)
This work is licensed under a Creative Commons Attribution-NonCommercial-NoDerivatives 4.0 International License. Permissions beyond the scope of this license may be available at https://airminded.org/copyright/.