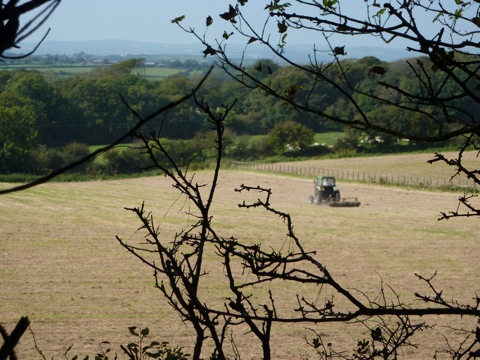 On my third day in Cornwall I avoided the usual tourist traps entirely, because I was in search of my ancestors' home: a tiny little place called Tremayne, which is towards Land's End, in the hundred of Penwith. To get there I caught a train to Camborne, then a bus to Praze-an-Beeble (no, really!), and then walked along a winding country lane with no footpath and some very high hedgerows. Luckily I didn't get run over, as that would rather have spoiled what was a beautiful day.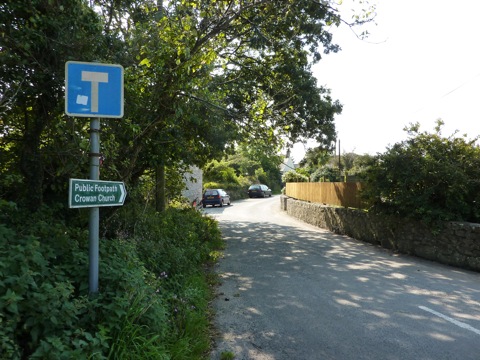 This is the turn-off into Tremayne. There's no actual sign saying 'Tremayne': I don't think it's big enough to warrant one! (It doesn't show up in Google Maps, but it is on the Ordinance Survey's ones, along with Tremayne Farm, North Tremayne and Carn Tremayne.)
The main street. In fact the only street.
Some of Tremayne's buildings look like they could have been there when my mob left.
And I don't know why they did leave. I know they go back to at least 1732 there, or near there, when James Holman was born, my great-great-great-great-great-great-grandfather (I think that's the right number of greats!) His grandson, John Holman, emigrated with his wife, Millicent (nee Hodge), and their eight children to the new colony of South Australia in 1839. Six other children had died in Cornwall, which suggests a grinding poverty. Their passage was assisted, so they certainly had few means at their disposal.
John Holman's application for assisted passage listed him as a farmer (Tremayne, incidentally, means 'farm by stones' in Cornish). And farming is what he did for the rest of his life, first in Prospect Village, then in Willunga.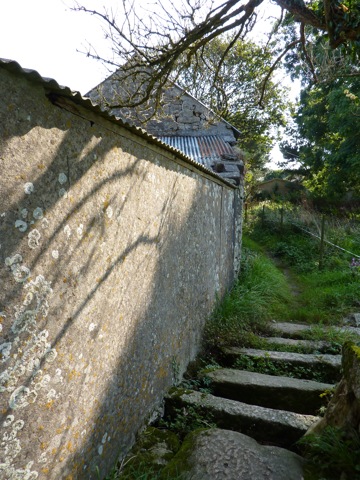 South Australia was itself only founded in 1836; so we were there pretty early. It attracted many Cornish emigrants, not only for the economic opportunities (later, especially due to copper strikes) but because of its freedom. Firstly, it was not a penal colony, so it was free of the convict stain. Secondly, it had no state religion, and indeed welcomed Nonconformists. Cornwall was a Methodist stronghold, but the Church of England still had legal and financial privileges which non-Anglicans would have found offensive: landowners had to pay tithes to the (Anglican) parish church, which is also where banns of marriage had to be read, and so on. I'm not actually sure whether the Holmans in Cornwall were Methodists, but at least one was a Methodist lay preacher in South Australia, and John Holman's second wife was buried in a Methodist cemetery. So they may well have been.
If they were Methodists, it looks like the nearest chapels were in Praze (though it depends on what denomination they were). But the parish church in nearby Crowan is where many Holmans from the district were baptised, married and buried. So from Tremayne I set off in search of Crowan.
There was a public footpath, which I immediately managed to lose and trespass my way through a field and a barbed wire fence. But I did find this surprisingly sturdy bridge. I wonder why a simple crossroads wouldn't do? Maybe it was for mine traffic.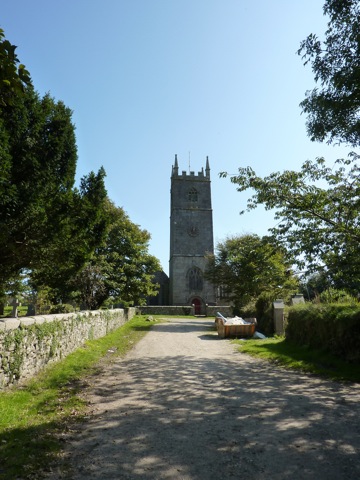 This is the church at Crowan, dedicated to Saint Crewenna. It was built in the 15th century but restored extensively in 1872.
Saint Crewenna was an obscure 5th century missionary from Ireland, a companion of Saint Breaca, who herself was a disciple of Saint Brigid.
The church was locked, so I looked around the churchyard instead.
Except for it not being dark and wreathed with fog, it's just what you want from a churchyard: lots of old tombstones, some broken and tumbledown.
I didn't find any ancestors, but I did find some probable relatives.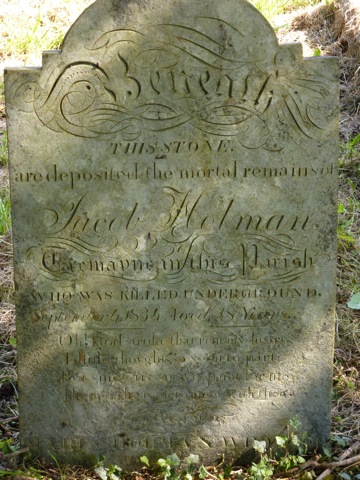 Beneath
THIS STONE,
are deposited the mortal remains of
Jacob Holman
of
Tremayne in this parish
WHO WAS KILLED UNDERGROUND.
September 4, 1834 Aged 18 Years.
Oh! Fatal stroke that rent my heart
I little thought so soon to part,
But since tis so weep not for me
Hope in heaven to meet with thee.

MARIA HOLMAN W[HO DIE]D
[...]
So Jacob was a miner (probably copper) who died at work. Maria could have been his sister. Either way it's unclear what relation they are to John and Millicent, despite living in the same tiny place, Tremayne, at the same time: Jacob died less than five years before they emigrated. I do know the names of John and Millicent's children, and there are no Jacobs or Marias: however there a James and a Mary, both of whom died in Cornwall. These are cognate names: perhaps they were treated as interchangeable, or used as nicknames?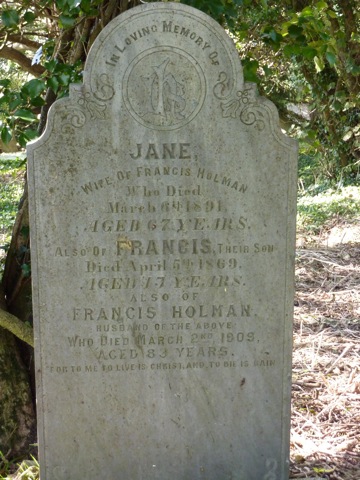 IN LOVING MEMORY OF
JANE,
WIFE OF FRANCIS HOLMAN
Who Died
March 6th 1891.
AGED 67 YEARS.
ALSO OF FRANCIS, THEIR SON
Died April 5th 1869.
AGED 17 YEARS.
ALSO OF
FRANCIS HOLMAN.
HUSBAND OF THE ABOVE
WHO DIED MARCH 2ND 1909.
AGED 83 YEARS.
FOR ME TO LIVE IS CHRIST, AND TO DIE IS GAIN
Francis senior was a stonemason. At the time of the 1841 census he was living at Tremayne, with several siblings and his father, Jacob. Not the same Jacob as above, obviously, but the shared names and the Tremayne connection suggests that they're all part of the same bunch as me. (And John Holman's father, also named John, had a brother named James -- Jacob?)
I'm going to stop there before my brain melts!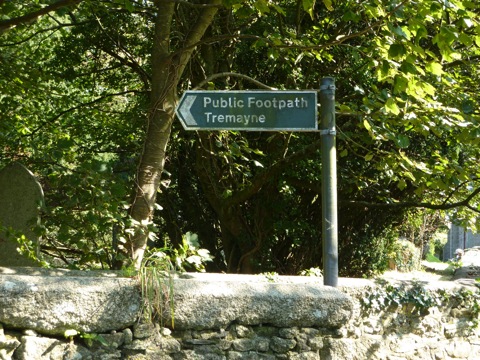 After that it was back to Truro, via Tremayne, Praze and Camborne. I wish I'd been a bit better prepared -- if I had been, perhaps I would have known about the former Methodist chapel in Praze, or found the address of the Holmans (if not my Holmans) in Tremayne from the 1841 census. But it was still very evocative to see where some of my forebears came from. And I can always come back when I know more!
This work is licensed under a Creative Commons Attribution-NonCommercial-NoDerivatives 4.0 International License. Permissions beyond the scope of this license may be available at https://airminded.org/copyright/.