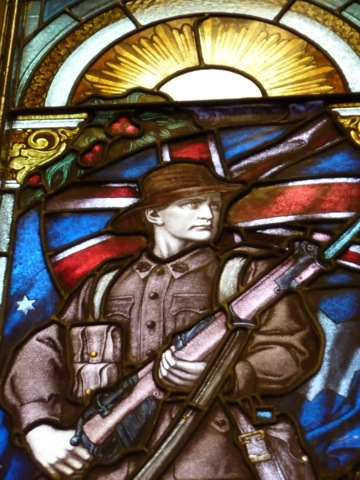 I recently attended a function in the Gryphon Gallery of the 1888 Building at the University of Melbourne, where there's a local war memorial I missed out on when I last wrote on the topic. It was dedicated in 1920 in what was then the Teachers' College, and takes the form of three stained glass windows. The central window -- seen above and below -- depicts an Australian soldier, rifle to the ready, bayonet fixed. He represents all those former students and staff members who served in the Australian Imperial Force (including at least two women).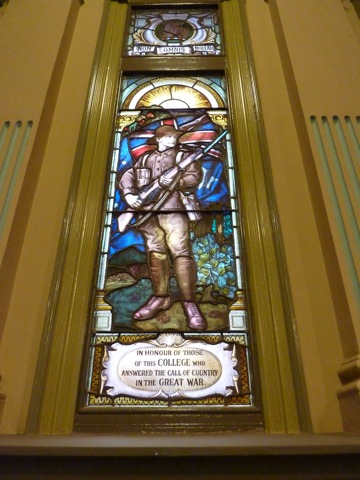 The inscription at the bottom reads
IN HONOUR OF THOSE
OF THIS COLLEGE WHO
ANSWERED THE CALL OF COUNTRY
IN THE GREAT WAR.
The one at the top is the college Latin motto, from Horace,
NON OMNIS MORIAR
which gives the title of this post.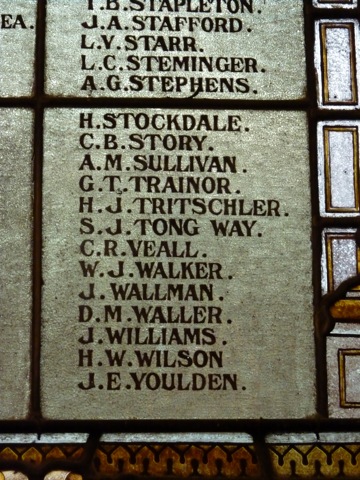 The windows on either side give the names of nearly all who served (a pamphlet put out by the Ian Potter Museum of Art, clearly the result of a considerable amount of historical spadework, lists some more). Those who died have a section devoted to them at the very top.
I was intrigued by one of the names, S. J. Tong Way. It stands out among all the other, Anglo-Saxon names. I thought perhaps he was descended from one of the Chinese immigrants who came to Victoria during the gold rush era. And it seems that's the case. A Samuel Tong Way is mentioned, along with his brother Hedley, on an Australian government website as an example of a Chinese Australian who joined up, in his case in the Signal Corps. But despite being an Australian citizen, he wasn't allowed to do so until after 1916, when China joined the Allies. Tong Way (or Tongway) graduated in March 1917 with a Diploma of Education, and after the war became a primary school teacher (in 1935 he appealed against a non-promotion). He served again in the Second World War as an 'instructor', and then took part in returned servicemen activities. After that I lose track of him.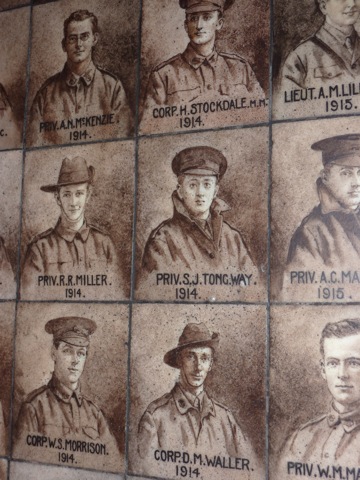 And here's a picture of Private Tong Way, from another part of the memorial which has become detached from the windows shown above, a pair of tablets with ceramic portraits of the college's veterans (now in the Graduate Student Association foyer, in the west wing of the 1888 Building). This is apparently a quite unusual form of memorial, and I'm glad the tablets have been rescued from the storeroom in which they languished for several decades. The windows were also covered up for a while but have also been restored to their former glory. They're well worth a visit though you should check with the Melbourne School of Graduate Research in advance.
This work is licensed under a Creative Commons Attribution-NonCommercial-NoDerivatives 4.0 International License. Permissions beyond the scope of this license may be available at https://airminded.org/copyright/.