Here's a question of terminology which has been bugging me for some time. The Munich crisis in September and October 1938 is a well-known historical event. But the name 'Munich crisis' is misleading, because the crisis was building long before the word Munich was ever associated with it. Munich had nothing to do with the Munich crisis at all, except that it just happened to be the place where Chamberlain, Hitler, Mussolini and Daladier met to resolve it. (So 'Munich conference' is fine, as is 'Munich' as a shorthand for the betrayal of Czechoslovakia.) 'Czech crisis' would be better, but that's usually reserved for an earlier flap around March 1938. I tend to prefer 'Sudeten crisis', which has the virtue of indicating what the crisis was actually about. On the other hand, nobody at the time seems to have spoken of the Sudeten crisis; usually they referred to the Czech crisis, and very occasionally, after the crisis had passed, the Munich crisis. And Munich crisis is certainly the preferred term today.
So what say you? Feel free to make arguments in comments.
Edit: I have removed the poll plugin for security reasons. But here's a screenshot of the poll results as of 22 November 2011: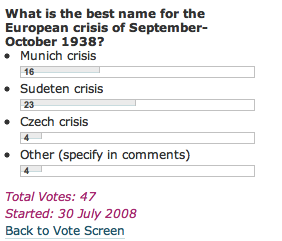 Next up: 'Crisis' vs 'crisis'. You be the judge!
This work is licensed under a Creative Commons Attribution-NonCommercial-NoDerivatives 4.0 International License. Permissions beyond the scope of this license may be available at https://airminded.org/copyright/.