In some ways it seems as if I've only just arrived in London; in others, it's like I've been here forever. But I now have just under a week left here, so I'm racking up a lot of "last times".1 Today was the last time I visited British Library Newspapers at Colindale, which is where I've spent most of my time, actually -- nearly every day there for the first month, the odd day or two since then.
So, to mark this occasion, here's a picture of a TARDIS: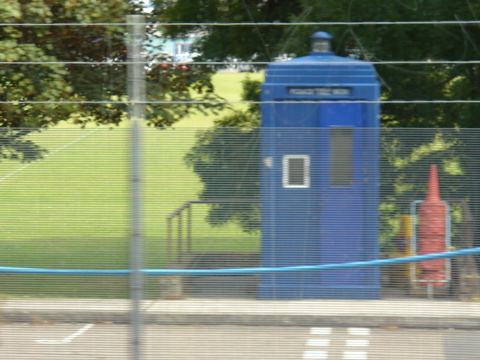 Perhaps I should explain ... technically it's not a TARDIS but an actual police box (which almost nobody would remember these days if not for Doctor Who), apparently of a slightly later model than that mimicked by the TARDIS. It's in the grounds of Hendon Police College (AKA the Peel Centre), and can be seen on the eastern side of the Northern line between Hendon Central and Colindale stations. That's why it's so blurry: I took it from a moving train! Anyway, I used to look out for this every day on my way to BL Newspapers and my own personal form of time travel ...
Bonus! Here's the other extant London police box that I know of, though it was only built in the 1990s. It's just outside Earl's Court tube.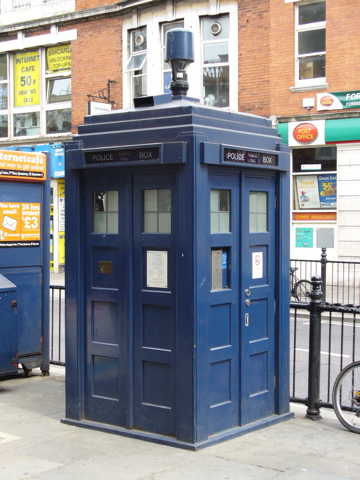 ---
Though also still a number of firsts: yesterday was the first time I wandered past Buckingham Palace. For those non-Australians who might not know, Buckingham Palace is where the Queen of Australia lives when she is not back home. It's a nice enough little holiday house; though I did wonder why the Union Jack was flying and not the Australian flag -- seems rather un-Australian, if you ask me. ↩
This work is licensed under a Creative Commons Attribution-NonCommercial-NoDerivatives 4.0 International License. Permissions beyond the scope of this license may be available at https://airminded.org/copyright/.