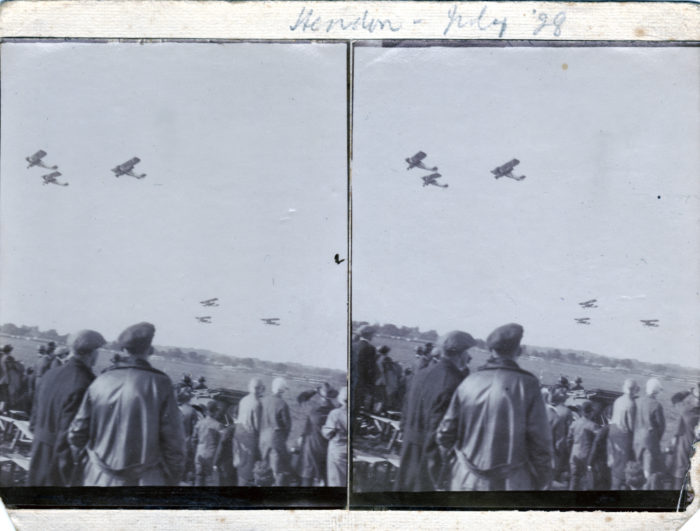 Above is a pair of stereo photos kindly sent to me by Tim Lees, who found them in his father's collection. There's a slight mystery as to the occasion. The label at the top reads 'Hendon - July '28', which suggests they were taken at the RAF Display at Hendon in 1928, but that year it was held in June. So there's an error somewhere: either the day (it was on the last day of June) or the year (the 1927 and 1929 Hendons were both held in July). Or perhaps it wasn't at Hendon at all, but at one of the regional displays where RAF squadrons sometimes reprised their Hendon performances? It might not have been labelled until some years after the event. There's no real way to tell.
The photos themselves show reasonably well-dressed spectators standing in amongst their motor cars, watching two vics of what look like Armstrong Whitworth Siskins, judging from the sesquiplanes (click to zoom in). There's not enough detail to say much more, but that certainly fits the period: Siskins were highly maneuverable (the RCAF even used them for an early aerobatic team) and they featured at Hendon between 1925 and 1931.


This advertising poster for Hendon shows that the Siskins were the stars of the 1928 Display (the year is not given on the poster, only the month and day; but 1928 was the only year it was held on 30 June during the period Siskins were in service). It's obviously very much more stylised than the stereo photos above, yet it contains the same basic elements, the spectacle and the spectators: the essence of aerial theatre.
Image sources: Art2Order; Tim Lees.
This work is licensed under a Creative Commons Attribution-NonCommercial-NoDerivatives 4.0 International License. Permissions beyond the scope of this license may be available at https://airminded.org/copyright/.