A few days ago, Chamberlain said Munich was 'peace for our time'. Now he, in his speech in Parliament yesterday, he is saying that there can be no let-up in the pace of rearmament (Manchester Guardian, p. 11). In particular there is to be a 'big increase' in the RAF, especially for 'the defence of London' (Daily Mail, p. 11). Hoare, the Home Secretary, said in his speech that 'on the whole the machinery of A.R.P. had worked well', and it was mainly a matter of filling the gaps revealed by the crisis (Manchester Guardian, p. 6). Labour MPs were vocal in response to Chamberlain's speech: the Daily Mail's parliamentary correspondent says (p. 10) they 'wrecked his great hour' and turned the occasion into 'a shabby party fight', and the leading article (p. 10) contrasts 'The Government's calm statement of the facts' with 'the frothy diatribes of the Socialists'. Duff Cooper's resignation speech accused the Cabinet of being too timid to give a strong warning to Hitler, who he believed was more open to 'the language of the mailed fist' rather than Chamberlain's approach of 'sweet reasonableness' (Daily Mail, p. 5).

Yet Labour did not get the numbers for a censure motion. They themselves are divided between pacifist and anti-fascists, as well as those who don't want to give Chamberlain an excuse to call an election which he would presumably win, given the country's mood (Manchester Guardian, p. 11). Anyway, there are only about 20 potential rebels on the government side of the House, the Churchillians and Harold Nicolson (National Labour), not enough to make any dent in Chamberlain's majority. He has decided against going to the country for now; instead there will be a parliamentary vote tomorrow on Munich (Daily Mail, p. 11).
Reservists continue to be released back into civilian life -- all naval reservists will be allowed to go back home, unless they are already at sea, although they'll remain on the books for the time being (Daily Mail, p. 4). The Army will allow men who enlisted last week the option of being discharged, with a week's pay and a gratuity. The few schoolchildren evacuated from London during the crisis are also returning home. A columnist in the Manchester Guardian (p. 8) writes of 'The first waking moments that break a nightmare':
Was it only a matter of hours ago that we saw a store counter labelled "A.R.P. Department" besieged by men and women? Had we actually seen young women there handling and comparing various gas masks as normally as they would examine new hats?
The Daily Mail has been out on the streets asking punters what they think of the idea of a bank holiday in honour of Chamberlain and peace, perhaps to be called Peace Day (p. 3). Unsurprisingly, everyone's in favour of the idea! Irene Porter, a typist from Upton Park, would call it Chamberlain Day 'as a mark of honour to the great man who prevented war'. But she'd rather it was between Christmas and Easter, rather than on 30 September when the Munich agreement was signed, 'so that we could get a taste of spring'.
The letters columns are filled with reactions to Munich. Just to sample a few of the correspondents with the Manchester Guardian (p. 20): Gilbert Murray thinks the agreement unjust, comparing it with Versailles. But he hopes that the worldwide revulsion against war which motivated it can be used to secure a lasting peace. According to Francis Hirst, the former editor of the Economist, most Liberal voters would be grateful to Chamberlain for preventing 'another ghastly Armageddon which would have brought ruin and desolation on countless homes'. But Tavistock implies that only a Conservative prime minister could have negotiated with Hitler; the Liberal and Labour leaders would have 'involved millions of innocent people in destruction' in misguided pursuit of collective security or simply because they hated him.
A cheerful ad from The Times (p. 19):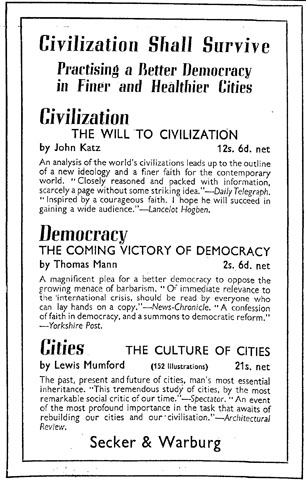 And an ominous story from the Manchester Guardian (p. 6)?
POLAND'S FEAR OF GERMANY
"Now More Than Ever Sheer Brute Force Will Dominate" -- General's Speech
NO RELYING ON OUTSIDE HELP
This work is licensed under a Creative Commons Attribution-NonCommercial-NoDerivatives 4.0 International License. Permissions beyond the scope of this license may be available at https://airminded.org/copyright/.