David List added a most informative comment on my About page the other day, responding to an old post, which I thought I would highlight and respond to here.
Regarding my post on a claimed insertion of a German spy by parachute in 1917 (which I doubted), David notes that there were Allied experiments in this direction at around the same time:
apropos of your post on 'airborne spies of the Kaiser' that parachuting of agents in World War 1 was a British/Italian technique. Tony Wedgewood Benn's (the retired British MP) father was one of the real practitioner's and you will find accounts of his missions in Italy both in the published literature and in files at The National Archives at Kew, UK. Further, in fiction, you will also find a 'Biggles' story 'The Rescue Flight' I think it was called which is based on this.
(A-ha! Biggles strikes again.) I'm very interested to learn of William Wedgwood Benn's experience here. In the 1920s, he was a very airminded MP: on several occasions during parliamentary debates, he declared that airpower had made the Army and Navy obsolete, and that therefore their budgets should be cut and the money given to the RAF instead (an idea known as 'substitution'). Following David's lead, I learn from the Oxford DNB that Benn had a distinguished career in the First World War, partly in the RNAS, where he served as an observer and a pilot. (His other exploits included fighting at Gallipoli, guerilla warfare, and privateering in the Red Sea!) So his RNAS service helps explain his airmindedness. And if the Allies were dropping spies by parachute at this time, it makes it more plausible that the Germans might try it too.
Another interesting item related by David is about a British airship used for covert operations:
By extension you will also find acounts in the literature, in 'Cross and Cockade' and also, again, the files at TNA accounts of 'the Black Ship' which was an RNAS SS dirigible intended for clandestine night landings and pick ups.
Very interesting! Looking through Ces Mowthorpe's Battlebags: British Airships of the First World War (Stroud: Sutton, 1998), this would appear to be SS-40, which had a silenced engine and was 'Modified for special night flights over enemy lines', including a black envelope (hence the name 'Black Ship', presumably). In August and September 1916 it undertook 'experimental night reconnaissance flights over enemy lines and Somme battlefield' (p. 40). As the experiments were not repeated, I guess they weren't very successful! I can't find a picture on the web, so I have scanned in the photo of SS-40 from Battlebags (p. 42). The gondola is actually a modified aeroplane fuselage, a feature of the SS type.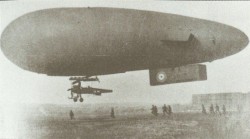 It's not exactly James Bond material, is it ...
This work is licensed under a Creative Commons Attribution-NonCommercial-NoDerivatives 4.0 International License. Permissions beyond the scope of this license may be available at https://airminded.org/copyright/.