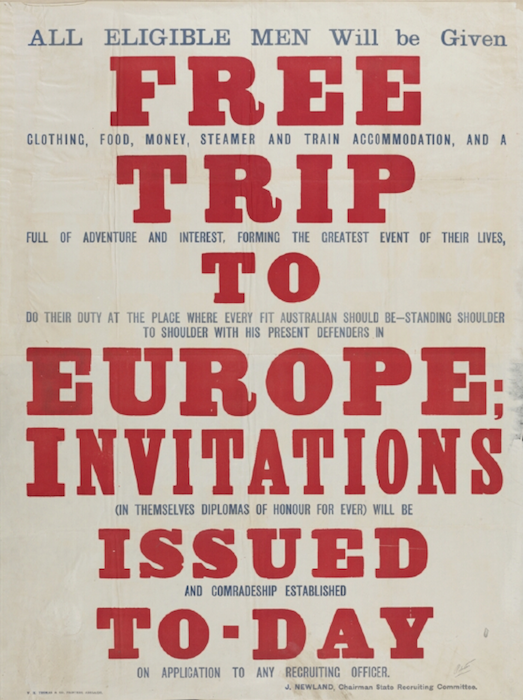 FREE
TRIP
TO
EUROPE;
INVITATIONS
ISSUED
TO-DAY
or
ALL ELIGIBLE MEN Will be Given FREE CLOTHING, FOOD, MONEY, STEAMER AND TRAIN ACCOMMODATION, AND A TRIP FULL OF ADVENTURE AND INTEREST, FORMING THE GREATEST EVENT OF THEIR LIVES, TO DO THEIR DUTY AT THE PLACE WHERE EVERY FIT AUSTRALIAN SHOULD BE -- STANDING SHOULDER TO SHOULDER WITH HIS PRESENT DEFENDERS IN EUROPE; INVITATIONS (IN THEMSELVES DIPLOMAS OF HONOUR FOR EVER) WILL BE ISSUED AND COMRADESHIP ESTABLISHED TO-DAY ON APPLICATION TO ANY RECRUITING OFFICER.
Source: Imperial War Museum.
This work is licensed under a Creative Commons Attribution-NonCommercial-NoDerivatives 4.0 International License. Permissions beyond the scope of this license may be available at https://airminded.org/copyright/.