Found via Military History Carnival #2, an interesting post by Alan Baumler at Frog in a Well: China on airmindedness in China in the 1930s. If I had to compare it to another country, it would probably be Russia, where aviation was also part of a modernization effort. But something Alan mentions reminds me of a couple of British parallels:
The Nationalists raised $ 300,000 from the public to purchase planes, including one paid for by the Tianchu glutamate factory that had the name of the company on the wings. I assume this was just for the publicity shot, and that it did not fly into battle with an advertisement on its wings, but it is still a rather remarkable example of commerce and nation-building going together.
This of course sounds very similar to the Second World War Spitfire Fund, where companies, towns and individuals could contribute money towards the cost of a Spitfire or other aircraft for the RAF. (The idea seems to have started with the Nizam of Hyderabad, who paid for a whole squadron. But maybe the Chinese were first?) £5000 paid for one Spitfire, though in reality this was less than half the total cost of production; at least 1500 Spitfires were subsidised in this way. The names of the donors were written on the side of the presentation aircraft so you could say they did go into combat with advertisements, though hardly big enough for anyone to notice!
But I know of one other aeroplane which did indeed go to war with very noticeable advertising under the wings. Michael Paris notes that in 1914 the RFC was short of aircraft, and so it requisitioned a number of privately-owned aeroplanes. One of these was the Daily Mail Blériot, which 'flew several reconnaissance missions in France with "The Daily Mail" painted under the wings'.1 I think this is the one (this 1913 photograph is taken from The Early Birds of Aviation):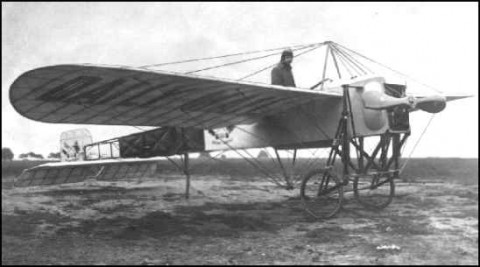 How very clever of the airminded Lord Northcliffe! The number of new Daily Mail subscriptions taken out by German soldiers is not recorded, however.
Update: see, I told you it reminded me of Russia!
---
Michael Paris, Winged Warfare: The Literature and Theory of Aerial Warfare in Britain, 1859-1917 (Manchester and New York: Manchester University Press, 1992), 230. ↩
This work is licensed under a Creative Commons Attribution-NonCommercial-NoDerivatives 4.0 International License. Permissions beyond the scope of this license may be available at https://airminded.org/copyright/.