What could be more American than football, cheerleaders, and country music? According to Hank Williams Jr in 1989 [edit: more like 1996 -- thanks, Robert Farley], only football, cheerleaders, country music, and air strikes on US national monuments (which magically transform them into symbols associated with football):


This is apparently what you get when aerial theatre meets late capitalism. The lyrics are almost as bizarre, a hot mess of battle and sport imagery:
Well it's Monday night
And we're ready to strike!
Our Special Forces are in full flight
We're coming by air and on the ground
Monday night football's takin over the town
We gotta get ready, we gotta get right
It's gonna be a battle in the NFL tonight

So get ready
I mean get ready

Are you ready for some football?
A Monday night invasion
Yeah, this is "Rocking" Randall Hank
With a special elect for the nation
Here comes the hits, the bangs, the blocks and the spikes
Cause all my rowdy friends drop in on Monday night

Let it fly boy

Now they're ready for Hank and across the land
The boys in the trenches, the fans in the stands
Sounds like thunder when they snap the ball
The back blasts through a hole in the wall
The receivers are rockin' on down the line
The defense covers, its pressure time
The guys with cannons, the way they throw
ABC's got the most explosive show

Are you ready for some football?
A Monday night party
Yes, sir, this is Hank and my mission is to get this whole thing started
You know helmets crashin', the crowd is psyched
Cause all my rowdy friends are back for Monday night

Everybody's a fan
This is the biggest party, man
We got Frank, and Al, and Dan
They gonna get it kick-started

Yeah and the crews all settled, the time it is right
All my rowdy friends are here on Monday night
For some reason I think Major T. J. 'King' Kong would have approved.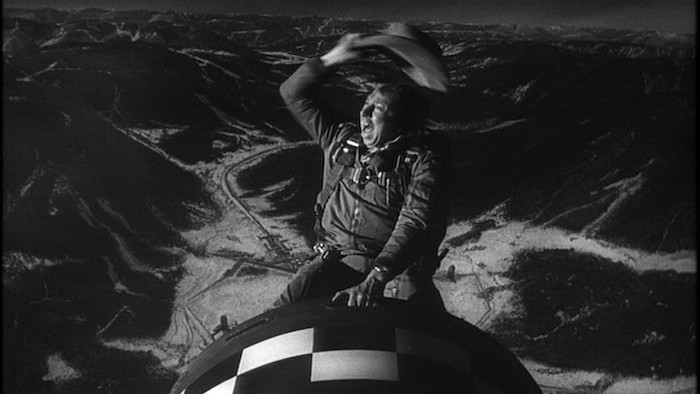 Image source: Agent Palmer.
This work is licensed under a Creative Commons Attribution-NonCommercial-NoDerivatives 4.0 International License. Permissions beyond the scope of this license may be available at https://airminded.org/copyright/.