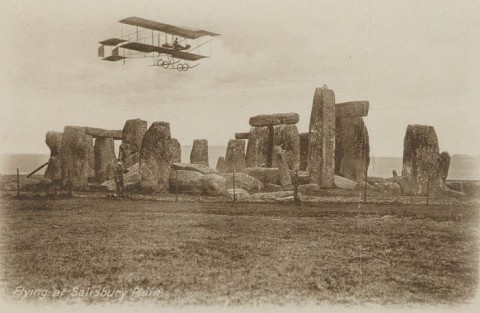 A few months ago I looked at some visions of how aerial warfare might improve the city by blowing away ugly developments. Here's a similar fantasy of better planning through bombing, though the site in question is a rather surprising one: Stonehenge. From Clough Williams-Ellis's diatribe against the debeautification of the countryside, England and the Octopus (Portmeirion, 1975 [1928]), 130-1:
It is also to be hoped that some regard may be paid to pre-existing land-lubber amenities in the actual placing of aerodromes, and that the Stonehenge scandal will not be repeated. There, with all Salisbury Plain to choose from, the R.F.C. (as it then was) elected to plump down its hangars and all their sprawling appurtenances within a few hundred yards of what should be the most hallowed stones in England. Never were venerable remains less venerated, for at this very moment of writing, our late enemies having declined our military invitation to obliterate the circle with their bombs, an offensive pink bungalow is being completed hard by that, with the outrageous café adjoining, makes one almost pray for a destructive air raid.

As it now is, Stonehenge is intolerable, and by no means to be visited save by blind archæologists. Hemmed in by iron railings, guarded by a turnstile and a post-card kiosk, glowered at by the derelict aerodrome and smirked at by café and bungalow, this sacred place is indeed painful beyond bearing. If it were an even chance that a hostile air raid would destroy the circle or, alternatively, obliterate the parasitic growths about it, there are probably those who would favour the place being well and truly bombed.

As it is, Stonehenge is a mockery and a wounding of the spirit, and a fifty-fifty risk of losing it altogether or getting it back once more in its austere and immemorial loneliness might well seem a gamble worth considering.
I can't believe Williams-Ellis was actually serious: no matter how ugly Stonehenge's surrounds, surely he must have seen that they could be pulled down at some future date without having to rain bombs on the site. He's just trying to shock his readers into thinking, yes, Stonehenge really is pretty awful at the moment, maybe we should do something about it. In fact, by mid-1927 the Stonehenge Protection Committee and the National Trust had already raised enough funds to buy much of the surrounding area, as Williams-Ellis must have been aware.

But what about that aerodrome? Yes, there was indeed an aerodrome at Stonehenge, which after all is (and was) near a major Army training area. According to this Q&A page at the Centre for First World War Studies at the University of Birmingham, Stonehenge aerodrome (I'm not sure if that was its proper name) was in use between 1917 and 1921, initially for the training of bomber squadrons, including some which used big Handley Page O/400s. At various times it was home to No.1 School of Aerial Navigation and Bomb Dropping and the School of Army Cooperation. The buildings were not demolished until 1929.
And the aerodrome was very close to Stonehenge. Wiltshire County Council has a description of the aerodrome site and a map, which I've used to make the below. So it was a bit under a kilometre away, straddling the current position of the A303 which is the current blight on Stonehenge's landscape.
I wonder if there were any close encounters between Stonehenge and a bomber? (The photo at the top, from Wiltshire County Council, may well be a composite, and from the design of the aeroplane dates to well before the construction of the aerodrome.) One snippet I found on the web suggests that the RFC may have thought Stonehenge was a flight hazard, since it supposedly recommended that it be demolished. I find that very hard to believe, even aside from the fact that the source for this is a desk calendar by way of a blog, but if it is true then we may be thankful that wiser heads decided that the war against Germany could be won without such extreme measures being necessary.
This work is licensed under a Creative Commons Attribution-NonCommercial-NoDerivatives 4.0 International License. Permissions beyond the scope of this license may be available at https://airminded.org/copyright/.