A recent post on the new science fiction blog io9 (which I'm enjoying, but is it really so hard to put in spoiler warnings?) claimed that the Vickers Velos was the 'ugliest and most worthless plane in the world'. Sure, it's not pretty, but I've seen plenty that were uglier -- fuglier, even. But there were a couple of links to lists of other ugly aircraft, which are always fun to browse. The first one had some bizarre nominations (the Dragon Rapide should never be on such a list) but I thought I'd found what may be the single ugliest aeroplane ever made, the three-engine variant of the Farman Jabiru airliner (it's French, naturellement). I was going to write this post about it. But then I clicked through to the second list.
That is where I first saw the Vedo Villi.
I can't take my eyes off it. I honestly can't decide whether it's ugly or beautiful. But it is somehow deeply, fundamentally, disturbingly, horrifyingly wrong. It is eldritch. It's like something H. P. Lovecraft might have dreamed up, if he'd been an aircraft designer and wanted just the thing for the airminded cultist to nip down from Arkham Aerodrome to the nightmare corpse-city of R'lyeh for the weekend.
There is a photo of the Villi below. Read on -- if you dare.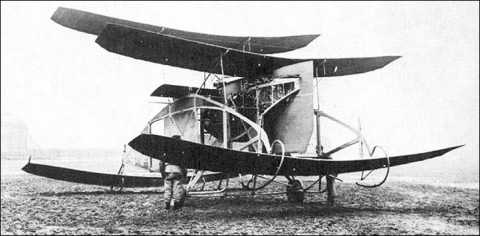 I have scoured dusty bookshelves, and plumbed the depths of the infinite archive. But all I can learn of this abomination is that it is from 1911, is French, is a pusher -- and, some say, that it flew. It flew. That cannot -- should not -- be. It undermines my faith in the laws of aerodyamics -- indeed, in the essential rationality of the Universe.
It is dark outside, and almost silent. Almost. I think I can hear something circling above in the sky ... an engine ... it sounds like it is whispering something to me -- almost in tempo with the rhythm of my breathing -- no, it can't be -- 'VE-DO VILL-I! VE-DO VILL-I!'
This work is licensed under a Creative Commons Attribution-NonCommercial-NoDerivatives 4.0 International License. Permissions beyond the scope of this license may be available at https://airminded.org/copyright/.