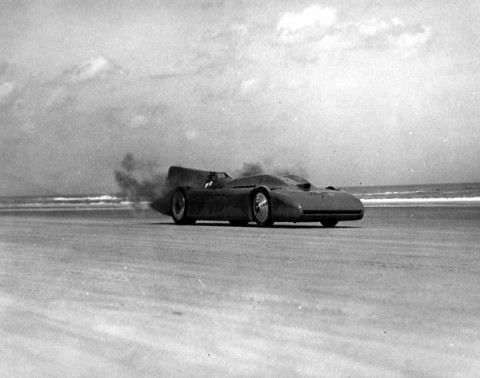 Bluebird at Daytona Beach, 1935. Image source: Florida Photographic Collection.
Well, the title of this post is a lie -- there's only two mysteries that concern me here, and one isn't particularly mysterious ...
Sir Malcolm Campbell was a world-famous British speed maniac (there's no other word for it), setting many records on land and sea. The last one was just over 300 mph, at Bonneville Salt Flats in Utah, in his specially-constructed car Bluebird. His son, Donald, famously and tragically was killed in 1967 trying to emulate his father's exploits. My interest in Campbell derives from his book on The Peril from the Air (London: Hutchinson & Co., n.d. [1937?]) -- fairly standard knock-out blow stuff, though with a greater emphasis on the utility of ARP than most (for example, he describes a large air-raid shelter he had built on his own estate, for his family and employees). Though he was most commonly seen pushing cars and boats to ludicrous speeds, he was also a pilot: in the First World War he had flown fighters in defence of Britain.

The lesser mystery first: when was The Peril from the Air published? It's one of those annoying books without a publication date. The British Library catalogue suggests it was published in 1937. This fits with internal evidence from the book: for example, he talks about the Abdication Crisis at the end (the public's sound reactions gave him confidence for the future!) which was at the end of 1936. Searching through The Times digital archive, I find only one mention of the book, where it is mentioned that he was the speaker at a Foyles literary luncheon, on the topic of 'The Peril from the Air', on 16 December 1937. I had assumed that this meant the book was published around that time. But ... another book published in 1937 refers to Campbell's book, H. Montgomery Hyde and G. R. Falkiner Nuttall's Air Defence and the Civil Population (London: The Cresset Press, 1937). Now, this was certainly published around the end of August; it was reviewed in The Times on 3 September 1937. So for Hyde and Nuttall to be aware of Campbell's book, it must have been published well before then, and so long before his Foyle's luncheon. Well, that's no problem, really -- there might have been a perfectly good reason why it took him months to do the publicity for his book. But there's another twist: Hyde and Nuttall's bibliography gives the date of The Peril from the Air as 1936! I think this is probably just a typo for 1937. But it's possible that there was an earlier edition published in 1936, though no mention of it is made either in the edition I saw or in the BL catalogue. It's also just possible that they saw an advance proof or manuscript in or from 1936. This occurred to me because Hyde had great connections: he was Lord Londonderry's librarian and personal secretary and co-authored a book or two with Lady Londonderry.1 Londonderry was, of course, an ill-starred recent Air Minister; and the Londonderrys knew everyone -- they were famous for their parties. So it's not inconceivable that Campbell sent an advance copy of his book on airpower to Londonderry for his perusal or comments, and that Hyde would therefore have access to it. But still, it's probably just a typo, and The Peril in the Air was probably published some time before August 1937. As I said, not much of a mystery.
The other, more interesting one is: was Campbell a fascist? Supposedly, Bluebird was adorned with BUF insignia. The possibly-not-completely-trustworthy website run by the Friends of Oswald Mosley has this to say about Campbell (oddly, in its biography of J. A. Chamier, Secretary of the Air League ):
In 1938 The Air Defence Cadet Corps was set up, and interestingly, on its organising council was Sir Malcolm Campbell, who broke the world speed record for Britain. Campbell's car "Bluebird" carried the insignia of the BUF as its badge. Of course members of the movement had a right to privacy regarding their membership of the BUF and Mosley never mentioned their names unless they specifically told him that he may do so.

Malcolm Campbell by sporting the blackshirt badge nailed his colours to the mast as did John Chamier by joining the BUF January Club, which included many influential people.
More respectable is Stephen Dorril's biography of Mosley, where he writes:
Mosley had reason to celebrate when on 3 September 1935 Sir Malcolm Campbell, in a Rolls-Royce-engined Bluebird adorned with the pennant of the BUF Volunteer Transport Service, broke the land speed record at the Bonneville Salt Flats. He achieved 301.1292 mph. A romantic adventurer, educated in Germany, he had served with the RFC and had been a pilot to the Prince of Wales. He made his money selling cars, dealing in diamonds and formulating libel insurance for newspapers. The Mail's motoring correspondent and one of Rothermere's diehard friends, he unsuccessfully stood for the Conservatives in Deptford in 1935. Campbell was a 'convinced fascist and the nominal head of the propagandist British Movietone News, which displayed thinly disguised attacks on Trade Unionism and Parliamentarianism'. He frequently visited the Black House [BUF HQ] and was part of a racing-car network which embraced the BUF's Automobile Club.2
There's also another little bit about Campbell's business dealings with a member of the BUF Automobile Club.
So why am I questioning Campbell's fascism? Mainly because The Peril in the Air is not a book I would expect a fascist to write. It might be a book that a disillusioned fascist would write. He is strongly critical of fascism in practice:
Under the Nazi regime every vestige of personal liberty vanishes. There is no such thing as public opinion, save that dictated by the leaders of the State. To publicly voice any sentiment or opinion in conflict with that laid down by the State is a sure passport to the concentration camp, the prison, or even in extreme cases to the executioner's block. Service and sacrifice are demanded in full measure from the individual from the cradle to the grave, and in return he receives nothing but the mere right to live until such time as he is commanded to lay down his life for the State.3
He goes on to say that, repugnant as this is to British ideals, 'it has welded Germany into a cohesive and terribly efficient machine, with potentialities of danger to the peace of the world which far transcend anything in else in history'.4 He doubts the proffered German explanation of the need to defend against the Bolshevik menace, because the latter works by subversion from within rather than by using military force. Campbell does imply that he had perhaps sought out Mosleyite propaganda:
I listened the other day to the leader of the British Fascist movement, when he laid down that the true foreign policy for this country is to seek an alliance with Germany and Italy to form a Fascist bloc to fight Communism -- and other things -- and so to preserve the peace of Europe and the world.5
But if he was such a great fan of Mosley, it's odd that he would not only reject this plea, but that he would also dismiss the BUF leader's argument that Germany had no desire to become a world power in such scornful terms: `Was there ever such a negation of fact and evidence?'6
Not that Campbell was a leftie or anything -- he's even more critical of pacifists like George Lansbury and their `idiotic pronouncements',7 and he's sympathetic to the achievements of Mussolini in Italy (a sentiment shared by many conservatives, after all). But he does come out strongly in favour of democracy over fascism, both because the former is inherently more free, and because the latter is inherently more likely to lead to war (which of course was a mortal threat to every nation, in this age of the knock-out blow).
There's some more evidence for Campbell's non-fascism (or rather, non-evidence for his fascism). His Oxford DNB entry doesn't mention fascism at all, and none of my other books on British fascism mention him. Nor does Griffiths' Fellow Travellers of the Right. Dorril's sources for his passage on Campbell seem to be all secondary, and none obviously authoritative, on the face of it. And I haven't been able to find any photos of Bluebird with BUF insignia. There's a small British flag or two, and an American one too, but that's all.
So, it seems to me that by 1937 (or maybe 1936!), Campbell was no longer a `convinced fascist' -- if he ever was one at all.
---
This work is licensed under a Creative Commons Attribution-NonCommercial-NoDerivatives 4.0 International License. Permissions beyond the scope of this license may be available at https://airminded.org/copyright/.