[Cross-posted at Revise and Dissent.]
With the inaugural Military History Carnival coming up, it seems like a good time to ask: what does the military historioblogosphere look like? The obvious answer to that is another question: what on Earth is a military historioblogosphere anyway? Well, 'historioblogosphere' is just a silly word I invented to describe the history blogosphere, and so the military historioblogosphere is the part of that to do with wars and suchlike. (And actually, of course, it's the Anglophone military historioblogosphere ...) In practice, I will take the 'Wars and Warriors' section of Cliopatria's History Blogroll as the closest thing we have to a census of the military historioblogosphere. Which is not to say that it is complete, nor that I think everything on that list should be there, but it's a whole lot more comprehensive than any list I'm willing to maintain! It obviously excludes blogs which may discuss military history, but are not primarily focused on it -- but it's a good place to start.
So I've gone through the blogs listed there and compiled some basic statistics with them, and made some basic plots with them. (I used Keynote because it's soooo much easier and prettier than Excel, or Powerpoint for that matter; and because my otherwise go-to app for plotting, Plot, doesn't do pie charts.) I actually intended to do something along these lines ages ago, but never got around to it; fortunately I kept the data on my hard drive; and as it happens it was almost exactly a year ago that I compiled it, so it's perfect for a year-on-year comparison! So let's begin.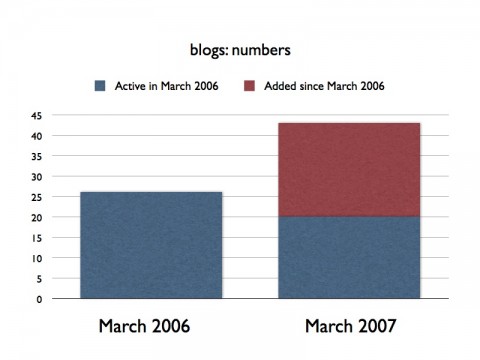 The number of blogs in the military historioblogosphere. The red portion represents the increase in the past year. The blue part (blogs active in March 2006) actually decreased. This is because some blogs have moved out of the military historioblogosphere since then, according to Cliopatria -- mainly because they've ceased activity, but not always. The percentage of blogs in the list in March 2006 which did not make the cut the following year -- call it the churn rate -- is 23%.
The total percentage increase is 65%. This sounds impressive, but actually it's well below the growth rate of the blogosphere as a whole (which would predict a 151% increase in a year). Of course, the Cliopatria blogroll is human-generated, not machine-indexed, so it might be expected that it would fall short of the actual increase. And of course there may well be selection biases affecting what is considered blogroll-worthy by Cliopatria.
...continue reading →