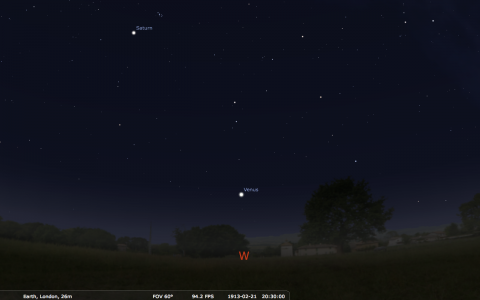 The planet Venus normally sticks close to the Sun and so can only be seen very shortly after sunset, to the west (or before sunrise, to the east, when it is a morning star). But every 584 days, when it reaches maximum elongation in its orbit, it is far enough from the Sun in apparent terms that it remains visible for quite some time after dusk. It also relatively close to the Earth at this time and so unusually bright: only the Moon is brighter. At such times Venus dominates the western sky and it can be very startling, especially for the infrequent stargazer.
As it happens, Venus reached maximum elongation on 11 February 1913, right in the middle of the phantom airship scare. The above thumbnail probably isn't very clear, but the full-size version, made with Stellarium, shows the western horizon from London at 8.30pm on 21 February 1913, the beginning of the scare's peak. (London without any buildings, light pollution or clouds, admittedly, but the view would have been roughly the same from anywhere in the British Isles.) Venus can be seen low above the horizon, almost exactly due west, and extremely bright (apparent magnitude -4.1, though extincted by the atmosphere to -3.2). Anyone who happened to glance in that direction would see a brilliant light hovering in the distance, very different to the other stars and even planets. If they watched it for a few minutes they might see it drifting northwards and perhaps sinking lower; if there were clouds scudding by or trees waving in the wind the effect might be enhanced. It would be very easy to think an aircraft was flying about, equipped with a searchlight.
More
This post is part of an experiment in post-blogging the scareship wave of January-April 1913. See here for an introduction to the series.